Savor the Irresistible Delight of Soy Garlic Chicken Wing
If you're a fan of delectable fried chicken with a twist, then look no further than the mouthwatering delight of Soy Garlic Chicken Wing. This delectable dish combines the familiar comfort of fried chicken wings with a tantalizing oriental twist similar to chili wings, thanks to its sweet, slightly salty, and spicy soy garlic sauce.
What sets this recipe apart is the innovative use of rice flour as the breading, resulting in an exceptionally thin and crispy coating, elevating your dining experience to new heights. In this recipe blog post, we'll guide you through the easy steps to cook this delectable dish, and you'll soon discover why it has become a favorite among food enthusiasts. So, let's dive right in and get cooking!
The Secret to the Perfect Crispy Coating
A key aspect that sets Soy Garlic Chicken Wing apart from the regular fried chicken is the use of rice flour as a breading alternative. The result is a thin and incredibly crispy coating that will have your taste buds dancing with joy. Unlike the traditional wheat flour used in most fried chicken recipes, rice flour brings a unique texture that enhances the overall experience of each bite. It's like you didn't use any batter at all. You will only notice the difference when you start eating it. Anyway. if rice flour is not available, you can use cornstarch as a substitute.
A Simple Cooking Process
Preparing Soy Garlic Chicken Wing is a breeze, and you don't need to be a seasoned chef to nail this recipe. Follow these easy steps to create a dish that will leave your friends and family craving for more:
Preheat the Oil:
Begin by preheating the oil over medium heat for approximately 3 minutes. This ensures that the chicken wings cook evenly and reach that perfect golden-brown color.
Prepare the Egg White Mixture:
Season the egg white with a pinch of salt and pepper, then beat it until it turns frothy. The frothy consistency helps create a light and airy coating on the chicken wings.
Create the Breading:
In a separate bowl, mix the rice flour and cornstarch. This combination provides the ideal balance of crispiness and tenderness to the final product.
Coat the Chicken Wings:
Dip the chicken wings into the beaten egg white, ensuring they are well coated. Then, dredge them into the flour mixture until each wing is fully covered.
Fry to Perfection:
Deep-fry the coated chicken wings in batches for about 5 to 7 minutes or until they achieve that gorgeous golden-brown hue and are cooked through.
Double Fry Technique:
For an even crispier texture, we recommend using the double fry technique. After draining the chicken wings on paper towels and cooling them for about 5 minutes, return them to the hot oil at high heat for another 3 minutes. This second fry will take the crispiness to a whole new level.
The Star of the Show: Soy Garlic Sauce
Now comes the moment to elevate your Soy Garlic Chicken Wing to its full glory: the soy garlic sauce. This is what gives the dish its distinct and addictive flavor profile. The sauce strikes a perfect balance between sweetness, saltiness, and a delightful touch of spiciness that will tantalize your taste buds. Here's how to make the sauce:
Gather the Ingredients:
In a small saucepan, gather all the necessary ingredients for the soy garlic sauce.
Mix and Simmer:
Mix the ingredients together in the saucepan and let them simmer gently until the sauce slightly thickens. The aroma filling your kitchen will make you even more eager to taste the final result.
Coat the Chicken Wings:
Toss the fried chicken wings in batches into the soy garlic sauce until they are fully coated. Every nook and cranny of the crispy exterior will soak up the flavors of the sauce, making each bite an absolute delight.
Serve and Enjoy
The time has come to plate up your exquisite creation. Arrange the Soy Garlic Chicken Wings on a serving platter, and you're ready to impress your guests or treat yourself to a delicious meal. The combination of crispy chicken wings and the tantalizing soy garlic sauce will undoubtedly leave everyone asking for seconds.
Wrap-Up
Soy Garlic Chicken Wing is a true culinary gem that brings together the best of both worlds: the comforting familiarity of fried chicken and the exciting twist of an oriental-inspired soy garlic sauce. The use of rice flour in the breading process adds a remarkable element of crispiness, making each bite an explosion of flavor and texture. Whether you're preparing it for a special occasion or simply to indulge in a delightful meal, this recipe is sure to be a hit with everyone who has the pleasure of savoring it.
So, what are you waiting for? Get your apron on and give this incredible recipe a try. We guarantee that once you've tasted the delectable Soy Garlic Chicken Wing, it will become a regular feature on your dining table. Happy cooking and bon appétit! Want to try other chicken wings recipe? Check this Chicken Wings in Barbecue Sauce recipe!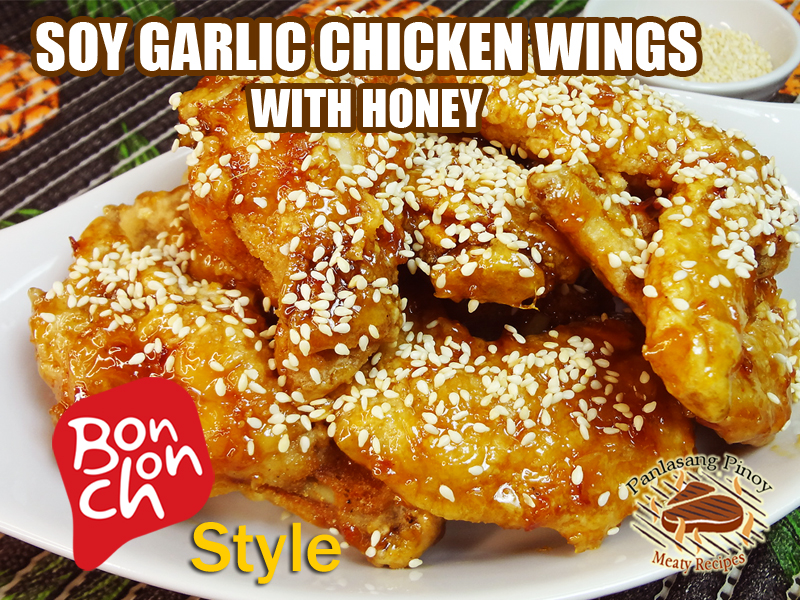 Print Recipe
How to Cook Soy Garlic Chicken Wing (BonChon Style)
Soy garlic chicken wings are crispy fried chicken wings coated in a sweet, slightly salty, and spicy soy garlic sauce, creating a delectable blend of flavors with an oriental twist.
Ingredients
1

kilo

chicken wings

rinsed and drained

1

pc

egg white

beaten

1/2

tsp.

salt

1/8

tsp.

black pepper

1/2

cup

rice flour

1/2

cup

cornstarch

1

cup

cooking oil
Soy Garlic Sauce Ingredients:
1/4

cup

honey

1

Tbsp.

sweet chili sauce

1/2

tablespoon

brown sugar

2

Tbsp.

soy sauce

4

cloves

garlic

minced

1

Tbsp.

grated ginger

1/4

tsp.

mirin

2

Tbsp.

water

1

pc

onion

minced
Instructions
How to cook Soy Garlic Chicken Wing:
Preheat oil over medium heat for about 3 minutes.

Season egg white with salt and pepper. Beat the egg white until frothy.

Mix the rice flour and cornstarch in another bowl.

Mix the egg white with the chicken wings then dredge into the flour until well coated.

Deep-fry the chicken wings in batches for about 5 to 7 minutes or until golden brown and cooked through.

Drain on paper towels and cool for about 5 minutes.

Place the chicken wings back in the hot oil in high heat and cook for another 3 minutes.

Remove chicken wings and drain on a cooling rack for another 5 minutes.

To make the soy garlic sauce: In a small saucepan, mix together all the ingredients. Simmer once until slightly thick.

Toss the chicken wings in soy garlic sauce in batches until well coated. Serve hot.
Notes
Cooking Tips of Soy Garlic Chicken Wings:
Achieving the Perfect Crispness: To achieve that irresistibly crispy texture on your soy garlic chicken wings, consider using rice flour as the breading instead of traditional wheat flour or cornstarch. The rice flour creates a thin, delicate coating that fries up beautifully, providing an exquisite crunch with every bite.
Double Fry for Extra Crispiness: For those who truly appreciate an extra crispy exterior, employ the double fry technique. After frying the chicken wings once and draining them on paper towels, return them to the hot oil for a second fry at high heat for about 3 minutes. This method ensures an even crispier and more delightful outcome.
Coat Liberally with the Soy Garlic Sauce: The magic of soy garlic chicken wings lies in the exquisite sauce that envelops each piece. When tossing the fried wings in the soy garlic sauce, ensure you coat them generously to maximize the infusion of flavors. The sweet, salty, and spicy notes of the sauce complement the crispy coating to create a heavenly taste experience.