Soy garlic chicken wing is fried chicken wings coated with soy garlic sauce. The sauce is sweet, a little salty and spicy and it is similar to chili wings with an oriental twist. What makes it distinct is the use of rice flour instead of wheat flour which is usually used in cooking fried chicken.
Rice flour has a very different texture when used as breading to fried chicken compared to using flour or cornstarch. When the chicken is fried with batter made from rice flour, it has a very thin crispy coating. It's like you didn't use any batter at all. You will only notice the difference when you start eating it. Anyway. if rice flour is not available, you can use cornstarch as a substitute.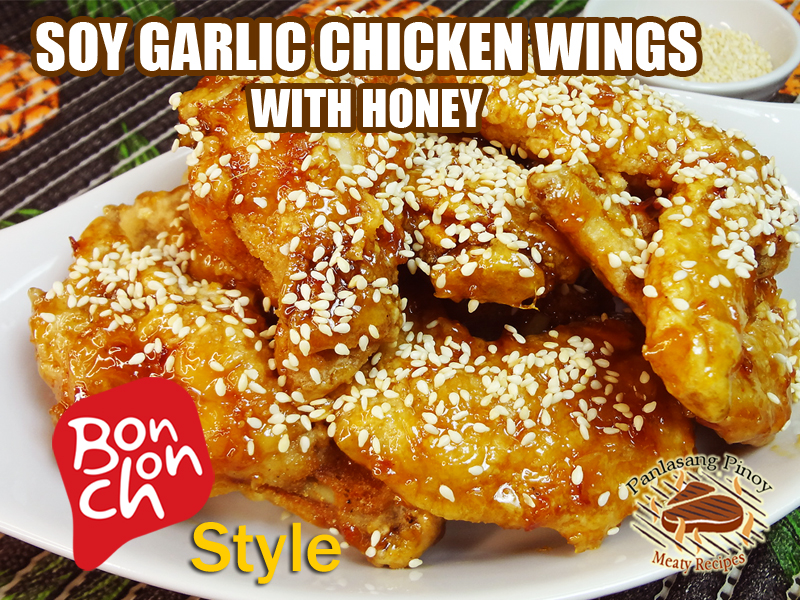 Print Recipe
How to Cook Soy Garlic Chicken Wing (BonChon Style)
Soy garlic chicken wing is fried chicken wings coated with soy garlic sauce.
Ingredients
1

kilo

chicken wings

rinsed and drained

1

egg white

beaten

1/2

tsp.

salt

1/8

tsp.

black pepper

1/2

cup

rice flour

1/2

cup

cornstarch

1

cup

cooking oil
Soy Garlic Sauce Ingredients:
1/4

cup

honey

1

Tbsp.

sweet chili sauce

1/2

tablespoon

brown sugar

2

Tbsp.

soy sauce

4

garlic cloves

minced

1

Tbsp.

grated ginger

1/4

tsp.

mirin

2

Tbsp.

water

1

pc

onion

minced
Instructions
How to cook Soy Garlic Chicken Wing:
Preheat oil over medium heat for about 3 minutes.

Season egg white with salt and pepper. Beat the egg white until frothy.

Mix the rice flour and cornstarch in another bowl.

Mix the egg white with the chicken wings then dredge into the flour until well coated.

Deep-fry the chicken wings in batches for about 5 to 7 minutes or until golden brown and cooked through.

Drain on paper towels and cool for about 5 minutes.

Place the chicken wings back in the hot oil in high heat and cook for another 3 minutes.

Remove chicken wings and drain on a cooling rack for another 5 minutes.

To make the soy garlic sauce: In a small saucepan, mix together all the ingredients. Simmer once until slightly thick.

Toss the chicken wings in soy garlic sauce in batches until well coated. Serve hot.