Tempura or shrimp tempura is a Japanese dish consisting of shelled shrimps, dipped in batter and deep fried. This is, I think, one of the most favorite Japanese food of Filipinos. Aside from shrimps, you can also make vegetable tempura to decorate or to make it more appetizing. Just slice some eggplants and carrots into thick strips, get some whole string beans then dip it in tempura batter then deep fry it.
Delicious and Crispy Shrimp Tempura: A Japanese Delight
If you're a fan of Japanese cuisine, then you must have tried or at least heard of shrimp tempura. This delectable dish consists of shelled shrimps dipped in a light and airy batter, then deep-fried to crispy perfection. The combination of the tender shrimp and the crunchy exterior creates a taste and texture that is simply irresistible. In this article, we will guide you through the process of preparing mouthwatering shrimp tempura, a favorite among Filipinos. So, let's dive into the world of shrimp tempura and discover how to make this delightful dish in the comfort of your own kitchen.
Preparing the Shrimps
The first step in creating the perfect shrimp tempura is to prepare the shrimps. Start by removing the head and shell, while leaving the tail intact. This allows for easy handling and adds an appealing visual element to the dish. Once the shrimps are peeled, devein them to ensure they are clean and ready for cooking.
To prevent the shrimps from curling up during frying, make a crosswise slit on the inner side of each shrimp. This simple technique helps the shrimp maintain a straight shape, ensuring an aesthetically pleasing presentation. Alternatively, you can also use a small bamboo stick to skewer the shrimp, preventing it from curling. Just remember to remove the stick after cooking.
Seasoning the Shrimps
Before moving on to the batter, it's important to season the shrimps for optimal flavor. Sprinkle a pinch of salt and a squeeze of calamansi juice over the shrimps. The salt enhances the natural taste of the shrimp, while the calamansi juice adds a subtle tangy note. Allow the shrimps to marinate briefly, so the flavors can penetrate the flesh.
Creating the Tempura Batter
The secret to achieving light and crispy shrimp tempura lies in the batter. In a bowl, beat an egg until it becomes frothy. Then, add water and continue beating to create a smooth consistency. Now, it's time to add the flour. While the exact measurements may vary depending on the recipe, a combination of all-purpose flour, baking powder, salt, and a pinch of MSG (monosodium glutamate) will give you a well-balanced batter. Stir the mixture until all the ingredients are thoroughly combined, ensuring there are no lumps.
Frying the Shrimp Tempura
To fry the shrimp tempura, you'll need a deep pan with about 2 inches of cooking oil. Heat the oil over medium-high heat until it reaches the optimal frying temperature, around 350°F (175°C). This ensures that the shrimps cook evenly and develop a golden-brown exterior.
Take one shrimp at a time and dip it into the prepared batter, ensuring it is fully coated. Allow any excess batter to drip off before carefully placing the shrimp into the hot oil. Repeat this process for the remaining shrimps, being cautious not to overcrowd the pan, as it can lower the oil temperature and result in greasier tempura.
Fry the shrimps until they turn a beautiful golden brown, typically taking around 2-3 minutes per side. Using a slotted spoon or tongs, carefully remove the cooked shrimp from the oil and place them on a paper towel-lined plate. This helps absorb any excess oil and keeps the tempura crispy.
Serving the Shrimp Tempura
Shrimp tempura is best enjoyed hot and fresh. Serve it as a standalone appetizer, a delightful addition to a bento box, or as part of a larger Japanese meal. The light and crispy texture of the tempura pairs perfectly with a dipping sauce, such as a traditional tempura sauce or a tangy ponzu sauce. These sauces provide a burst of umami flavor and complement the shrimp tempura beautifully.
Wrap-Up
Shrimp tempura is a beloved Japanese dish that has captured the hearts and taste buds of many. Its crispy exterior, tender shrimp, and delightful flavors make it a treat worth savoring. By following the simple steps outlined in this article, you can recreate this Japanese delicacy at home. So, gather your ingredients, fire up the stove, and embark on a culinary adventure with shrimp tempura. Get ready to impress your family and friends with your newfound cooking skills and indulge in the deliciousness of this beloved Japanese delight. Like to try other version of tempura? Check this chicken tempura recipe!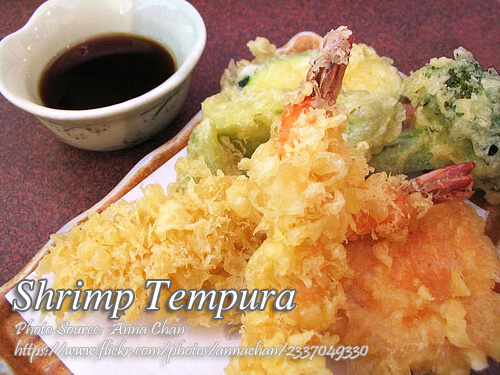 Print Recipe
Shrimp Tempura
Shrimp tempura is made by preparing shrimps, coating them in a light batter, and deep-frying them until golden brown for a crispy and flavorful Japanese dish.
Ingredients
1/2

kilo

large shrimps

1

Tbsp.

calamansi juice

1

tsp.

salt

cooking oil for deep frying
For the batter:
1

pc

egg

1/2

cup

water

1 1/4

cup

all-purpose flour

1/2

tsp.

baking powder

1/2

tsp.

salt

1/2

tsp.

MSG
Tempura sauce ingredients::
1

cup

fish or shrimp broth

1/2

cup

soy sauce

1/4

cup

rice wine

2

tsp.

sugar

4

cloves

minced garlic

1/2

cup

grated radish or labanos
Instructions
How to cook Shrimp Tempura:
Remove the head and shell of shrimps but leave tail intact. Devein.

Make crosswise slit on inner side of shrimp, so it would not curl when cooked.

Season with salt and calamansi juice. Set aside.

Beat the egg. Add water and beat again. Add all the flour, baking powder, salt and MSG.

In a deep pan, heat about 2 inches deep cooking oil. Dip shrimps in batter and drop one by one in hot oil.

Fry until golden brown. Serve hot with tempura sauce.
To make tempura sauce:
Mix all ingredients, cook for 5 minutes. Cool before serving.
Notes
Cooking Tips of Shrimp Tempura:
Keep the Shrimp Cold: Before dipping the shrimp in the tempura batter, make sure they are properly chilled. Cold shrimp will result in a crispier texture when fried. You can place the shrimps in the refrigerator for about 15-20 minutes before cooking to ensure they are adequately chilled.
Use Sparkling Water or Club Soda: For an extra light and airy tempura batter, consider using sparkling water or club soda instead of regular water. The carbonation in these beverages creates bubbles in the batter, resulting in a lighter and crispier coating on the shrimp.
Fry in Small Batches: To achieve evenly cooked and golden-brown shrimp tempura, it's crucial not to overcrowd the frying pan or deep fryer. Fry the shrimp in small batches, allowing them enough space to cook evenly and ensuring that the oil temperature remains consistent. Overcrowding can lead to uneven cooking and a greasier end result.