A Delightful Filipino Dish Bursting with Flavor
If you're a food enthusiast or an adventurous cook looking to explore the vibrant world of Filipino cuisine, then Ginataang Kalabasa at Hipon is a must-try dish for you. This delectable combination of squash, string beans, and shrimps cooked in coconut milk will take your taste buds on a delightful journey. In this recipe blog post, we'll walk you through the step-by-step process of cooking this traditional Filipino favorite that's sure to impress your family and friends.
The Essence of Ginataang Kalabasa at Hipon
Ginataang Kalabasa at Hipon is a popular Filipino dish that perfectly embodies the rich and diverse flavors of the Philippines. This creamy and savory delicacy brings together the sweetness of squash, the crunchiness of string beans, and the succulent taste of shrimps in a velvety coconut milk sauce. The addition of ginger, garlic, and onions gives it a delightful aroma, while the optional malunggay leaves and long green chilies add a hint of spiciness, making it a harmonious medley of flavors that will leave you craving for more.
Cooking Ginataang Kalabasa at Hipon
Cooking this mouthwatering dish is a simple and enjoyable process that requires a few essential ingredients and some basic culinary skills. Let's dive into the step-by-step guide to preparing this Filipino masterpiece:
Sauteing the Aromatics:
Start by heating cooking oil in a pan over medium heat. Add ginger, garlic, and onion, and saute until the onion becomes soft and translucent. Sprinkle some patis (fish sauce) and let it simmer for a minute on low heat. Introduce diced tomatoes to the mix and stir until they soften.
Incorporating the Main Ingredients:
Now, it's time to add the shrimps to the pan, stirring them until they turn a vibrant orange color. Throw in the squash and string beans (sitaw), ensuring everything is well combined.
Simmering to Perfection:
Pour in one cup of water or rice washing to the pan, covering it with a lid. Allow the dish to simmer until the squash and string beans are almost tender, which should take around 10 minutes.
Creating the Creamy Base:
To enhance the dish's creaminess and flavor, add a shrimp cube, long green chilies, and coconut milk. Bring the mixture to a boil while stirring gently to ensure everything melds together harmoniously.
Finishing Touches:
As a final touch, add the malunggay leaves, infusing the dish with a nutritious element and an earthy taste. Let everything cook for another minute before turning off the heat.
Serving Ginataang Kalabasa at Hipon
Congratulations! You've successfully prepared Ginataang Kalabasa at Hipon, and now it's time to savor the fruits of your labor. Transfer the flavorful concoction onto a serving plate, and watch as the vibrant colors and enticing aroma captivate everyone around the table. This delightful dish is best enjoyed with steamed rice, which will perfectly complement its rich and creamy flavors.
Variations and Tips
While the classic recipe we've covered is already a masterpiece in its own right, there's always room for experimentation in the culinary world. Here are some variations and tips you can consider to add your own twist to Ginataang Kalabasa at Hipon:
For a heartier version, you can add other seafood like crabs or mussels. You can try the Ginataang Alimasag sa Kalabasa at Sitaw recipe.
If you prefer a spicier kick, throw in some red chili peppers or use a spicier variety of green chilies.
For a vegetarian option, you can skip the shrimps and use tofu or tempeh as a substitute.
Adjust the thickness of the coconut milk sauce according to your preference by adding more or less coconut milk.
Final Thoughts
Ginataang Kalabasa at Hipon is undeniably a delicious and satisfying Filipino dish that captures the essence of the country's culinary traditions. Its combination of vegetables, seafood, and creamy coconut milk sauce creates a harmony of flavors that will surely leave a lasting impression on anyone who tries it.
So, gather your ingredients, put on your apron, and embark on this delightful culinary journey as you cook up Ginataang Kalabasa at Hipon in your kitchen. With every bite, you'll be transported to the tropical paradise of the Philippines, where the aroma of coconut and the warmth of Filipino hospitality come together in perfect harmony. Enjoy this culinary adventure and make cherished memories with your loved ones as you share this exquisite dish with them. Happy cooking!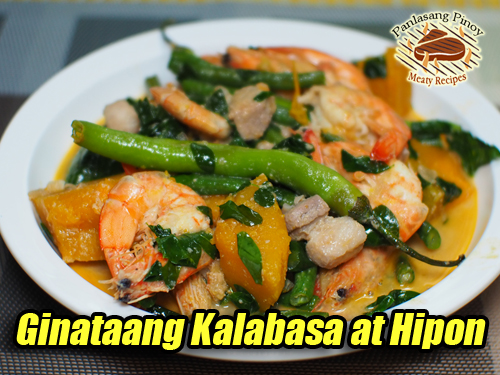 Print Recipe
Ginataang Kalabasa at Hipon
Ginataang kalabasa at hipon is a delightful Filipino dish combining squash, string beans, and shrimps in a creamy coconut milk sauce.
Ingredients
1/2

kilo

squash

peeled and sliced

1/2

kilo

shrimps

2

Tbsp.

patis

3

cloves

garlic

minced

1

pc

onion

minced

1

inch

ginger

sliced

1/2

tsp.

black pepper

1

cup

coconut milk

1

small bunch

sitaw

1

cup

water

3

Tbsp.

cooking oil
Instructions
How To Cook Ginataang Kalabasa at Hipon
Heat cooking oil in a pan and saute ginger, garlic and onion. Saute until the onion is soft.

Add patis and simmer for 1 minute in low heat. Add tomatoes and stir until soft.

Add the pork and stir until it changes its color. Then cover and simmer until the fat renders and sizzles. About 5 minutes.

Add in the shrimps and stir until the color turns to orange. Add the squash and sitaw (sting beans) then stir.

Add 1 cup water or rice washing. Cover and simmer until the squash and sitaw is almost tender. About 10 minutes.

Then add shrimp cube, long green chilies and coconut milk. Bring to a boil.

Add the malunggay leaves and continue cooking for another minute. Then turn off heat. Transfer to a serving plate and serve hot.
Notes
Cooking Tips of Ginataang Kalabasa at Hipon:
Sauté the Aromatics with Care: When sautéing the ginger, garlic, and onions, ensure to cook them over medium heat until the onions become soft and translucent, as this forms the flavorful foundation of the dish.
Adjust Coconut Milk Thickness: To achieve the desired consistency of the coconut milk sauce, you can add more coconut milk for a creamier texture or reduce the amount for a thicker sauce, depending on your preference.
Mindful Simmering: While simmering the ingredients, keep a close eye on the squash and string beans to avoid overcooking. They should be tender but still retain their shape and texture for a perfect balance in the dish.
Nutrition Notes:
Calorie and other nutrition information is derived from HappyFolks.Com recipe nutrition calculator. The percent daily value (%DV) is based on a daily 2,000 calorie diet.
Nutrition Information:
Amount per Serving:333g, Calories:267kcal, From fat:148,  Total fat:17.4g, Saturated Fat:14.8g, Trans Fat:0g, Cholesterol: 137mg, Sodium: 598 Total Carbohydrate: 11g, Dietary Fiber: 3g, Sugars: 7g, Protein: 20g, Vitamin A: 5%, Vitamin C: 5%, Calcium: 10%, Iron: 10%