Ginataan means dishes with coconut milk and there are varieties of ginataan dishes in Filipino cuisine. From desserts to viands you can find those kinds of dishes. One of them is the ginataang baka or beef stew with coconut milk. When buying your beef briskets, choose potions with fat which will make this dish more appetizing. I'm sure if you like ginataan dishes, you will love this beef stew in coconut milk. Traditional extraction of coconut milk is more tasty when used on dishes unlike those canned or in powder form. The extraction process is by grating the mature coconut and adding about 1/2 cup of hot or warm water then squeeze the grated coconut in a cheesecloth to get the coconut milk. Anyway if there are no other options, you can use the canned or powdered coconut milk.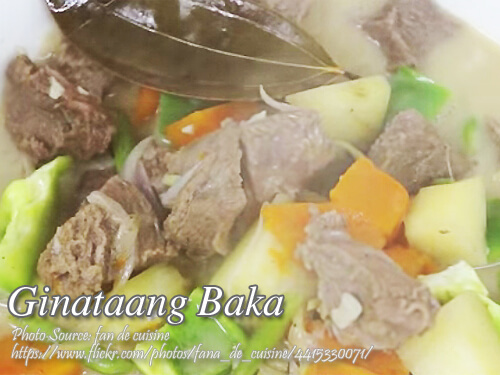 Print Recipe
How to Cook Ginataang Baka (Beef Stew in Coconut Milk)
Ingredients
1

kilo beef brisket

cut into cubes

1

pc bell pepper

cut into squares

1

cup

squash

cut into cubes

1

pc onion

sliced

1

pc medium size potato

cut into cubes

3

pcs bird's eye chili or siling labuyo

1

thumb size ginger

slice into strips

3

pcs bay leaves

5

cloves

garlic

minced

3/4

cup

Baguio beans

sliced 1 inch long

1

cup

coconut milk

1

Tbsp.

patis or fish sauce

1

tsp.

ground pepper

1 to 2

Tbsp.

cooking oil

water for boiling
Instructions
How to cook Ginataang Baka (Beef Stew in Coconut Milk):
In a medium size pot, put beef and add water about 3/4 of the height of the pot.

Bring to a boil and reduce heat to medium fire for about an hour or until the meat is tender.

Remove the scum while cooking the meat.

In a wok or carajay, heat cooking oil and add garlic, onion, ginger and chili peppers.

Saute the all the spices until the onions are tender and transparent. Then add the boiled beef with 1 1/2 cup of broth.

Then add the fish sauce, ground pepper, potato, squash and bay leaves. Mix the ingredients while cooking then add the coconut milk.

Cover and simmer in a medium-low fire for about 4 minutes. Then add the Baguio beans and simmer again for 4 to 5 minutes.

Add the bell pepper and mix. Cover and turn off heat and let the beef stew stay for about a minute then serve.