Pocherong pata  or pork hocks pochero is a just a variation of the popular pork pochero. If my memory serves me right, in the traditional pochero, pork tenderloin is usually the popular choice but some how it is replaced by other pork cuts like pork belly or pork shoulder.
Delicious Pocherong Pata: A Hearty and Flavorful Filipino Dish
If you're a fan of Filipino cuisine, you've probably heard of or tasted the classic pork pochero. Today, we're going to introduce you to a variation of this beloved dish called Pocherong Pata, which features succulent pork hocks as the star ingredient. Packed with rich flavors and tender meat, this dish is sure to satisfy your cravings for a hearty meal. In this blog post, we'll guide you through the steps of cooking Pocherong Pata, ensuring a delicious outcome that will impress your family and friends.
Preparing the Pork Pata
To begin, gather your ingredients and prepare the pork pata, or pork hocks. These cuts of meat offer a unique texture and flavor that add depth to the dish. Start by washing the chopped pork pata under running water to remove any impurities. Next, bring a pot of water to a boil and add the pata. Allow it to boil for a few minutes, then discard the water. This process helps remove any unwanted odors and impurities from the meat.
Cooking the Pata
Refill the pot with fresh water, ensuring it covers the meat. Season with salt and peppercorns to enhance the taste. Bring the water to a boil again, then reduce the heat and simmer until the pork pata becomes tender. This slow cooking process allows the flavors to meld together, resulting in tender and flavorful meat. Once the pork pata is cooked, remove it from the broth and set it aside. Don't forget to reserve the broth, as it will be used later in the recipe.
Frying the Potatoes and Saba Bananas
Now, it's time to add some texture and sweetness to our Pocherong Pata. Take the potatoes and saba bananas and fry them in a pan with cooking oil until they turn golden brown. Frying these ingredients not only adds a delicious crispy element but also brings out their natural sweetness. Once they are nicely browned, set them aside while we move on to the next step.
Sautéing the Aromatics
In the same pan, sauté a combination of onion and garlic until they become fragrant and translucent. This aromatic mixture forms the base of the flavor profile for our Pocherong Pata. Add a splash of patis, a Filipino fish sauce, and let it simmer over low heat for a minute. This step enhances the umami notes in the dish. Then, stir in tomato paste to provide a rich and savory taste. Once the flavors are well combined, add the pre-boiled pork pata and stir for an additional minute.
Bringing it All Together
Now it's time to bring all the components together. Pour in the reserved broth from the boiled pork pata and add a pork cube for an extra depth of flavor. Cover the pan and let it simmer for a few minutes, allowing the flavors to meld together. Then, add the fried saba bananas and potatoes, simmering for another minute to infuse them with the delicious broth. To add more vegetables and vibrant colors to the dish, include pork and beans, baguio beans, cabbage, and pechay. These additions not only provide nutritional value but also contribute to the overall taste and appearance of the dish.
The Final Touches
Simmer the Pocherong Pata until the vegetables are tender and cooked to your liking. Once they reach the desired texture, turn off the heat and get ready to indulge in this hearty Filipino delight. The aroma of the simmering broth and the succulent pork pata will surely whet your appetite. Serve the Pocherong Pata while it's still hot, allowing the flavors to shine and comforting your taste buds.
Wrap-Up
Pocherong Pata is a delightful variation of the traditional pork pochero that showcases the delectable flavors of pork hocks. With its tender meat, rich broth, and hearty vegetables, this Filipino dish is a crowd-pleaser that will leave you craving for more. By following the simple steps outlined in this blog post, you can easily recreate this mouthwatering dish in your own kitchen. So gather your ingredients, roll up your sleeves, and embark on a culinary journey filled with the taste and tradition of Pocherong Pata. Get ready to savor every bite of this truly satisfying Filipino masterpiece. Want to chicken version of pochero? Try the chicken pochero recipe!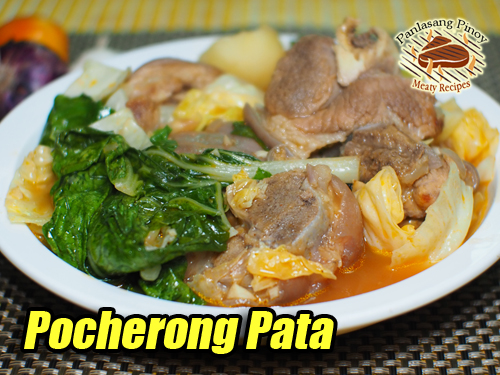 Print Recipe
Pocherong Pata
Pocherong Pata is a Filipino dish featuring tender pork hocks cooked in a flavorful broth with vegetables, creating a hearty and delicious meal.
Ingredients
1

pc

whole pork pata

chopped

1

head

cabbage

chopped

2

bunches

pechay

trimmed

50

grams

baguio beans

1

pc

potato

sliced

2

pcs

saba bananas

sliced

1

small can

pork and beans

1

Tbsp.

patis

salt to taste

1

tsp.

whole black peppercorns

3

Tbsp.

cooking oil

2

Tbsp.

tomato paste
Instructions
How to Cook Pocherong Pata
Wash and drain the chopped pork pata in running water. Boil the pata for a few minutes then discard the water.

Then refill the pot with water just enough to cover the meat. Add salt and peppercorns then boil until tender.

Remove from broth and set aside. Reserve the broth to be used later.

Fry the potatoes and saba bananas in 3 Tbsp. cooking oil until brown. Set aside.

In the same pan, sauté onion and garlic until fragrant. Add patis and simmer in low heat for 1 minute.

Add tomato paste and stir. Add the pre-boiled pork pata and stir for a minute.

Add the broth from the boiled pork pata and the pork cube. Cover and simmer for 3 minutes.

Add the saba bananas and potatoes and simmer again for 1 minute. Then add pork and beans, baguio beans, cabbage and pechay.

Simmer until the veggies are cooked. Turn off heat and serve hot.
Notes
Cooking Tips for Pocherong Pata:
Preparing the pork pata: Before cooking the pork hocks, make sure to wash them thoroughly under running water to remove any impurities. This step helps ensure clean and flavorful meat for your Pocherong Pata.
Slow simmering for tender meat: To achieve tender and succulent pork hocks, simmer them over low heat for an extended period. This slow cooking method allows the flavors to develop and the meat to become tender, resulting in a melt-in-your-mouth texture.
Balancing flavors with seasonings: While cooking the Pocherong Pata, pay attention to the balance of flavors. Adjust the amount of salt, peppercorns, and other seasonings according to your taste preferences. Remember to taste and adjust as needed to create a well-rounded and delicious dish.
Nutrition Notes:
Calorie and other nutrition information is derived from HappyFolks.Com recipe nutrition calculator. The percent daily value (%DV) is based on a daily 2,000 calorie diet.
Nutrition Information:
Amount per Serving:625g, Calories:696kcal, From fat:328,  Total fat:36.9g, Saturated Fat:16.9g, Trans Fat:0.3g, Cholesterol: 220mg, Sodium: 3574, Total Carbohydrate: 44g, Dietary Fiber: 8g, Sugars: 15g, Protein: 53g, Vitamin A: 42%, Vitamin C: 197%, Calcium: 18%, Iron: 30%