Puto pao is one of the many creative variants of the ordinary puto, and usually the white puto. Actually you can do the same with the ordinary puto batter by just putting a filling inside. The puto recipe I have here is a little special because it contains milk and butter and what makes it more special is the pork asado filling inside. You can use asado filling for siopao asado which you can also find in this site.
A Fluffy Treat with a Savory Surprise
Are you craving a unique and delightful snack that combines the softness of puto with a savory filling? Look no further than Puto Pao! This creative twist on the traditional white puto will leave your taste buds wanting more. In this article, we'll guide you through the process of making this mouthwatering treat, featuring a delectable pork asado filling. Get ready to indulge in a delightful culinary adventure!
Making the Perfect Pork Asado Filling
Before we dive into the preparation of Puto Pao, let's start by creating the flavorful pork asado filling. Don't worry; it's a straightforward process that will enhance the overall taste of your puto.
Sauté and Simmer:
Begin by heating some oil in a skillet over medium heat. Add garlic and onions, sautéing them until the onions turn soft and translucent. Then, toss in the sliced pork and stir-fry for about 3 minutes until it is slightly browned.
Flavorful Coating:
Next, it's time to infuse the pork with an enticing combination of flavors. Pour in soy sauce, oyster sauce, brown sugar, and a pinch of black pepper. Stir well, ensuring that the pork is evenly coated with the delectable sauce.
Tenderize to Perfection:
Add water to the skillet and bring it to a boil. Once boiling, cover the skillet and reduce the heat to simmer. Allow the pork to cook for approximately 30 minutes or until it becomes tender and succulent.
Thickened Goodness:
Prepare a cornstarch slurry by diluting it in a little water. Gradually pour the slurry into the simmering sauce, stirring continuously until the sauce thickens. Adjust the consistency by adding more water if needed. Once thickened, turn off the heat and set the filling aside.
Now that our pork asado filling is ready, let's move on to the main star of our culinary adventure – the Puto Pao!
The Steps to Create Fluffy Puto Pao
Follow these simple steps to make these delectable and fluffy treats:
Dry Ingredients First:
In a large mixing bowl, combine the dry ingredients – flour, baking powder, and sugar. Mix them well, ensuring an even distribution.
The Moisture Factor:
Now, pour in the melted butter, milk, and water. Stir the mixture gently, making sure not to introduce any bubbles. Continue stirring until the batter becomes smooth and all the lumps disappear, resulting in a consistent texture.
Grease the Molds:
Take your puto molds and generously grease them with margarine or butter. This step will prevent the puto from sticking to the molds, making them easy to remove once they're cooked.
Pour and Fill:
Carefully pour the puto batter into the molds, filling them up to half of their height. This initial layer will serve as the base for our delightful filling.
Filling Time:
Take one tablespoon of the prepared pork asado filling and place it gently in the center of each puto mold. Ensure that the filling is well-contained within the batter.
Complete the Puto:
Pour more batter over the filling, ensuring it is covered entirely and the mold is filled just enough to enclose the savory surprise within.
Optional Toppings:
For an extra burst of flavor, consider adding a thin slice of salted egg and some cheese sticks on top of your puto. This step is entirely up to your preference, but it adds an additional layer of deliciousness.
The Steaming Process:
Arrange your filled puto molds in a steamer and steam them for approximately 10 to 15 minutes. The exact steaming time may vary depending on the size of your puto molds, so keep a close eye on them. To ensure they are thoroughly cooked, you can insert a toothpick into the center of a puto. If it comes out clean, your puto is ready to be enjoyed.
Cooling and Unmolding:
Once the steaming is complete, carefully remove the puto molds from the steamer, taking caution to avoid steam burns. Allow the puto to cool for a few minutes inside the molds before gently unmolding them. The cooling process will help the puto retain their shape.
Presentation and Enjoyment:
Arrange your beautifully cooked puto pao on a platter, and they are now ready to be served! Whether you're enjoying them as a delightful snack or sharing them with family and friends, these fluffy treats with their savory filling are sure to be a hit.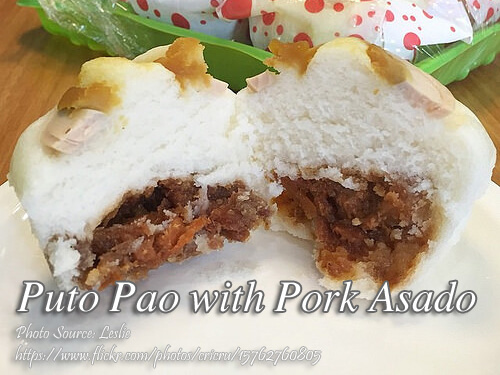 Print Recipe
How To Cook Puto Pao with Pork Asado Filling
Puto pao is one of the many creative variants of the ordinary puto, and usually the white puto.
Ingredients
Pork Asado filling Ingredients:
250

grams

pork shoulder

kasim, cut into small cubes

3

cloves

garlic

minced

1

small onion

chopped

1

Tbsp.

cornstarch diluted in 1/8 cup water

1/8

cup

soy sauce

1/8

cup

brown sugar

1

Tbsp.

oyster sauce

1/4

tsp.

black pepper powder

2

Tbsp.

cooking oil

1

cup

water
Puto pao batter ingredients:
2

cups

all-purpose flour

1/4

cup

white sugar

2

Tbsp.

baking powder

1+1/4

cups

water

1/2

cup

evaporated milk

1/8

cup

butter
For garnishing:
sliced salted egg

cheese sticks
Instructions
How To Cook Puto Pao with Pork Asado Filling
In a large mixing bowl, combine all the dry ingredients: flour, baking powder, sugar and mix well.

Then pour the melted butter, milk and water. Mix but do not make it bubble. Then stir until all the lumps disappear and the batter is smooth in consistency.

Grease the puto molds with margarine or butter.

Then pour some puto batter in the mould, just half of the height of the mold.

Scoop 1 tablespoon of pork asado filling then pour again some batter until the puto mold is filled just enough to cover the filling.

You can top your puto with thin slice of salted egg and cheese sticks if you want.

Arrange in a steamer and steam for about 10 to 15 minutes. The time needed depends on the size of your puto.

You can also insert a toothpick in the middle while steaming the puto to check if it is already cooked.

If the toothpick comes out clean, then your puto is already done.

Remove from the steamer and let it cool for a while then remove from the molds.

Arrange in a platter then serve. Eat and enjoy!
How to Cook Pork Asado filling:
Heat cooking in a skillet and saute garlic and onions until onions are soft. Then add in the pork and saute for 3 minutes.

Pour soy sauce, oyster sauce, brown sugar, black pepper then stir until the pork is well coated with the sauce.

Pour water and bring to a boil. Cover and simmer for 30 minutes or until the pork is tender.

Pour the cornstarch slurry and stir until the sauce is thickened. Add more water if the filling is too dry. Turn off heat and set aside.
Notes
Cooking Tips for Perfect Puto Pao:
Ensure the batter is smooth: Stir the batter gently until all the lumps disappear. A smooth batter will result in softer and more appealing puto.

Grease the molds thoroughly: To avoid any sticking, generously grease the puto molds with margarine or butter. This will make it easier to remove the puto once they're cooked.

Be mindful of steaming time: Keep an eye on your puto pao while they're steaming. Cooking time can vary based on mold size, so it's important to check for doneness using a toothpick.

Get creative with toppings: While the traditional puto pao doesn't require toppings, feel free to experiment and add your own personal touch. Thin slices of salted egg and cheese sticks can elevate the flavor profile of your puto.

Serve fresh and warm: Puto pao is best enjoyed when fresh and warm. Serve them immediately after steaming for the ultimate fluffy and flavorful experience.
Nutrition Notes:
Calorie and other nutrition information is derived from HappyFolks.Com recipe nutrition calculator. The percent daily value (%DV) is based on a daily 2,000 calorie diet.
Nutrition Information:
Amount per Serving:80g, Calories:167kcal, From fat:62,  Total fat:7g, Saturated Fat:3g, Trans Fat:0.1g, Cholesterol: 25mg, Sodium: 204g, Total Carbohydrate: 19g, Dietary Fiber: 1g, Sugars: 3g, Protein: 6g, Vitamin A: 2%, Vitamin C: 1%, Calcium: 5%, Iron: 5%