Puto pao is one of the many creative variants of the ordinary puto, and usually the white puto. Actually you can do the same with the ordinary puto batter by just putting a filling inside. The puto recipe I have here is a little special because it contains milk and butter and what makes it more special is the pork asado filling inside. You can use asado filling for siopao which you can also find in this site.
Making the asado filling is simple. You will need sliced pork that you will stir fry along with garlic and onions. Then add the soy sauce, sugar, oyster sauce and water then simmer until tender. Add in the diluted cornstarch until the sauce becomes thick.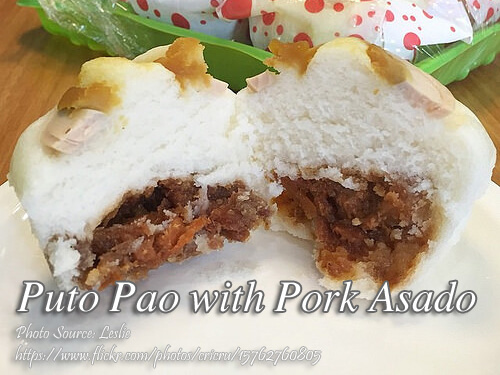 Print Recipe
How To Cook Puto Pao with Pork Asado Filling
Puto pao is one of the many creative variants of the ordinary puto, and usually the white puto.
Ingredients
Pork Asado filling Ingredients:
250

grams

pork shoulder

kasim, cut into small cubes

3

cloves

garlic

minced

1

small onion

chopped

1

Tbsp.

cornstarch diluted in 1/8 cup water

1/8

cup

soy sauce

1/8

cup

brown sugar

1

Tbsp.

oyster sauce

1/4

tsp.

black pepper powder

2

Tbsp.

cooking oil

1

cup

water
Puto pao batter ingredients:
2

cups

all-purpose flour

1/4

cup

white sugar

2

Tbsp.

baking powder

1+1/4

cups

water

1/2

cup

evaporated milk

1/8

cup

butter
For garnishing:
sliced salted egg

cheese sticks
Instructions
How To Cook Puto Pao with Pork Asado Filling
In a large mixing bowl, combine all the dry ingredients: flour, baking powder, sugar and mix well.

Then pour the melted butter, milk and water. Mix but do not make it bubble. Then stir until all the lumps disappear and the batter is smooth in consistency.

Grease the puto molds with margarine or butter.

Then pour some puto batter in the mould, just half of the height of the mold.

Scoop 1 tablespoon of pork asado filling then pour again some batter until the puto mold is filled just enough to cover the filling.

You can top your puto with thin slice of salted egg and cheese sticks if you want.

Arrange in a steamer and steam for about 10 to 15 minutes. The time needed depends on the size of your puto.

You can also insert a toothpick in the middle while steaming the puto to check if it is already cooked.

If the toothpick comes out clean, then your puto is already done.

Remove from the steamer and let it cool for a while then remove from the molds.

Arrange in a platter then serve. Eat and enjoy!
How to Cook Pork Asado filling:
Heat cooking in a skillet and saute garlic and onions until onions are soft. Then add in the pork and saute for 3 minutes.

Pour soy sauce, oyster sauce, brown sugar, black pepper then stir until the pork is well coated with the sauce.

Pour water and bring to a boil. Cover and simmer for 30 minutes or until the pork is tender.

Pour the cornstarch slurry and stir until the sauce is thickened. Add more water if the filling is too dry. Turn off heat and set aside.