This buttered fried pork belly is a very simple dish that can be cooked more or less within 30 minutes. The ingredients are also very simple that you can easily buy it on your local grocery stores or supermarkets. To describe the taste of this dish, it has a buttery flavor with the sweet and spicy taste along with the tender and juicy fried pork belly. I'm sure you will love the taste if your favorite dish is fried pork.
The initial step in cooking this dish is to choose a good cut of the pork belly. The ratio of the meat and fat should be 20 percent fat but just looking at it should give an idea. Then cut the pork belly into 2 inch wide then combine it with patis, calammansi juice, black pepper powder, garlic powder and salt. Mix them together and let it stand for 30 minutes for the pork belly to absorb the marinade. Before frying, coat it with flour and fry until golden brown. Then make a sauce by combining butter, sweet chili sauce and bell peppers and cook in a pan then toss the fried pork belly until coated with the sauce.
NOTES ABOUT THE INGREDIENTS:
Pork belly
Is a rich, fatty cut of meat from the belly of a pig. It is regularly used in dishes like bacon, braised dishes, and grilled or roasted recipes. Look for meat with a good layer of fats for added flavor. It is important to properly cook pork belly to ensure it is safe to consume and absolutely flavorful. Try to find high-quality, domestically sourced pork belly for the pleasant taste and texture.
Butter
Is a dairy product made from churning cream. It is extensively used in cooking and baking for its rich flavor and texture. Unsalted butter is favored for baking, as it permits better management over the salt content material of the dish. When cooking with butter, it is vital to use it at the right temperature to forestall burning. Choose high-quality, unsalted butter for the fine style and texture. Look for brands made with pure cream and no added substances for the purest flavor.
Sweet-chili sauce
Is a versatile condiment made from chili peppers, sugar, vinegar, and spices. It is often used as a dipping sauce or marinade for meats, but can also be used in cooking and baking for added flavor. Choose a high-quality, preservative-free sauce for the first-rate taste. Store in the refrigerator after opening and use within 6 months for satisfactory results. Experiment with specific makers and heat levels to find your favored sweet chili sauce. A balanced combination of sweetness and hotness makes this sauce a staple in many kitchens.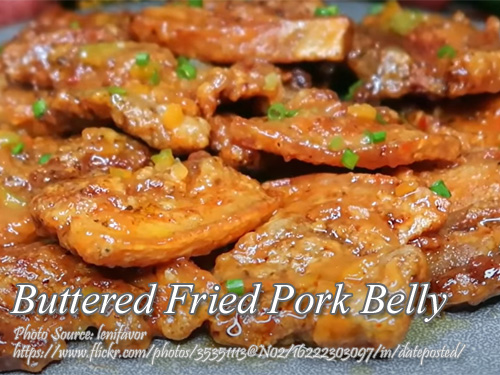 Print Recipe
How to Cook Buttered Fried Pork Belly
A delicious and easy-to-make recipe for buttered fried pork belly, with the combination of succulent marinated pork with butter, sweet chili sauce and fresh bell peppers.
Ingredients
1/2

kilo

pork belly

sliced

1/2

Tbsp.

black pepper

1

Tbsp.

garlic powder

1

Tbsp.

patis or fish sauce

3

Tbsp.

butter

1

tsp.

salt

5

Tbsp.

sweet chili sauce

1

pc

small bell pepper

minced

1

Tbsp.

spring onion

chopped

6

pcs

calamansi

extract the juice

cooking oil for frying

1

cup

flour
Instructions
How to Cook Buttered Fried Pork Belly
If the pork belly you bought is half an inch thick and sliced into strips, slice the pork belly strips into 2 inch wide.

Put in a bowl and add patis, calamansi juice, black pepper powder, garlic powder and salt.

Mix all the ingredients and massage the pork belly to coat it with the ingredients. Marinate for 30 minutes.

Before frying, add flour and mix to coat each of the pork belly slices.

Heat cooking oil in a frying pan about 1 cup then fry the pork belly until golden brown.

When cooked, remove from pan and transfer to a bowl or plate lined with paper towels.

In an empty pan, heat 1 tablespoon of oil and add butter. Stir until the butter is melted.

Add sweet chili sauce and bell pepper. Stir again until sweet chili sauce is well mixed with the butter.

Add the fried pork belly and toss until coated with the sauce. Sprinkle with spring onion as garnishing then serve hot.