A Delicious Twist to a Filipino Favorite
Are you a fan of Filipino cuisine? If so, you've probably tried the popular chicken adobo – a tasty dish made with chicken, vinegar, soy sauce, and spices. But have you ever thought about adding a new twist to this classic recipe? Enter "Buttered Chicken Adobo" – a mouthwatering variation that takes the traditional adobo to a whole new level.
Buttered chicken adobo is a leveled-up version of the popular chicken adobo. It has all the basic ingredients of the usual chicken adobo and the only ingredient that is added is butter or margarine. Of course oyster sauce is also added which has became a staple in cooking adobo. In this recipe blog, we'll walk you through the process of making this scrumptious dish, and you'll be able to impress your family and friends with this delightful fusion of flavors.
The Perfect Ingredients
Before we start cooking, let's gather all the ingredients you'll need for Buttered Chicken Adobo. Choose bone-in chicken pieces like drumsticks or thighs – they give the dish more flavor. You'll also need black pepper to add some zesty taste to the chicken.
The Star of the Show: Butter or Margarine
Now, here comes the highlight of our dish – the delicious butter or margarine. When it melts into the sauce, it adds a rich and creamy taste that sets Buttered Chicken Adobo apart from the usual adobo. This ingredient will make your dish extra indulgent and enjoyable.
Delightful Aromatics
To make your Buttered Chicken Adobo even more flavorful, let's talk about the aromatics. We'll use garlic, which adds a wonderful aroma to the dish. When you sauté the garlic, your kitchen will be filled with a captivating smell that will make your mouth water. Don't forget to save some sautéed garlic for garnishing – it'll give your adobo an extra burst of flavor.
The Harmony of Adobo Flavors
Now, let's mix the wonderful flavors of adobo. We'll use vinegar, soy sauce, and oyster sauce to give the chicken a perfect balance of tangy and savory tastes. And don't forget to add a pinch of granulated seasoning for an even more delightful experience. These ingredients combined will create a symphony of flavors in your Buttered Chicken Adobo.
The Final Touch: Bay Leaves
To make your adobo truly exceptional, we'll add bay leaves. They'll give your dish a subtle herbal aroma that makes it even more special. Sometimes, it's the little details that turn a simple recipe into something extraordinary.
Cooking Your Culinary Symphony
Now that we have all the ingredients, it's time to cook your Buttered Chicken Adobo.
Start by gently massaging the chicken with black pepper – it helps the flavors seep into the meat. In a pan, melt the butter or margarine until it becomes liquid and aromatic. Add the sautéed garlic, and let it release its delicious fragrance. Then, add the chicken pieces and stir until they turn golden-brown.
Now comes the most exciting part – pour in the vinegar, soy sauce, and oyster sauce. Let the flavors blend together as the sauce simmers. Add the cracked black pepper and bay leaves for an even more fantastic taste. Let the chicken cook until it becomes tender, and the sauce thickens.
A Symphony of Flavors on Your Plate
As your Buttered Chicken Adobo is ready to serve, give it a final stir to make sure all the flavors mix well. Turn off the heat, and get ready to serve this culinary masterpiece to your loved ones.
A Delicious Fusion of Taste
With every mouthwatering bite of Buttered Chicken Adobo, you'll experience a wonderful blend of flavors dancing on your tongue. The tangy adobo, the richness of butter or margarine, and the delightful hints of garlic and bay leaves create a truly unforgettable dish. So, why not try making Buttered Chicken Adobo yourself? Your family and friends will be delighted, and you'll have a fantastic new recipe to cherish.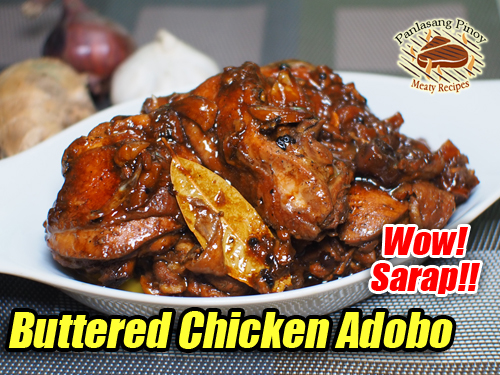 Print Recipe
Buttered Chicken Adobo
Buttered Chicken Adobo is a divine symphony of succulent chicken, tangy adobo, and velvety butter that dances on your taste buds, leaving them utterly enchanted.
Ingredients
1

kilo

chicken leg quarter, wings or any part of your choice

1/3

cup

butter or margarine

50 grams

3/4

cup

soy sauce

3/4

cup

white vinegar

1

Tbsp

cooking oil

2

heads

garlic

crushed

1

tsp

black pepper powder

3

pcs

bay leaves or laurel leaves

1

tsp

black pepper

cracked

1

Tbsp.

oyster sauce

1

tsp

Granulated seasoning (optional)

(e.g. Magic Sarap, NamNam)
Instructions
How to Cook Buttered Chicken Adobo
Wash the chicken in running water and drain. Cut it in desired serving pieces and put in a bowl.

Season with black pepper powder and gently massage it to distribute the black pepper. Set aside.

In an empty pan, heat cooking oil and add butter. Stir until the butter is melted.

Add garlic and fry until brown. Remove from pan and set aside.

In the same pan, add chicken and stir fry until slightly brown. Keep stirring or turning the chicken pieces to brown all the sides.

Then add the vinegar, soy sauce, oyster sauce, garlic, cracked black pepper, granulated seasoning and bay leaves. Bring to a boil and let it cook uncovered for 3 minutes. Do not stir.

Then cover it and cook for 18 minutes or until the chicken is cooked and the sauce is oily and thick. Stir the chicken for a few seconds then turn off heat.

Serve hot with cooked steaming rice or fried rice.
Notes
Cooking Tips of Buttered Chicken Adobo:
Marinate for Maximum Flavor: To infuse your Buttered Chicken Adobo with mouthwatering taste, marinate the chicken in a mixture of black pepper and a splash of soy sauce before cooking. Allow the flavors to meld together for at least 30 minutes or, for an even more intense taste, marinate the chicken overnight in the refrigerator.
Balance the Tanginess: Achieve the perfect balance of tangy and savory flavors by adjusting the amount of vinegar and soy sauce to your liking. If you prefer a more tangy adobo, increase the vinegar; for a richer, umami taste, add a bit more soy sauce. Don't be afraid to experiment until you find your ideal flavor profile.
Butter with a Generous Hand: Don't shy away from the butter or margarine in this recipe – it's the secret ingredient that sets Buttered Chicken Adobo apart. For a luscious and indulgent experience, use generous amounts of butter during the cooking process. The buttery richness will enhance the overall taste and take your adobo to new culinary heights.
Nutrition Notes:
Calorie and other nutrition information is derived from HappyFolks.Com recipe nutrition calculator. The percent daily value (%DV) is based on a daily 2,000 calorie diet.
Nutrition Information:
Amount per Serving:266g, Calories:349kcal, From fat:156,  Total fat:17.7g, Saturated Fat:9.8g, Trans Fat:0.4g, Cholesterol:139mg, Sodium: 2097 Total Carbohydrate: 7g, Dietary Fiber: 1g, Sugars: 0g, Protein: 38g, Vitamin A: 9%, Vitamin C: 9%, Calcium: 7%, Iron: 16%