Chicken asado with sweet potatoes is another variation of the popular chicken asado. Instead of the usual potatoes used when cooking this chicken dish, sweet potato or "kamote" is used. There are also many variants of sweet potatoes but I suggest using the orange colored potatoes which will make the dish more delicious. The orange sweet potatoes looks like an ordinary root crop, the color of the peel is pale or beige but inside it resembles a carrot.
This chicken asado is a tomato sauce based dish but since it has soy sauce you will not notice that it contains tomato sauce because the sauce is brown. Unlike other tomato based dishes that it is obvious because of the reddish colored sauce. This is also a very simple dish and uses only few ingredients like chicken, tomato sauce, soy sauce, sweet potatoes, calamansi juice, onion and garlic.
One of the best things about this dish is it's an easy way to incorporate sweet potatoes into your diet. Sweet potatoes are rich in vitamins and minerals like vitamin A, potassium, and iron, plus low in calories; making them a great choice when trying to maintain a healthy weight. They give the dish natural sweetness and pair well with the tender chicken and tomato sauce.
Preparing the Chicken Asado
This recipe is also extremely versatile – fantastic for a family dinner or special occasion side-dish, and can be prepared ahead of time for large gatherings. All you need to do is marinate the chicken, sauté the onions and garlic, then simmer it all together until the sweet potatoes are cooked through and the sauce thickens. To really take this dish to the next level, why not try making your own homemade tomato sauce? Doing so allows you to control what ingredients are in it and make sure they're high-quality. Simply simmer canned tomatoes along with garlic and onion until you have a delicious sauce!
Overall, this dish is an amazing way to add variety while still getting essential nutrients – whether as a main meal or side-dish, your family & friends will love it! So why not give this classic a tasty twist today?
NOTES ABOUT THE INGREDIENTS:
Sweet potatoes
Are an often-mistaken root vegetable that is not a yam; rather, it is its own species. Delicious and nutty in flavor, they are dense and creamy when cooked. Available in a variety of shades, such as orange, purple, and yellow, sweet potatoes can be used in a multitude of ways – baking, roasting, boiling, mashing, or frying. Besides tasting amazing, they are also super nutritious with fiber, vitamins A & C and minerals like potassium & manganese. On top of that, they are low in fat and calories making them a great dietary addition. Moreover they boast a low glycemic index – making them ideal for those with diabetes. All in all sweet potatoes make a great nutritious addition to any meal!
Raw Chicken
Buying for raw chicken requires you to pick fresh, high-quality cuts that have been stored at the right temperature. The color should be a pale pink, and the texture should be firm and smooth. If it looks slimy or has an off odor, then avoid it as it is likely not fresh. To make sure harmful bacteria is killed off, make sure you cook chicken to an internal temperature of 165°F and follow safe food handling practices when preparing. Raw chicken has many versatile uses across different cuisines and can come in the form of boneless breasts, thighs, wings, or drumsticks.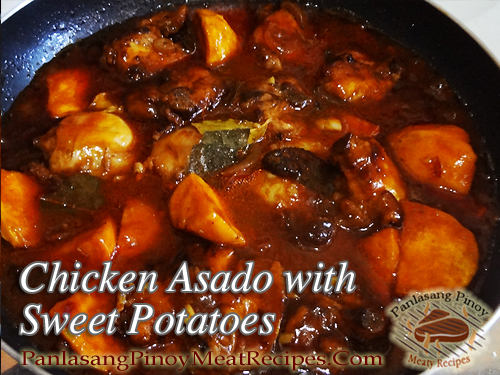 Print Recipe
How to Cook Chicken Asado with Sweet Potatoes
Chicken asado with sweet potatoes is another variation of the popular chicken asado. Instead of the usual potatoes used when cooking this chicken dish, sweet potato or "kamote" is used.
Servings:
4
to 6 servings
Ingredients
1

kilo chicken

cut into serving pieces

1

cup

tomato sauce

1/4

cup

soy sauce

1/2

Tbsp.

calamansi juice

3

pcs bay leaves

3

medium size sweet potatoes

peeled and quartered

cooking oil for frying and sauteing

1

medium size onion

chopped

3

cloves

garlic

minced

salt and pepper to taste
Instructions
How to cook Chicken Asado with Sweet Potatoes:
Wash chicken and drain. Put chicken in a cooking pot and add bay leaves, calamansi juice, soy sauce and tomato sauce.

Stir the chicken with the ingredients. Turn on heat and cover the pot. Then bring it to a boil.

Stir occasionally to prevent the chicken from sticking on the bottom of the pot.

Adjust the heat to low and simmer the chicken for about 20 minutes.

In the meantime, fry the sweet potatoes until slightly brown and cooked.

Remove the chicken from the sauce, reserve and set aside the sauce for later use.

Then fry the chicken until brown. Drain and set aside.

In another pan, heat 2 tablespoons cooking oil and saute garlic and onion until fragrant and soft.

Then pour in the marinade/sauce from the cooked chicken and mix with the sauteed garlic and onion.

Stir and bring the mixture into a boil. Add in the fried chicken first then the fried sweet potatoes then stir to coat well with the sauce. Add salt and pepper to taste.

Stir cook and simmer until the chicken and sweet potatoes absorbed most of the sauce.

Serve hot with steamed rice. Enjoy!