This recipe is a home made version of the popular garlic pepper beef or sometime called garlic pepper steak from Jollibee. In my opinion, this is more like a modern version of beef tapa. And what makes this dish savory and mouth watering is the gravy. You will not believe how easy it is too cook this dish.
Unlocking the Flavorful Secret: Garlic Pepper Beef Jollibee Style
If you've ever craved the delectable flavors of Jollibee's garlic pepper beef or its steak counterpart, you're in for a treat. In this article, we'll guide you through crafting a homemade version that's both satisfying and reminiscent of a modern twist on beef tapa. The star of the show here is undoubtedly the rich, savory gravy that elevates this dish to new heights. Best of all, you'll be surprised at how straightforward it is to whip up this culinary masterpiece.
Marinating the Beef: A Flavorful Start
To kick things off, we'll ensure that our beef is bursting with flavor:
Take a small bowl and combine the beef with soy sauce and oyster sauce. Give the meat some love by massaging it with your hands, employing a gentle squeezing motion. This step ensures that the beef absorbs the rich flavors of the marinade.
Searing the Beef: A Sizzle of Satisfaction
Now, let's move on to the cooking process:
Heat up a pan with oil over medium heat. Once the oil reaches the ideal temperature, begin to stir-fry the marinated beef. Keep an eye on it until it achieves a beautiful, golden brown color. Once the beef is perfectly seared, transfer it to a serving plate. The aroma at this stage will make your mouth water!
Crafting the Gravy: Elevating the Dish
Now, let's focus on the secret sauce – the gravy that takes this dish to the next level:
Begin by melting the butter in a pan over medium heat. Once the butter has melted, introduce the flour and start whisking continuously. This action will transform the mixture into a roux or a thick paste, which serves as the foundation for your delicious gravy.
Next, add the beef cube and water to the roux, maintaining your constant whisking. The beef cube infuses the sauce with a rich, savory essence, while the water ensures it attains the desired smooth consistency. As the sauce simmers, season it with garlic powder, salt, and pepper. Keep whisking and cooking until the mixture thickens into a luxurious gravy. If your gravy appears too thick, don't hesitate to add more water to reach the desired consistency.
Bringing It All Together: A Flavorful Symphony
Now that your beef is seared to perfection and your gravy is rich and velvety, let's combine them:
Gently place the seared beef back into the pan with the flavorful gravy. Stir the beef, ensuring that each piece is generously coated with the savory sauce. To add an extra layer of flavor and texture, sprinkle fried garlic over the top. You can make fried garlic by frying chopped garlic in cooking oil until it reaches a golden brown hue.
Serving and Savoring: A Culinary Triumph
With your homemade Garlic Pepper Beef Jollibee Style ready to go, it's time to savor the results:
Carefully transfer your flavorful creation to a serving plate, letting the enticing aroma fill the room. To complete the experience, serve your Garlic Pepper Beef alongside steamed rice. The harmony of flavors is truly a culinary triumph.
A Final Word on Homemade Delight
In summary, creating your own Garlic Pepper Beef Jollibee Style is a delightful journey through flavors and textures. The marinated beef, rich gravy, and crispy fried garlic combine to create a dish that's both satisfying and impressive. Whether you're an experienced home cook or a novice in the kitchen, this recipe offers a straightforward yet satisfying culinary experience. So, indulge in the deliciousness of Garlic Pepper Beef and enjoy every mouthful. You'll be amazed at how easy it is to prepare this exquisite dish in the comfort of your own kitchen.
NOTES ABOUT THE INGREDIENT:
Beef sirloin
A popular part of the beef and it is known for its flavorful texture. This cut is from the hind quarter of a cow close to the hips. When cooked in a proper way, it will give a juicy and tasty flavor that is perfect for any occasion. It is usually cooked as a steak which is seared to lock the flavors then grilled or cooked in the oven. Beef sirloin can also be sliced thin for easy to cook dishes like stir-fry or samgyupsal or slow cooked as a succulent and tender roast.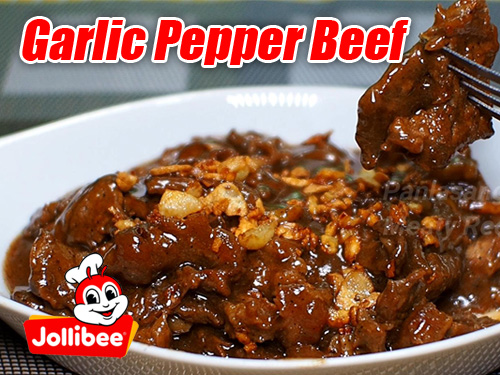 Print Recipe
How to Cook Garlic Pepper Beef Jollibee Style
This recipe is a home made version of the popular garlic pepper beef or sometime called garlic pepper steak from Jollibee.
Ingredients
1/2

kilo

beef sirloin

sliced thinly

1

Tbsp.

soy sauce

1

Tbsp.

oyster sauce

1/2

cup

cooking oil
Ingredients for gravy:
2

Tbsp.

butter

1/2

tsp.

garlic powder

1/2

Knorr beef cube

1

cup

water

2

Tbsp.

flour

1

Tbsp.

sugar

1/2

tsp.

black pepper powder
For garnishing
1

head

garlic

peeled, minced and sliced
Instructions
How to cook Garlic Pepper Beef:
In a small bowl, combine beef with soy sauce and oyster sauce then massage the meat in a squeezing motion using your hands. Heat oil in a pan and stir fry the beef in medium heat until it turns brown. Transfer into a serving plate.

To make the gravy, melt the butter in a pan in medium heat and add the flour. Whisk continuously until it turns in to a roux or paste. Add beef cube and water then continue to whisk.

Season with garlic powder, salt and pepper and continue to whisk and cook until it turns into a gravy. Add more water if the gravy becomes too thick.

Add the beef in the pan and stir. Add fried garlic then serve with steamed rice and enjoy!

(To make fried garlic, fry the chopped garlic in cooking oil until brown.)
Notes
Cooking Tips for Perfect Garlic Pepper Steak
Creating a delectable Garlic Pepper Steak requires attention to detail and some culinary finesse. To ensure your dish turns out perfectly, here are three essential cooking tips:
1. The Right Cut of Beef:
The choice of beef cut plays a crucial role in the overall texture and taste of your Garlic Pepper Steak. Opt for a tender cut like ribeye, sirloin, or tenderloin. These cuts are known for their tenderness and ability to absorb flavors effectively. If you use a tougher cut, consider marinating it for a longer time to tenderize the meat.
2. Perfect Searing:
Achieving a beautiful sear on your beef is key to the dish's success. To do this:
Ensure your pan is hot before adding the beef. A hot pan helps to create a caramelized crust on the meat, sealing in the juices and flavor.
Don't overcrowd the pan. Cook the beef in batches if needed to avoid overcrowding, which can lead to steaming instead of searing.
Pat the beef dry with paper towels before adding it to the hot pan. Excess moisture can prevent proper searing.
3. Balance the Gravy:
The gravy in Garlic Pepper Steak is what sets it apart. Here's how to achieve the perfect balance:
Adjust the gravy's consistency: If your gravy becomes too thick, simply add a bit more water to reach the desired thickness. Conversely, if it's too thin, you can thicken it by whisking in a slurry of cornstarch and water.
Season wisely: Taste the gravy as you season it with garlic powder, salt, and pepper. Start with a little, as you can always add more later. Over-seasoning can be challenging to correct, so err on the side of caution initially.
Let it simmer: Allow the gravy to simmer for a few minutes after adding the seasonings. This helps meld the flavors and ensures the spices are well-distributed.
By following these cooking tips, you'll be well on your way to creating a Garlic Pepper Steak that's not only bursting with flavor but also beautifully seared and perfectly balanced. Enjoy your culinary adventure!