Siopao is very popular dimsum in the Philippines even though this came from the Chinese. There are many kinds of fillings that can be used in this siopao recipe but asado is the most popular. Making siopao is not a difficult as you think.
If you have some experience in kneading dough, then making siopao to you is easy. The only tricky part is twisting and sealing the dough when you finished wrapping up the filling. And the rest, like steaming the siopao is as simple as boiling an egg. Making the asado filling is also no sweat. You will need sliced pork that you will stir fry along with garlic and onions. Then add the soy sauce, Hoisin sauce, sugar and water then simmer until tender. Add in the diluted cornstarch until sauce becomes thick.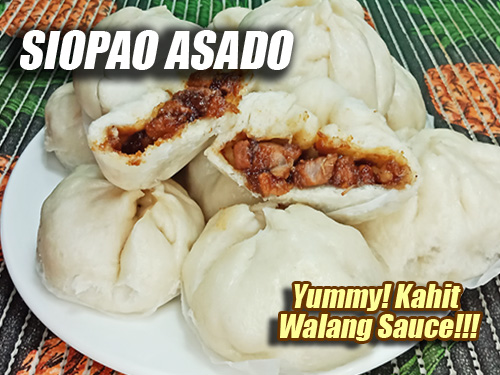 Print Recipe
How To Make Siopao Asado
Siopao is very popular dimsum in the Philippines even though this came from the Chinese.
Ingredients
For the siopao dough:
4

cups

flour

2

tsp

dry active yeast

2

Tbsp

white sugar

(for the yeast)

3

Tbsp

shortening or lard

1/2

cup

sugar

(for the flour)

1

tsp

baking powder

1 and 1/3

cups

warm water

1/4

tsp

salt
For the pork asado filling:
1/2

kilo

pork

slice into small cubes

3

Tbsp

cooking oil

6

cloves

garlic

minced

1

medium size onion

minced

2

Tbsp

cornstarch

dilute in 1/4 cup water

1/8

cup

soy sauce

1/4

cup

sugar

1

Tbsp

oyster sauce

1

Tbsp

Hoisin sauce

optional

2

cups

water
Instructions
Prepare the asado filling first. In a skillet, heat oil and saute garlic and onion.

After the onions become transparent, add the sliced pork and stir fry until the pork becomes light brown.

Then add in the soy sauce, oyster sauce, hoisin sauce and sugar then stir cook then add 2 cups water and simmer for at least 45 minutes.

Add in the diluted cornstarch and stir cook until the sauce becomes thick. Set aside.

To make the dough, soften yeast and 2 tablespoon sugar in lukewarm water. Set aside for from 10 to 15 minutes.

Mix together sugar, salt, and oil in a bowl. Add softened yeast. Add half of the flour and mix well. Add baking powder.

Add remaining flour and continue mixing till well blended; knead on floured board until smooth.

Shape the dough into a ball and place in a greased bowl. Grease surface of dough.

Cover with wet cloth and let rise for from 30 to 40 minutes in a warm place.

Punch down dough, divide it into desired sizes, form into balls and let them rise again for 30 minutes.

Flatten dough pieces with a rolling pin. Use spoon on prepared asado filling into the center.

Wrap the filling by crimping the edges and seal the dough by twisting the top and shape into small balls.

Place a piece of clean wax paper at the bottom of the balls to prevent them from sticking to the steamer.

Let the balls rise for from 1 to 1 and 1/2 hours or until double in bulk.

Steam for from 10 to 15 minutes or until cooked.