Empanada is a very versatile appetizer where you make any kinds of filling imaginable. Like corned beef for example. You can make delicious and appetizing corned beef empanadas using  frozen or canned corned beef. And the veggies combined with the corned beef, you can also substitute the potatoes or carrots with your favorite veggies. Empanada is usually eaten as an appetizer or as s snack and it can also be served anytime of the day whether eaten as breakfast or mirienda with your favorite beverage either softdrinks, fruit juice, coffee or hot chocolate drink. And not only that, it can also be served in parties and if there are kids around you can be sure that they will love this corned beef empanada.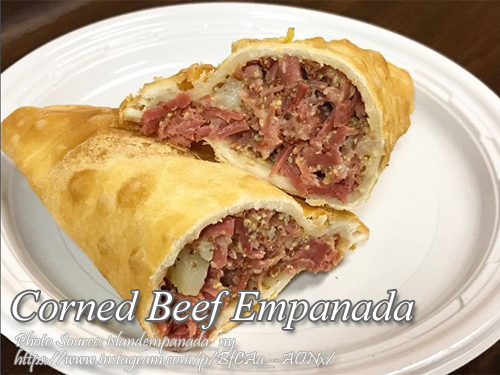 Print Recipe
How to Make Corned Beef Empanada
Ingredients
Empanada Filling:
3

medium potatoes

diced

1

Tbsp.

cooking oil

1

small onion chopped

400

gram

canned corned beef

1

cup

cabbage shredded

3

Tbsp.

butter

melted

2

Tbsp.

spring onion

chopped

salt and pepper to taste

chili pepper flakes

optional

1/4

cup

carrots

cubed

1/4

cup

cheddar cheese

grated

1/4

cup

water
Empanada Dough Ingredients:
3

cups

All-purpose flour

1/4

cup

white sugar

1/2

tsp.

baking powder

1/2

tsp.

fine salt

3

Tbsp.

shortening or butter

1/2

cup

cold water

cooking oil for frying
Instructions
How to make filling of Corned Beef Empanada:
In a large pan, heat oil and saute onion and garlic until the onion are soft. Then add in the the corned beef, carrot, water and potatoes then stir.

Simmer for at least 5 minutes then add the cabbage and season with salt and pepper. Simmer again for another 2 minutes and turn off heat.

In a bowl, put the corned beef mixture and add in grated cheese and spring onions. Mix well until well blended. You can also add in the chili pepper flakes to make it spicy. Set aside and let it cool.
To make the empanada dough:
Combine flour, white sugar, baking powder and salt. Mix the dry ingredients using a wire whisk.

Add in the butter to the dry ingredients and mix them until the butter is well blended with the flour mixture.

Add in the water and knead until the mixture turns into a smooth dough.

Grab about 4 tablespoon of dough and form it into a ball. Do the same for the rest of the dough.

Put in the refrigerator for about 20 minutes. In the meantime prepare a clean surface, like a chopping board, and dust with flour.
To make the Corned beef empanada:
Get a piece of dough and press it on the surface of the chopping board until it become flat.

Using a rolling pin, flatten it further until thickness become at least half a centimeter thick.

Place 4 tablespoon of filling on the center of the flattened dough.

Fold the dough and seal the round edges by crimping or folding it.

You can also seal the edges by pressing a fork. Do the same for the rest of the dough and filling.

In a deep frying pan, heat oil about 3 cups and deep fry the empanadas for 3 to 5 minutes or until the empanadas turns golden brown.

Place the empanadas in a plate lined with paper towels or wire rack to drain excess oil, Then transfer to a plate and serve.