This dish is a unique version of pork sinigang. Instead of only boiling the raw pork with the tamarind broth, this sinigang na lechon kawali uses fried pork belly along with the sinigang broth and with the vegetables of course. This is a good way of recycling the left over lechon kawali you served in the holidays specially this coming Christmas and new year. I think you can also use lechon (roasted pig) instead of lechon kawali if lechon is what you have left after celebrating the holidays.
When cooking the lechon kawali, as much as possible buy a whole pork belly slab. Don't let the butcher or meat vendor slice it into thin strips because when you fry the pork that way, it will become hard and dry. Boil the whole slab or divide it to fit in the pot you are using and boil it until almost tender. Then deep fry the pork until golden brown and the skin is crispy. Slice it into serving pieces and toss it on the sinigang broth.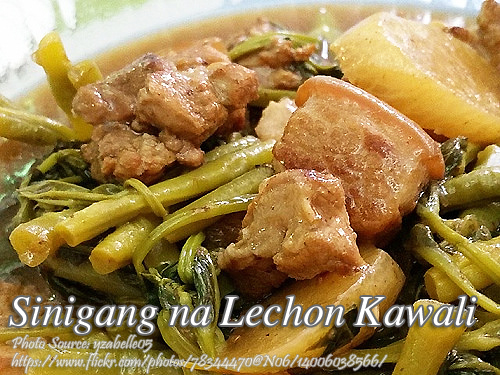 Print Recipe
How to Cook Sinigang na Lechon Kawali
A unique way of cooking pork sinigang that uses lechon kawali. This is a great idea of recycling your left over lechon kawali!
Ingredients
1

kilo

whole pork belly slab

liempo

1 to 2

pcs

medium size onions

quartered

3

cloves

garlic

crushed

1

pc

bay leaf

1

Tbsp.

salt

1

tsp

ground black pepper

water for boiling

cooking oil or frying the pork belly
Ingredients for sinigang soup:
3

pcs

ripe tomatoes

quartered

300

grams

fresh tamarind

or sinigang sa sampalok mix, 40 grams sachet

1

small bunch

string beans

cut into 2 inch long

1

pc

eggplant

sliced diagonally

1

bunch kangkong

use the leaves and soft parts of the stalk

2

pcs

green chili peppers

siling haba

5

pcs

okra

sliced diagonally

1

pc

radish

sliced diagonally

1

pc

small taro root or gabi

peeled and sliced

salt and patis to taste
Instructions
How to cook the lechon kawali:
Slice the pork belly in two to three portions so it would fit the pot. In a medium size pot, put the pork belly and enough water to cover the meat. Put also the onions, bay lea, garlic, salt and pepper.

Bring to a boil and cook until the meat is almost tender. Don't overcook. Drain and transfer to a colander or rack to dry. Then deep fry the pork belly until golden brown. Slice to serving pieces and set aside.
To cook the sinigang na lechon kawali:
In a pot, boil the tamarind fruit with 2 cups of water until the tamarind is soft. Strain the fruit and extract the juice. Set aside. If there are no tamarind fruit available, use sinigang powder mix.

In a medium size pot, bring the pork broth into a boil. Then add tomatoes and gabi and boil until tender.

Then pour the tamarind juice. If fresh tamarind is not available, then use sinigang mix. Then add 2 cups water or rice washing.

Then add in the string beans, okra, eggplants and radish and continue cooking for about 2 minutes. Add some patis to taste if desired, then add the kangkong and siling haba. Simmer for 1 minute more.

Add in the lechon kawali, stir and simmer for 1 minute or less. Or you can just add the lechon kawali upon serving. Serve hot.