Summer is here, and in the Philippines, that means it's time to enjoy the sunny weather and delicious food. The Philippines is known for its rich and diverse cuisine, and during the summer months, there are many refreshing and satisfying dishes to choose from. Here are some of the best summer foods to serve in the Philippines. But be mindful that some of the dishes like lechon, adobo, pork sisig or barbecue are foods that are high in cholesterol and should be eaten in moderation as much as possible with people with high blood pressure or diabetes if it cannot be avoided.
Halo-Halo
If there's one dessert that's perfect for the hot summer weather, it's halo-halo. This colorful and refreshing dessert is a favorite among Filipinos, and it's easy to see why. Halo-halo is a mix of shaved ice, evaporated milk, sugar, and various fruits and sweet beans. It's then topped with a scoop of ice cream, and sometimes even sprinkled with cornflakes or rice crispies for added texture.
The beauty of halo-halo is that it can be customized to your liking. Some popular toppings include banana, jackfruit, sweet potato, and nata de coco. If you're feeling adventurous, you can even add in some cheese or leche flan. Whatever combination you choose, halo-halo is sure to cool you down and satisfy your sweet tooth.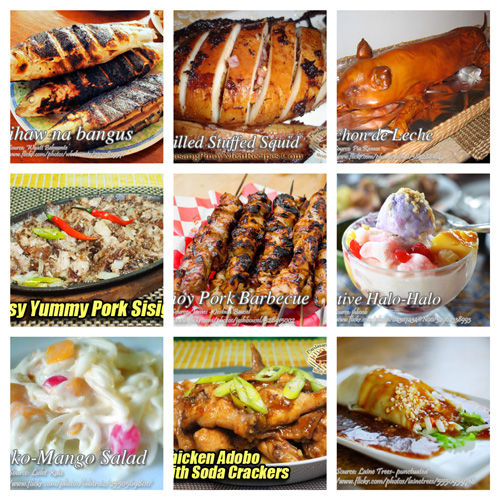 Grilled Seafood
The Philippines is surrounded by water, so it's no surprise that seafood is a staple in the Filipino diet. During the summer months, grilled seafood is a popular and delicious dish. Shrimp, squid, and fish are some of the most common seafood items to grill, and they're often seasoned with garlic, ginger, and calamansi juice.
Grilled seafood is perfect for a summer barbecue or a beach picnic. Serve it with a side of rice and some dipping sauce, and you've got a simple and satisfying meal.
Fresh Fruits
The Philippines is also known for its abundance of tropical fruits. Mangoes, bananas, and pineapples are just a few of the many fruits that are available year-round. During the summer months, serving fresh fruit is a simple and healthy way to cool down in the heat.
Fruit salads are a great way to showcase the different fruits available in the Philippines. You can also serve fruits on their own, or make them into a refreshing smoothie or shake. Some popular fruit smoothies include mango, banana, and avocado.
Lechon is a popular roasted pig dish that's often served during special occasions, but it's also a great option for summer gatherings. The crispy skin and tender meat make for a delicious and satisfying meal.
Lechon is traditionally cooked on a spit over charcoal, but it can also be cooked in an oven or a roasting box. It's often served with a side of rice and a dipping sauce made with vinegar and soy sauce.
Adobo is a classic Filipino dish that's perfect for any season, but it's particularly satisfying in the summer. The savory and tangy flavors are perfect with a side of rice.
Adobo is made with meat (usually pork or chicken), soy sauce, vinegar, garlic, and bay leaves. It's a simple yet flavorful dish that's often served at family gatherings and parties.
Buko Salad
Buko salad is a creamy and refreshing dessert that's made with young coconut, cream, condensed milk, and various fruits. It's similar to halo-halo in that it's a mix of different ingredients, but buko salad is creamier and more indulgent.
Some popular fruits to add to buko salad include pineapple, apple, and mango. You can also add in some nata de coco or kaong for added texture. Buko salad is a great dessert to serve at summer parties or picnics.
Lumpia is a Filipino version of spring rolls, and they're often filled with a mixture of vegetables and meat. They're perfect for summer picnics or as an appetizer for a barbecue.
The filling for lumpia can vary, but it usually includes carrots, cabbage, bean sprouts, and ground pork or shrimp. The mixture is then wrapped in a thin lumpia wrapper and fried until crispy.
Lumpia can be served with a sweet chili sauce or a garlic vinegar dipping sauce. They're a popular street food in the Philippines, and they're sure to be a hit at any summer gathering.
There is also the fresh version of the lumpia called lumpiang sariwa which consist of cooked vegetables such as carrots, mexican turnip or ubod (heart of coconut), lettuce and ground pork or shrimps. Then wrapped in lumpia wrapper than drizzled with lumpia sauce. This version pairs well with pork barbecue.
Sisig is a popular Filipino dish that's made with chopped up pig's head and other meat parts, seasoned with spices and citrus juice, and served on a sizzling hot plate. It may sound unconventional, but the result is a flavorful and addicting dish that's perfect for a summer barbecue. There are other versions of sisig like chicken sisig, bangus sisig or squid sisig with are a healthier options for those who wants to avoid a high cholesterol dishes.
Sisig can be served on its own or as a filling for tacos or cooked rice. It's a dish that's sure to impress your guests and introduce them to the unique flavors of Filipino cuisine.
Ginataang Gulay
Ginataang gulay is a vegetable dish cooked in coconut milk. It's a comforting and filling dish that's perfect for a rainy summer day.
The dish usually includes squash, eggplant, and string beans, cooked in a mixture of coconut milk, garlic, ginger, and onion. It's a healthy and flavorful dish that's sure to satisfy your cravings.
Barbecue
Finally, no summer food list is complete without barbecue. Barbecued meat, chicken, or fish are perfect for a summer cookout or a beach picnic. The smoky flavor and tender texture make for a delicious and satisfying meal.
Barbecue can be served with a variety of side dishes, such as corn on the cob, potato salad, or coleslaw. It's a classic summer dish that's perfect for any occasion.
In conclusion, the Philippines has a wide variety of delicious foods that are perfect for the summer months. From refreshing desserts like halo-halo and buko salad, to savory dishes like grilled seafood and adobo, there's something for everyone to enjoy. So, fire up the grill, grab a cold drink, and enjoy the flavors of the Philippines this summer.