Sisig pizza is one of the creative Pinoy version of the popular pizza. And its a fusion between a popular Western and European food with our local dish which is pork sisig. Actually this is not a new kind of local pizza because this already existed many years back and served in a local fast food chain but I think it didn't last long on their menu. I don't know why but it is still served in some local restaurants that serve specialty Filipino dishes. I this recipe, I prefer a thin pizza crust which you can buy in supermarkets but you can also make your own if you have the patience. Just search online and you can find recipes of thin pizza crust. I also have a simple easy to cook pork sisig here in this recipe blog but to make things even simpler, you can buy a cooked or frozen sisig and just assemble it with your pizza. Of course you have to thaw and cook the frozen sisig first before putting it in your pizza.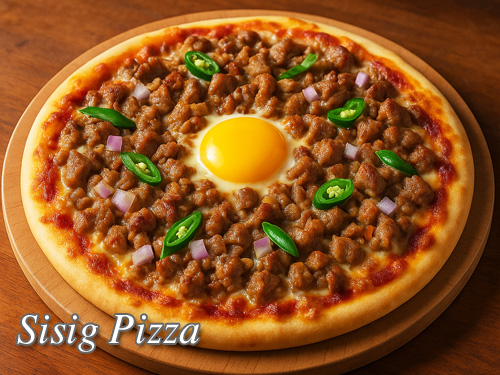 Print Recipe
How to make Sisig Pizza
Ingredients
2

pcs thin pizza crust

10 inches (store bought or home made)

1/2

cup

Italian style pizza sauce

1/2

cup

mozzarella cheese

grated

2

pcs raw egg

3

pcs green finger chilies

sliced diagonally (optional)

1

pc white onion

chopped

150

grams

cooked pork sisig

www.panlasangpinoymeatrecipes.com/sisig.htm
Instructions
How to make sisig pizza:
Preheat oven to 400°F.

Put the pizza crusts on a clean flat surface then spread pizza sauce evenly on the surface of the crust covering entirely.

Spread the grated mozzarella cheese on the top of each of the pizza crust with the pizza sauce. Then spread the cooked sisig on top of the cheese and pizza sauce.

Garnish with green chilies and onions. Then crack one raw egg on the center of each pizza.

Place the pizzas in the oven and bake for 8 to 15 minutes or until the cheese is melted and crust is a little toasted on the sides.

Serve with your favorite juice or softdrinks.