One of the most favorite Filipino recipe is the pork sisig recipe made from chopped grilled pork jowl or pork cheeks. Since this dish is so popular, it is served in most Filipino restaurants, fastfoods and foodcarts. It is also a popular pulutan, paired with beer for those who love social drinking. The recipe I have here is a sizzling sisig and it is close to the authentic Kapampangan style pork sisig because it does not have mayonnaise and other flavor enhances such as Knorr seasoning. If you want it to become more presentable and appetizing, you can put it in a sizzling plate and garnish it with raw egg on top.
When buying pig's jowl, it is not necessary to include the whole head. You can ask the meat vendor to give you the cheek or jowl part of the pig's head. This part is very suitable in making sisig unlike the  pork belly. The only downside is it is very fatty and there are almost no lean meat in pork cheeks or jowl.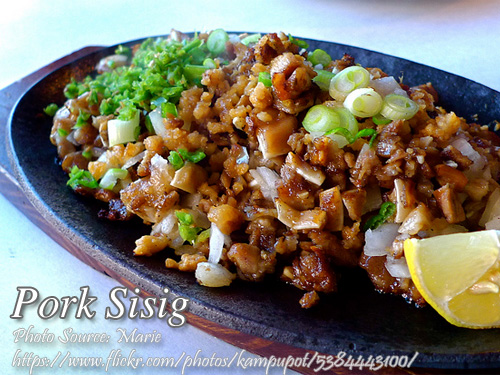 Print Recipe
Sizzling Pork Sisig (Pork Jowl)
One of the most favorite Filipino recipe is the pork sisig recipe made from chopped grilled pork's head.
Ingredients
1

kilo

pork cheek or pork jowl

1/4

kilo

chicken livers

1

tsp.

black pepper corns

3

pcs

bay leaves

1/4

tsp.

black pepper powder

1/2

tsp.

salt

1 to 2

pieces

white onion

chopped

1/3

cup

calamansi juice or lemon juice

1

tsp.

ground black pepper

1

Tbsp.

salt or to taste

1

pc

long green chili

sliced diagonally

1

Tbsp.

butter or margarine

per sizzling plate

siling labuyo

soy sauce and calamansi for condiments
Instructions
How To Cook Sizzling Pork Sisig Using Pork Jowl
Wash pork jowl or pork cheeks in running water. Put in a colander to drain excess water.

Boil the pork jowl until tender for about 45 minutes. Remove from pot and drain in a colander.

Wash chicken liver and drain. Put in a bowl and season with salt and pepper.

Broil pork jowl and chicken liver then cut into small pieces. You can use an airfryer if you don't want to broil it in a charcoal grill.

Prepare a mixing bowl and combine pork jowl, chicken liver, onions, green chili, salt, black pepper and calamansi juice. Toss until well combined.

Heat sizzling plate on a stove and melt butter. Put the pork sisig and stir gently for a few minutes.

Garnish with red chili peppers and serve with steaming rice!