Dinakdakan originated in the Ilokos region in the Philippines and in my opinion is an Ilokano version of sisig, a pork dish originated in Pampanga. The only difference is the additional ingredient which is the pork brain but some other version uses only mayonnaise to make it creamy. The pork parts used in dinakdakan is usually pork mask, nape, ears, intestines and liver but you can also use pork belly just like the sisig version. In this recipe only pork mask and ears are used because it is laborious cleaning the pig's intestines. This is just to make the dish as simple as possible but savory and close to the authentic Ilokano dinakdakan dish.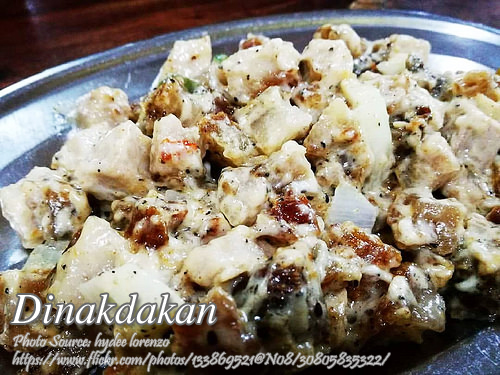 Print Recipe
How to Cook Dinakdakan
Ingredients
1

kilo pork mask with ears

wash and remove hairs

1/4

kilo pork brain

1

white onion

sliced

1

Tbsp.

ginger

minced

3

pcs bird's eye chili peppers

chopped

1

pc green pepper

siling haba, sliced diagonally

1/4

cup

cane vinegar

preferably sukang Iloko

salt and pepper to taste

1/4

cup

mayonnaise

4

pcs calamansi

extract the juice

1

tsp.

sugar
Instructions
How to cook Dinakdakan:
In a pot, put the face mask and ear and pour water just enough to cover the pork, more or less 7 cups. Season with salt and pepper and bring to a boil. Simmer until fork tender, about 30 to 40 minutes.

Slice the pork mask and ears and grill it in a stove top grill or a non-stick pan until the fat is rendered and becomes brown crispy. Slice into strips and put into a bowl. Set aside.

In a separate bowl, mix the onion, bird's eye chili peppers, green pepper, onion, ginger, mayonnaise, calamansi juice, vinegar, sugar, salt and pepper. Mix thoroughly and set aside.

Heat and empty non-stick pan and saute the pork brain. Season with salt and pepper and stir until cooked and becomes a paste like consistency. Remove from the pan and put it on the bowl on top of the sliced pork mask.

Pour the mixture of vinegar and spices on the sliced pork mask and toss until the mixture is evenly distributed with the pork.

Season again with salt and pepper to adjust the taste. Garnish with spring onions.