This is a recipe of a simple lechon manok without roasting it in the oven or charcoal because you are only using an ordinary wok or cooking pot. The chicken is also stuffed with onion, garlic and lemon grass to make it savory. I think this is also called roasted chicken in a pot in some recipes. The heated empty pot or wok will serve as an oven for roasting the chicken but you have to line it with banana leaves to avoid burning the skin of the chicken that touches the pot. The banana leaves will also add a distinctive flavor to the roasted chicken compared to using aluminum foil, but just in case banana leaves are not available, I think aluminum foil will suffice.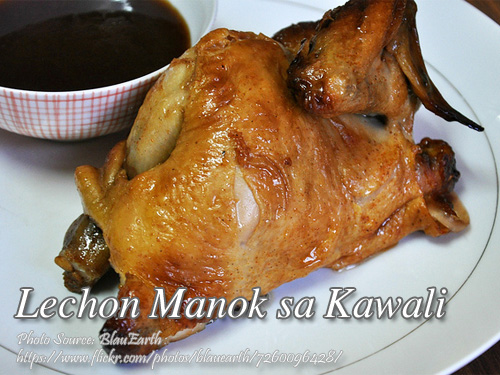 Print Recipe
Lechon Manok sa Kawali (Roasted Chicken in a Pot)
This is a easy to cook chicken in a pot dish which is also called lechon manok sa kawali.
Ingredients
1 1/2

kilo

whole dressed chicken

2

Tbsp.

coarse salt

1

tsp.

ground black peppercorns

banana leaves for lining the pot

4

pcs laurel leaves

1

head

garlic

crushed

3

pcs red onions

chopped

3 to 6

stems

lemon grass

tanglad
Instructions
How to cook Lechon Manok sa Kawali:
Mix the salt and pepper in a small bowl and rub it on the skin and in the inside of the dressed chicken.

Mix the garlic, onions, laurel leaves in small bowl and stuff it inside the chicken. Tie the lemon grass into a knot and stuff it inside the chicken.

Prepare a medium size wok that will fit the whole chicken and brush it with a little cooking oil. Then line it with banana leaves. Place the chicken breast side down on the wok. Cover with some banana leaves and cover with the lid of the wok.

Light up the stove in a low flame and cook for about one hour. Uncover and turn it upside down, cover with banana leaves and the lid then cook it again for another 30 minutes.

Remove from the wok after cooking and transfer to a serving platter. Serve with your favorite lechon sauce.