Lumping shanghai is a fried springroll with meat fillings, an all time favorite finger food or viand among Pinoys. You will never miss this springroll in most Filipino restaurants or fastfood. Making this dish is so simple yet so appetizing specially if you combine it with your favorite dipping sauce. Unlike other kinds of springroll, you can't increase the thickness of the filling because you are using ground raw meat. It's because when you fry it, you will burn the wrapper before the meat inside the lumpia is cooked if the filling is too thick. And with regards to the meat used in the filling, you can use beef or chicken if you abstain from eating pork.
Savoring Lumpiang Shanghai
Lumpiang Shanghai, a beloved Filipino dish, is celebrated for its delightful flavors and irresistible crispiness. Whether it graces the table as a finger food or takes center stage as a main course, Lumpiang Shanghai holds a special place in Filipino cuisine. Found in homes, eateries, and restaurants across the Philippines, this delectable spring roll is a harmonious blend of a crisp wrapper and a savory meat filling. This article serves as your guide to crafting this Filipino favorite, offering invaluable insights and tips to elevate your Lumpiang Shanghai to perfection.
Meticulous Mixing:
Commence your Lumpiang Shanghai journey by assembling your ingredients. You'll need ground pork as the traditional choice, but don't hesitate to substitute beef or chicken if you prefer non-pork options. Begin by thoroughly blending the ground meat with finely chopped onions, carrots, garlic, and green onions. Mixing by hand is recommended to ensure a consistent distribution of flavors.
Flavor Elevation:
Elevate the taste profile of your filling by gradually introducing key ingredients. Soy sauce imparts a savory depth, while pepper adds a gentle kick. Salt and sugar bring balance to the mixture, heightening its overall flavor. If you're feeling adventurous, consider incorporating grated cheese for a delightful hint of cheesiness.
Wrapper Preparation:
Lay a single lumpia wrapper flat on your workspace, ensuring it's spacious enough to accommodate the filling comfortably.
Filling Placement:
Spoon approximately two tablespoons of the meat mixture onto the center of the lumpia wrapper, shaping it into a log-like structure. A crucial tip to remember here is to ensure that the filling doesn't exceed the thickness of your finger.
Rolling with Precision:
To achieve the perfect Lumpiang Shanghai, it's essential to master the rolling technique. Start by folding one edge of the wrapper towards the center, creating a half-roll to form a compact log.
Sealing the Deal:
Fold both sides of the wrapper, adjacent to the previous fold, towards the center of the filling. Continue rolling the lumpia until it's securely sealed. A touch of water along the wrapper's edge helps ensure a firm seal.
Frying to Culinary Excellence
Oil Heating: In a frying pan, heat an ample amount of cooking oil until it reaches the ideal temperature for quick frying.
Fry to Golden Perfection: Gently place the rolled Lumpiang Shanghai into the hot oil. The goal here is to fry them until they achieve a glorious golden brown hue, guaranteeing a crispy exterior that's a hallmark of this dish.
Draining and Presentation: After frying, carefully remove the lumpia from the oil and place them on a colander or paper towel. This step serves to eliminate any excess oil, ensuring a delicious and not greasy result.
Pairing with Your Preferred Dip
With your Lumpiang Shanghai expertly prepared, it's time to enjoy this Filipino culinary gem. The choice of dipping sauce is a personal preference, and you can select from classics like ketchup, sweet and sour sauce, or the zesty spiced vinegar known as sinamak. Whichever you choose, it's bound to complement the dish's flavors perfectly.
Wrapping-Up
Lumpiang Shanghai is a culinary treasure in Filipino culture, embraced by people of all ages. Its tantalizing combination of crispy exterior and savory filling makes it a sought-after treat for any occasion. Armed with these simple yet effective steps, you can effortlessly create this beloved dish in your own kitchen. Feel free to experiment with various dipping sauces to discover the ideal accompaniment for your Lumpiang Shanghai. Whether you enjoy it as a snack or a hearty main course, this Filipino favorite is sure to tantalize your taste buds and leave you yearning for more. So, gather your ingredients, roll up your sleeves, and embark on a delicious journey into the world of homemade Lumpiang Shanghai!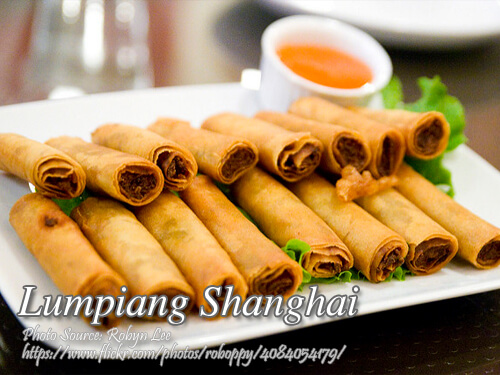 Print Recipe
How to Make Lumpiang Shanghai
Lumping shanghai is a fried springroll with meat fillings, an all time favorite finger food or viand among Pinoys.
Ingredients
1

kilo

ground pork

or ground chicken or beef

1

pc

medium onion

finely chopped

1

pc

carrot

finely chopped

1/8

cup

soy sauce

2

tsp.

ground black pepper

1

Tbsp.

minced garlic

1/2

Tbsp.

salt

1

Tbsp.

brown sugar

optional

1

Tbsp.

green onion

finely chopped

2

cups

grated cheese

(optional)

50

pcs

small lumpia

spring roll wrappers

cooking for deep frying
Instructions
How to make Lumpiang Shanghai:
Combine all ingredients in a bowl starting with the pork, onion, carrots, garlic, green onion.

Mix well using a fork or preferably your hands. You can use a plastic disposable gloves to be sure that the mixture in free from contamination.

Then gradually add the rest of the ingredients: soy sauce, pepper, salt and sugar. Mix very well until the all the ingredients are uniform in texture. Add grated cheese if you want to make it cheesy.

To make the lumpia, lay a piece of lumpia wrapper in a flat surface. Put about 2 tablespoon of the meat mixture on the center and form it into a log shape.

Make sure the filling will be too thick, not thicker than your finger. Fold one edge of the wrapper towards the center and roll it half way to from a log shape.

Fold both sides of the wrapper (adjacent to the previous fold that you made) towards the center.

Roll the lumpia until it forms a log shape. Seal the edges with a dab of water to moistened it.

Do the same procedures to the rest of the batch. Heat oil in a frying pan and fry the lumpia until golden brown and crispy.

Place on a colander or paper towel to drain excess oil. Serve with dipping sauce either catsup, sweet and sour sauce or spiced vinegar (sinamak).
Video
Notes
Cooking Tips for Lumpiang Shanghai:
Perfect the Filling Ratio: Achieving the right balance between the meat filling and the lumpia wrapper is crucial when making Lumpiang Shanghai. The filling should be flavorful but not overly dense. Aim for a filling thickness that's about the size of your finger. This ensures that the Lumpia cooks evenly, with a crispy exterior and a thoroughly cooked interior. Overfilling can lead to uneven cooking and wrapper breakage during frying, so exercise restraint when adding the filling.
Seal the Edges Securely: To prevent the filling from spilling out during frying, it's essential to seal the edges of the Lumpiang Shanghai securely. After placing the filling on the wrapper and rolling it into a log shape, make sure to seal the edges with a dab of water. Press the edges together firmly to create a tight seal. This step helps maintain the shape of the Lumpia and ensures that it cooks evenly, resulting in a crisp and intact spring roll.