Lumping shanghai is a fried springroll with meat fillings, an all time favorite finger food or viand among Pinoys. You will never miss this springroll in most Filipino restaurants or fastfood. Making this dish is so simple yet so appetizing specially if you combine it with your favorite dipping sauce. Unlike other kinds of springroll, you can't increase the thickness of the filling because you are using ground raw meat. It's because when you fry it, you will burn the wrapper before the meat inside the lumpia is cooked if the filling is too thick. And with regards to the meat used in the filling, you can use beef or chicken if you abstain from eating pork.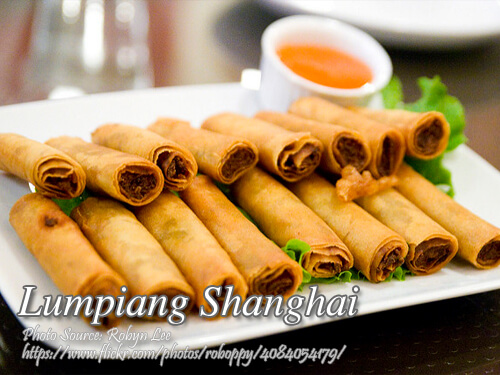 Print Recipe
How to Make Lumpiang Shanghai
Lumping shanghai is a fried springroll with meat fillings, an all time favorite finger food or viand among Pinoys.
Ingredients
1

kilo

ground pork

or ground chicken or beef

1

pc

medium onion

finely chopped

1

pc

carrot

finely chopped

1/8

cup

soy sauce

2

tsp.

ground black pepper

1

Tbsp.

minced garlic

1/2

Tbsp.

salt

1

Tbsp.

brown sugar

optional

1

Tbsp.

green onion

finely chopped

2

cups

grated cheese

(optional)

50

pcs small lumpia

spring roll wrappers

cooking for deep frying
Instructions
How to make Lumpiang Shanghai:
Combine all ingredients in a bowl starting with the pork, onion, carrots, garlic, green onion.

Mix well using a fork or preferably your hands. You can use a plastic disposable gloves to be sure that the mixture in free from contamination.

Then gradually add the rest of the ingredients: soy sauce, pepper, salt and sugar. Mix very well until the all the ingredients are uniform in texture. Add grated cheese if you want to make it cheesy.

To make the lumpia, lay a piece of lumpia wrapper in a flat surface. Put about 2 tablespoon of the meat mixture on the center and form it into a log shape.

Make sure the filling will be too thick, not thicker than your finger. Fold one edge of the wrapper towards the center and roll it half way to from a log shape.

Fold both sides of the wrapper (adjacent to the previous fold that you made) towards the center.

Roll the lumpia until it forms a log shape. Seal the edges with a dab of water to moistened it.

Do the same procedures to the rest of the batch. Heat oil in a frying pan and fry the lumpia until golden brown and crispy.

Place on a colander or paper towel to drain excess oil. Serve with dipping sauce either catsup, sweet and sour sauce or spiced vinegar (sinamak).