How to Make Mouthwatering Pork Tapa at Home
Are you a fan of Filipino cuisine and looking to try a new dish? Look no further than pork tapa! A delightful variation of the popular beef tapa, pork tapa offers a cheaper alternative without compromising on taste and texture. In this article, we will guide you through the process of making your own pork tapa at home, sharing tips and insights to ensure a delicious outcome. Say goodbye to store-bought options and preservatives, and get ready to indulge in a homemade, flavorful pork tapa experience!
Understanding Pork Tapa:
Pork tapa is a versatile dish that can be made with various meats, ranging from beef to more exotic options like horse or carabao. However, in this guide, we will focus on the pork version. Similar to beef tapa, pork tapa boasts a tender and savory flavor profile that will leave your taste buds craving for more. Plus, it's a budget-friendly option that allows you to enjoy a delicious meal without breaking the bank.
Advantages of Making Your Own Tapa:
One of the major advantages of preparing your own pork tapa is the absence of preservatives. Store-bought frozen tapa often contains additives and chemicals to prolong its shelf life. By making it yourself, you have full control over the ingredients, ensuring a healthier and more natural option for you and your family.
Additionally, homemade tapa is more cost-effective. With a few simple ingredients, you can create a generous batch of tapa that will last for several meals. By investing a little time in the kitchen, you can save money in the long run and enjoy the satisfaction of crafting a homemade meal.
Crafting the Perfect Marinade:
The key to achieving tender and flavorful pork tapa lies in the marinade. For a classic sweet version, the marinade typically includes sugar and Sprite. However, feel free to adjust the ingredients according to your preferences. If you prefer a less sweet flavor, you can omit the sugar or reduce the amount. Similarly, if you don't have Sprite on hand, don't worry! The marinade's calamansi juice acts as a natural tenderizer, ensuring a delicious outcome.
Marinating the Pork:
To infuse the pork with the flavors of the marinade, it's essential to marinate it for an adequate period. Ideally, marinate the pork overnight to allow the flavors to penetrate deeply into the meat. This extended marination time will result in a more tender and flavorful tapa.
Cooking Techniques:
There are various ways to cook pork tapa, depending on your preference and equipment. One popular method is pan-frying, which requires a hot skillet or frying pan. Preheat the pan, add a bit of oil, and cook the marinated pork slices until they turn golden brown and caramelized. This method provides a delightful balance of crispy and juicy textures.
For those who prefer a healthier cooking option, grilling or baking the tapa is a fantastic choice. Grilling infuses a smoky flavor, while baking ensures a more even and gentle cooking process. Whichever method you choose, ensure that the pork is cooked thoroughly to maintain food safety.
Serving Suggestions:
Now that your homemade pork tapa is ready, it's time to plate up and enjoy! Pork tapa is traditionally served with garlic fried rice, sunny-side-up eggs, and a side of fresh tomatoes. The combination of the savory tapa, fragrant garlic rice, and the richness of a perfectly cooked egg creates a harmonious symphony of flavors.
Final Thoughts:
Making your own pork tapa at home is not only a cost-effective choice but also allows you to savor a delicious, preservative-free meal. With a few simple ingredients and some marinating and cooking techniques, you can create a delectable pork tapa experience right in your own kitchen. So why settle for store-bought options when you can enjoy the authentic flavors of homemade tapa? Give it a try and impress your taste buds with the delightful goodness of pork tapa! Do you want to try other versions or pork tapa? Try tapang taal recipe!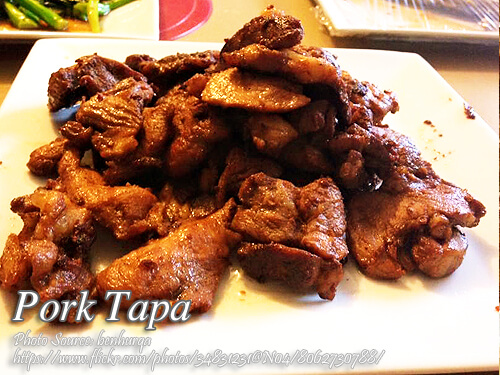 Print Recipe
How to Make Pork Tapa Recipe
Pork tapa is a variation of the popular beef tapa. Actually any meat could be made into tapa and there are some who make tapa out of horses, carabaos or other exotic meats. Discover how to make your own flavorful and budget-friendly pork tapa at home, and enjoy a delicious alternative to beef tapa with this simple recipe.
Ingredients
1

kilo

pork loin

with fat

1

head

garlic

minced

1/4

cup

soy sauce

1/4

cup

calamansi juice or lemon juice

1

Tbsp.

brown sugar

optional

1 1/2

cup

Sprite or 7-up

salt and pepper to taste

cooking oil for frying
Instructions
How to make and cook Pork Tapa:
If the pork is bought from the wet market, wash it in running water and drain for a few minutes.

Slice the pork thinly, just like when you are slicing the meat when you are making beef tapa. Set aside.

In a large bowl or any plastic container (just enough to put all the meat and the rest of the ingredients), put the pork, garlic, soy sauce, calamansi juice, sugar, sprite or 7-up, salt and pepper.

Mix all the ingredients until the sugar is dissolved and the meat is coated with the marinade mixture.

Marinate the meat in the fridge overnight. For best result, you can use a zip lock bag, put the meat and marinade and seal the bag instead of just using a bowl. This way the meat will be marinated evenly.

To cook the pork tapa, heat about 1/4 cup of cooking oil and fry the meat on low heat for 8 minutes or until the pork is tender and light brown.

Serve with fried rice, atchara and fried egg for a hearty breakfast or lunch.
Notes
Cooking Tips for Perfect Pork Tapa:
Slice the pork thinly: To ensure even cooking and maximum flavor absorption, slice the pork into thin, uniform pieces. This allows the marinade to penetrate the meat thoroughly, resulting in tender and flavorful tapa.
Marinate overnight: For the best results, marinate the pork overnight in the refrigerator. This extended marination time allows the flavors to meld together and tenderize the meat, resulting in a more delicious and succulent tapa.
Adjust sweetness to taste: The sweetness of the tapa can be customized according to your preference. If you prefer a sweeter flavor, you can increase the amount of sugar in the marinade. Conversely, if you prefer a less sweet taste, reduce the sugar or omit it altogether.
Don't overcook: Pork tapa should be cooked until it reaches a golden brown color, but be careful not to overcook it. Overcooking can result in tough and dry meat. Keep a close eye on the cooking process and remove the tapa from the heat once it is cooked through and nicely caramelized.
Experiment with cooking methods: While pan-frying is the traditional method for cooking tapa, don't be afraid to experiment with other cooking techniques. Grilling or baking the tapa can add unique flavors and textures to the dish. Try different methods to find your favorite cooking style.