Ingredients:
1/2 kilogram tuna fish fillet, cubed
1/4 cup MAGGI Savor Calamansi
Cooking oil for frying
2 tablespoons cooking oil
1/2 cup onions, chopped
1 sachet 8 gram MAGGI Magic Sarap
1 tablespoon MAGGI Savor Classic
crushed pork chicharon ( pork rind ), optional
How to cook Tuna Fish Sisig
Marinate tuna in MAGGI Savor Calamansi for at least 15 minutes.
Fry marinated tuna until brown and crispy. Set aside.
Heat oil and saute onions for 30 seconds Stir In prepared tuna
and season with MAGGI Maglc Sarap and MAGGI Savor Classic.
Transfer on a heated and buttered sizzling plate. Top with crushed
chicharon if desired.
Note: Preparation Time 10 minutes plus 15 minutes to marinate tuna. Cooking time is 20 minutes.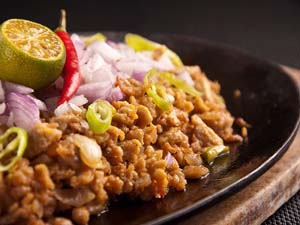 < See More Saltwater Fish Recipes
Try Other Recipes :
Beef Steak A La Crema

Ingredients: 250ml- Nestle all Purpose Cream 1/2 kg beef sirloin, thinly sliced 8 gram Maggi m ...

Seafood Kebab

Ingredients: 1 fresh tuna, cut into big cubes lemon or calamansi juice prawns, shelled  ...