Oxtail menudo is a Spanish dish called "Menudo Sulipeña". Most dishes we have now have Spanish influence and this is one of them. What very interesting is the ingredients are readily available locally and you don't need to find a Spanish specialty shop to buy the ingredients. But since oxtail are expensive, there is a nice alternative that you can substitute with oxtail. You can purchase ox skin in a wet market or meat shop that also sell ox tripe. You can substitute a kilo of oxtail with 600 grams of ox skin with 1/4 kilo of lean beef.
The Roots of Menudo Sulipeña: A Spanish-inspired Delight with Local Flavors
Oxtail menudo, known as Menudo Sulipeña, stands as a testament to the enduring influence of Spanish cuisine in our local dishes. The fusion of flavors and culinary techniques has birthed a delightful recipe that captures the essence of both worlds. What's even more captivating is that you don't need to scour specialty shops for rare ingredients; everything you need is right at your local market.
A Budget-Friendly Twist: Oxtail Substitute
While oxtail is the star of this dish, its cost can sometimes be prohibitive. Fear not, as there's a wallet-friendly alternative readily available – ox skin. Found in most wet markets and meat shops that also sell ox tripe, you can seamlessly replace a kilo of oxtail with 600 grams of ox skin and 1/4 kilo of lean beef.
Crafting Menudo Sulipeña: A Step-by-Step Culinary Journey
1. Preparing the Oxtail Before diving into the cooking process, ensure your oxtail is clean and thoroughly washed. This initial step sets the foundation for a delectable Menudo Sulipeña.
2. Tenderizing the Oxtail To achieve that melt-in-the-mouth goodness, consider pressure cooking the oxtail for 20-25 minutes or simmering it with enough water to cover until it reaches the desired tenderness. This critical phase ensures a succulent texture that elevates the overall dining experience.
3. Transforming Oxtail into Bite-Sized Delights Once the oxtail is tender, the next step is to debone it and cut it into 1/2 inch cubes. This meticulous preparation enhances the dish's presentation and makes it easier to savor each flavorful bite.
4. Creating the Flavor Base In a casserole, the culinary symphony begins. Heat butter and sauté garlic and onions until they release their aromatic essence. Introduce the vibrant duo of red and green peppers, stir-frying them for 2-3 minutes. This medley lays the foundation for the rich flavors to come.
5. Harmonizing the Ingredients With the aromatic base in place, it's time to introduce the stars of the show – chorizo and the prepared oxtail. The marriage of these ingredients, coupled with a generous helping of tomato sauce, creates a savory amalgamation that defines Menudo Sulipeña.
6. Infusing Depth with Simmering Let the ingredients dance over a low flame for about 10 minutes. This simmering process allows the flavors to meld, resulting in a harmonious blend that promises to tantalize your taste buds.
7. The Final Touch: Garbanzos and Seasoning To add a textural element and earthy undertones, incorporate garbanzos into the simmering menudo. Season the dish with a judicious sprinkle of salt and pepper, adjusting to taste. This final touch ensures that every spoonful is a burst of well-balanced flavors.
Menudo Sulipeña: A Culinary Masterpiece at Your Table
Menudo Sulipeña transcends the ordinary, offering a symphony of flavors that dance on your palate. The Spanish-inspired oxtail menudo, with its local twist, showcases the beauty of fusion cuisine. With readily available ingredients and a simple cooking process, this dish becomes a feasible yet impressive addition to your culinary repertoire. Bring the essence of Spain to your dining table and savor the rich, comforting goodness of Menudo Sulipeña.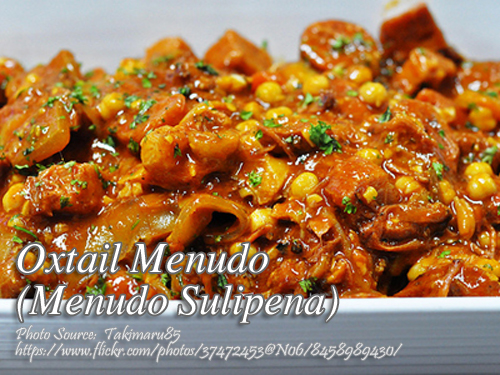 Print Recipe
How to Cook Oxtail Menudo (Menudo Sulipeña)
Menudo Sulipeña is a delectable Spanish-inspired dish featuring succulent oxtail or a budget-friendly ox skin substitute, harmoniously melded with chorizo, peppers, and garbanzos, creating a rich and flavorful culinary masterpiece.
Ingredients
1

kilo

oxtail

2

Tbsp.

butter

1

head

garlic

chopped

1

pc

medium onion

chopped

1

piece

red pepper

cubed

1

piece

green pepper

cubed

1

cup

Chorizo de Bilbao

diced

1

cup

tomato sauce

1

cup

cooked garbanzos

Salt and Pepper to taste
Instructions
How to cook oxtail menudo:
Clean and wash oxtail.

Pressure cook for about 20-25 minutes or simmer with enough water to cover till tender.

Debone and cut into 1/2 inch cubes.

In a casserole heat butter and saute garlic and onion, add red and green peppers.

Stir fry 2-3 minutes. Add chorizo and oxtail and tomato sauce.

Simmer over low fire for about 10 minutes, add garbanzos.

Season with salt and pepper.
Notes
Cooking Tips of Menudo Sulipena recipe:
1. Tenderizing Triumph: Mastering the Oxtail
Achieve melt-in-the-mouth perfection by not rushing the oxtail tenderizing process. Whether pressure cooking or simmering, ensure the oxtail reaches optimal tenderness for a delightful dining experience.
2. Flavor Symphony: Patience in Simmering
Let the flavors meld by allowing the menudo to simmer over a low flame. This patient approach lets the chorizo, oxtail, and other ingredients harmonize, resulting in a rich and well-balanced taste that defines Menudo Sulipeña.
3. Textural Bliss: Garbanzos Timing
The addition of garbanzos introduces a delightful texture. Add them at the right moment during the simmering process to ensure they contribute to the dish's overall appeal without losing their distinct earthy crunch.