Pan seared or pan grilled tuna is a simplest way of grilling your tuna belly or tuna steaks. One advantage of using a pan grill is the tuna is kept moist inside unlike grilling it on a charcoal grill or even an air fryer. Preparing is pretty straight forward and simple. You just need to combine all the marinade ingredients and marinate the fish then cook it by searing in a grill pan. Want to try other tuna dishes? Try this fresh tuna sisig!
A Delectable Culinary Delight
Pan-seared tuna belly, a culinary masterpiece that transforms a simple fish into a mouthwatering delicacy. This cooking technique not only enhances the flavor but also keeps the tuna moist and tender, making it a favorite among seafood enthusiasts. In this recipe post, we'll delve into the art of preparing and cooking pan-seared tuna belly, ensuring that every bite is a burst of flavor.
Preparation: The Key to Tantalizing Tuna
The journey to creating a sumptuous pan-seared tuna belly begins with proper preparation. Let's explore the steps you need to follow:
Cutting and Marinating
Start by obtaining fresh tuna belly or steaks. To ensure even cooking, cut the tuna belly into four equally-sized pieces. Now, it's time to infuse those flavors:
Marinade Magic: In a mixing bowl, combine a flavorful blend of ingredients. You'll need soy sauce for that rich umami taste, a touch of calamansi juice for acidity, minced ginger, and four cloves of minced garlic for aromatic depth. Don't forget a sprinkle of pepper for that subtle kick. Enhance the complexity of your marinade with Worcestershire sauce, a hint of brown sugar for a touch of sweetness, and a dash of barbecue marinade to tie it all together.
The Marinating Process: Pour this tantalizing marinade over the tuna pieces. Allow the tuna to soak up the flavors for at least 20 minutes. This marinating period is crucial as it lets the ingredients penetrate the fish, infusing it with a symphony of tastes.
Cooking Perfection: The Pan Searing Technique
Now that your tuna is marinated to perfection, it's time to move on to the cooking process. Here's how to achieve that delightful pan-seared tuna belly:
Heating and Searing
Oil Up: In a grill pan, heat a drizzle of cooking oil over medium heat. The grill pan's ridges will give your tuna those appealing sear marks while keeping it moist inside.
Sizzle and Flip: Carefully place your marinated tuna belly on the heated grill pan. Sear each side for about 2 minutes. This quick searing process locks in the juices, ensuring your tuna remains succulent.
Set Aside: Once perfectly seared, remove the tuna from the pan and set it aside. The tuna should now have a beautifully caramelized exterior and remain tender within.
Sauce Sensation: Elevating the Flavors
What truly sets pan-seared tuna belly apart is the exquisite sauce that accompanies it. Here's how to create that luscious sauce:
Butter and Garlic Infusion
Buttery Bliss: In an empty pan, melt a generous portion of butter. Butter adds a creamy richness that pairs perfectly with the tuna's natural flavors.
Garlic Aromatics: Add two cloves of minced garlic to the melted butter. Sauté until the garlic releases its fragrant aroma, filling your kitchen with an irresistible scent.
Sauce and Simmer
The Tuna Reunion: Now, bring back your seared tuna belly and reunite it with the sauce. Pour in the remaining marinade, but make sure to strain it first to remove any solids. This step ensures a smooth and velvety sauce.
Cover and Simmer: Place a lid over the pan, allowing the tuna to simmer in the sauce for approximately 3 minutes. This gentle simmering melds the flavors together, creating a harmonious taste.
The Sizzle and Serve
Uncover and Sizzle: As the sauce reduces and thickens, uncover the pan. Let it cook for a few more seconds until you hear that delightful sizzle. This final step intensifies the flavors and adds a tantalizing finish to your pan-seared tuna belly.
Serve with Gusto: It's time to plate your masterpiece. The pan-seared tuna belly, now glistening with that luxurious sauce, is ready to be savored. Serve it hot, and watch as your guests' faces light up with delight.
A Symphony of Flavors
Pan-seared tuna belly is more than just a dish; it's a culinary experience that combines preparation finesse, expert searing technique, and a luxurious sauce to create a symphony of flavors. By following these steps, you'll master the art of pan-seared tuna and delight in every bite of this delectable seafood creation. Elevate your next meal with this remarkable recipe, and savor the magic of pan-seared tuna belly.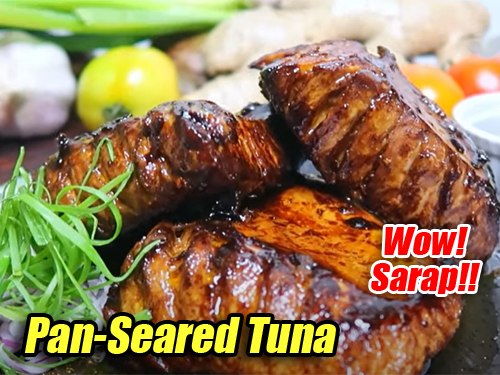 Print Recipe
Pan-Seared Tuna Belly
Pan-seared tuna belly is a succulent delicacy, exquisitely seared to perfection and bathed in a rich, aromatic sauce, creating a symphony of flavors in every bite.
Ingredients
3/4

kilo

Tuna belly

6

cloves

garlic

crushed

5

pcs

calamansi

extract the juice

1

thumbsized ginger

minced

1

tsp.

ground black pepper

8

Tbsp.

soy sauce

1

Tbsp.

Worcestershire sauce

3

Tbsp.

barbecue marinade

1

Tbsp.

brown sugar

1

Tbsp.

cooking oil

2

Tbsp.

butter or margarine
Instructions
How to Cook Pan-Seared Tuna Belly
Cut the tuna belly into 4 pcs. Put in a mixing bowl and add soy sauce, calamansi juice, ginger, 4 cloves minced garlic, pepper, Worcestershire sauce, brown sugar and barbecue marinade.

Marinate the fish for 20 minutes before cooking.

Heat cooking oil in a grill pan. Put the tuna belly and sear in medium heat for 2 minutes on each sides. When cooked, remove from pan and set aside.

In an empty pan, melt the butter and add 2 cloves minced garlic. Sauté until garlic is fragrant.

Put the seared tuna and add the marinade. (Strain the marinade mixture first before using) Cover and simmer for 3 minutes or until the sauce is reduced.

Uncover and let it cook for a few more seconds until the pan sizzles then turn off heat. Serve hot.
Notes
Cooking Tips of Pan-Seared  Tuna Belly:
Ensure Freshness: The quality of your pan-seared tuna belly begins with the freshness of the fish. Choose tuna that is firm to the touch, has a bright, translucent appearance, and a fresh sea-like smell. Freshness is key to achieving the best flavor and texture.
Don't Overcook: Tuna is a delicate fish that can quickly become dry and tough if overcooked. When searing, aim for a hot grill pan and a brief cooking time, typically around 2 minutes per side for a 1-inch thick piece. The center should remain slightly pink for the juiciest results.
Perfect Marinade Balance: Achieve a harmonious flavor profile by balancing the marinade ingredients. Adjust the soy sauce for saltiness, calamansi juice for acidity, and sugar for sweetness to suit your taste preferences. Be sure to let the tuna marinate for at least 20 minutes to infuse the flavors but avoid marinating for too long, as the fish can become mushy.
Nutrition Notes:
Calorie and other nutrition information is derived from HappyFolks.Com recipe nutrition calculator. The percent daily value (%DV) is based on a daily 2,000 calorie diet.
Nutrition Information:
Amount per Serving:275g, Calories:358kcal, From fat:94,  Total fat:10.6g, Saturated Fat:2.9g, Trans Fat:0.1g, Cholesterol:82mg, Sodium: 2079 Total Carbohydrate: 13g, Dietary Fiber: 1g, Sugars: 7g, Protein: 50g, Vitamin A: 8%, Vitamin C: 10%, Calcium: 4%, Iron: 14%