This adobo sa gata dish is the beef version of the well known pork adobo sa gata. This is quite simple to cook and tasty specially if you are abstaining from eating pork. You just need a few ingredients that you can find in your kitchen pantry and refrigerator. Buying the beef ribs in wet market is preferable because most of the time the beef sold in supermarkets has preservatives to prolong its shelf life.
But if you have no other options, you can use it in cooking this dish. There are also other version of pork adobo sa gata is you also want to try it, check this chicken adobo sa gata recipe.
A Delicious Alternative
Spicy Beef Ribs Adobo Sa Gata is a delightful twist on the classic Filipino dish, Adobo sa Gata. If you're a beef enthusiast or simply looking to explore a new culinary adventure, this dish is worth trying. In this article, we'll discuss the delectable Spicy Beef Ribs Adobo Sa Gata and how you can enjoy its flavors at home.
Understanding Spicy Beef Ribs Adobo Sa Gata
Adobo is a beloved Filipino dish characterized by its savory, slightly tangy flavor. Traditional Adobo typically features pork or chicken marinated in a blend of soy sauce, vinegar, garlic, and spices. However, Spicy Beef Ribs Adobo Sa Gata takes a different route by using beef ribs as the star ingredient and incorporating the creamy richness of coconut milk.
Why Choose Beef Ribs
Beef ribs offer a robust and hearty flavor that sets them apart from other cuts of beef. Their natural marbling and tenderness make them an excellent choice for slow-cooking methods like simmering in Adobo sauce. When cooked properly, beef ribs become fall-off-the-bone tender, creating a melt-in-your-mouth experience that's hard to resist.
The Fusion of Flavors
Spicy Beef Ribs Adobo Sa Gata combines the best of both worlds: the boldness of beef and the creaminess of coconut milk. The marinade, infused with soy sauce, black pepper, and oyster sauce, adds depth and complexity to the dish. This savory foundation is complemented by the aromatic trio of onion, chilies, and garlic sautéed to perfection.
Cooking Process
The journey to Spicy Beef Ribs Adobo Sa Gata begins with marinating the beef ribs to allow the flavors to penetrate the meat. This step ensures that each bite is packed with deliciousness. Once marinated, the beef ribs are browned to enhance their flavor profile.
The infusion of bay leaves, marinade, and just enough water to cover the meat sets the stage for a slow simmer. This simmering process is where the magic happens, as the beef ribs gradually become tender and soak up the rich Adobo flavors.
As the dish nears completion, a touch of vinegar adds a hint of acidity that balances the richness of the coconut milk. Finally, the star ingredient, coconut milk, is introduced, giving the dish its signature creaminess. The sauce thickens as it cooks, creating a luscious coating for the beef ribs.
Garnish and Presentation
Before serving, don't forget to add a touch of freshness with finely chopped onion leeks. This garnish not only adds a pop of color but also provides a pleasant contrast to the creamy sauce and savory beef.
Exploring Variations
While we've explored the delectable Spicy Beef Ribs Adobo Sa Gata in this article, it's worth noting that Filipino cuisine offers a wide array of Adobo variations. If you're interested in trying different renditions, consider exploring Chicken Adobo Sa Gata or Pork Adobo Sa Gata. Each of these dishes showcases a unique interplay of flavors that caters to different preferences.
Wrapping Up
Spicy Beef Ribs Adobo Sa Gata is a delightful departure from traditional Adobo, offering a mouthwatering fusion of flavors that's sure to please your taste buds. Whether you're a beef enthusiast or simply seeking to broaden your culinary horizons, this dish is a must-try. With its tender beef ribs, creamy coconut milk, and a touch of spiciness, it's a harmonious symphony of tastes that captures the essence of Filipino cuisine. So, gather your ingredients, fire up the stove, and savor the goodness of Spicy Beef Ribs Adobo Sa Gata in the comfort of your own kitchen.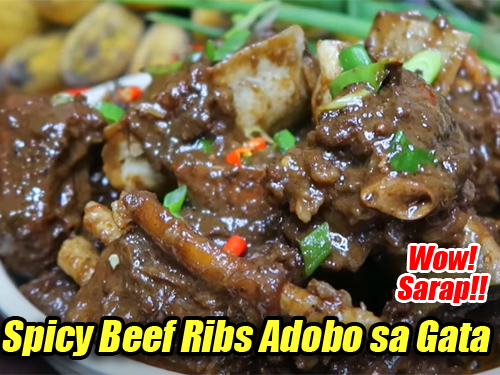 Print Recipe
Spicy Beef Ribs Adobo sa Gata
Spicy Beef Ribs Adobo Sa Gata is a delectable Filipino dish featuring tender beef ribs cooked in a flavorful blend of soy sauce, coconut milk, and spices with a delightful kick of spiciness.
Ingredients
2

kilos

beef ribs

1/2

cup

soy sauce

6

cloves

garlic

crushed

1

pc

onion

3

pcs

bay leaves

1/2

Tbsp.

black pepper

2

Tbsp.

oyster sauce

3

pcs

bird's eyes chili or siling labuyo

1

cup

coconut milk

2

Tbsp.

cooking oil

3

Tbsp.

vinegar

1

stalk onion leeks

chopped

water
Instructions
How to Cook Spicy Beef Ribs Adobo sa Gata
Chop the beef ribs into serving pieces or let the meat vendor do the chopping. Wash the beef ribs and drain in a colander to dry.

Combine beef ribs, soy sauce, black pepper and oyster sauce in a basin or larger mixing bowl.

Mix all the ingredients until well combined. Set aside and marinate the beef ribs in 15 minutes.

In an empty pan or wok, heat cooking oil and sauté onion, chilies and garlic until fragrant.

Add the marinated beef and stir until the beef is brown. Add bay leaves, marinade and water just enough to cover the meat.

Bring to a boil. Cover and simmer for 1 hour or until the beef is tender.

If the beef is already tender, add vinegar and let it simmer for 1 minute. Do not stir.

Add coconut milk and stir. Continue cooking until the sauce is slightly thick. Garnish with onion leeks and serve hot.
Notes
Cooking Tips for Spicy Beef Ribs Adobo sa Gata:
Marinating for Flavor: Allow the beef ribs to marinate for at least 15 minutes in the mixture of soy sauce, black pepper, and oyster sauce before cooking to infuse the meat with delicious flavors.
Slow Simmering: Achieve tender, melt-in-your-mouth beef ribs by simmering them on low heat for an extended period, typically around 1 hour, allowing the meat to absorb the rich adobo flavors and become exceptionally tender.
Balancing Spiciness: Adjust the level of spiciness to your preference by controlling the number of chilies added; start with a small amount and gradually increase to achieve your desired heat level without overpowering the dish.
Nutrition Notes:
Calorie and other nutrition information is derived from HappyFolks.Com recipe nutrition calculator. The percent daily value (%DV) is based on a daily 2,000 calorie diet.
Nutrition Information:
Amount per Serving:350g, Calories:964kcal, From fat:756,  Total fat:84.5g, Saturated Fat:39.7g, Trans Fat:4.8g, Cholesterol:188mg, Sodium: 1127 Total Carbohydrate: 11g, Dietary Fiber: 2g, Sugars: 3g, Protein: 42g, Vitamin A: 9%, Vitamin C: 74%, Calcium: 5%, Iron: 30%