Porky Ginataang Kalabasa (Porky Squash with Coconut Milk)
Ginataang kalabasa or squash with coconut milk is one of the simplest Filipino vegetable recipes. This recipe has more pork in it, half of the amount of squash so it is more meaty. And when selecting or buying squash, look for the green peel and not brown because it is tough and flesh is very firm.
Ingredients:
1/2 kilo squash
1/4 kilo pork belly (liempo), slice into cubes
2 cups coconut milk
1 Tbsp. shrimp paste (bagoong alamang)
2 Tbsp. cooking oil
2 cloves garlic, minced
1 medium size red onion, chopped
1 medium sized tomato, chopped
1 tsp. Magic Sarap or any granulated seasoning
How to cook porky ginataang kalabasa:
Wash, peel and remove the seeds of the squash. Slice into 1 inch size then set aside.
In an empty wok, heat oil and saute garlic, onion and tomato.
When the onion and tomato is already cooked, add the pork belly and stir fry for a few minutes until the pork is light brown.
Then add the shrimp paste and stir fry for a few minutes then add the squash.
Stir fry again until the squash turns to bright yellow or orange depending on the kind of squash you bought.
Then pour the coconut milk, add magic sarap seasoning and simmer until the squash is cooked.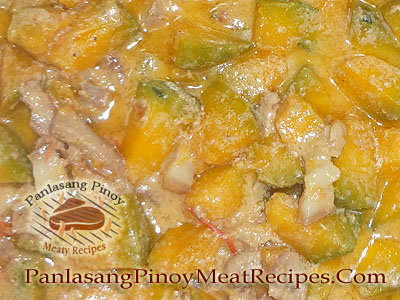 Try Other Recipes :
Crab Meat Squash Soup

Crab meat squash soup is a combination of squash and crab meat made into a creamy soup. Can ...

Ginisang Pinakbet with Bagnet

One of the most popular Ilokano vegetable dish is "pinakbet". It consists of eggplants, okra ...
Categories: Vegetables
One Response
thank you for sharing all your recipes, a big big help for me. Thank you so much bro!

by Alberto agaloos on Nov 14, 2014 at 10:16 am
« Smoked Pork Hamonado in Pineapple | Sinigang na Lapu-Lapu (Grouper in Sour Broth)
---
---
---
---
About Panlasang Pinoy Meat Recipes
Filipino recipes that specializes in all kinds of red meat like pork, beef, chicken, duck, veal or turkey