This longganisa is actually a common type of longganisa sold in wet market or some local meat shop in metro manila or provinces near metro manila like the Calabarzon. But most of the time the kind of longganisa that you are buying doesn't taste that it contains pineapple juice because of cost cutting. So if you will only taste a longganisa with a generous amount of pineapple juice, I think you will say that it is the most delicious longganisa you have ever tasted. That is, if you like sweet varieties of longganisa. In this recipe, there is a preservative included which is the curing salt that helps to preserve the meat. I think it doesn't affect the taste if you will omit it if you are just making a home made longganisa. But the sodium phosphate, although it is optional, it does some wonders in making processed meat products because it helps the meat absorb water, hence it will make the meat juicy when cooked. The commercial application of this additive is not only to make the meat juicy, it also adds weight to the processed meat products which means more profit.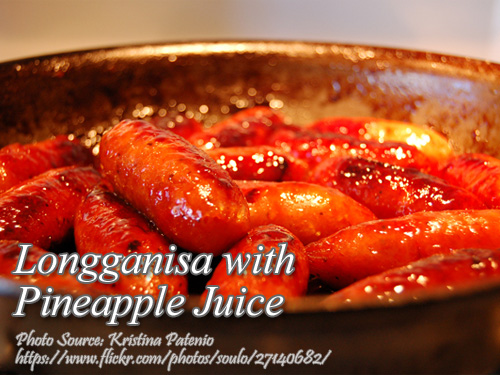 Print Recipe
How to Make Longganisa with Pineapple Juice
Ingredients
700

grams

lean pork

coursely ground

300

grams

pork back fat

coursely ground

1

Tbsp.

salt

1/2

tsp.

curing salt

salitre

1

tsp.

sodium phosphate

dissolve in 1/4 cup water (optional)

3/4

cup

white sugar

2

Tbsp.

garlic

minced

2

Tbsp.

anisado wine

1/3

cup

pineapple juice

1/2

tsp.

MSG

optional

1

tsp.

atchuete powder dissolved in 1/2 cup of water

1

tsp.

paprika powder

1/2

Tbsp.

black pepper

ground

hog casing

cooking twine
Instructions
How to make Longganisa with Pineapple Juice:
In a bowl, combine salt, curing salt, phosphate and anisado wine. Mix until the ingredients are dissolved.

Add in the ground pork, sugar, garlic, pineapple juice, paprika, black pepper, atsuete and MSG. Mix thoroughly until all the ingredients are well combined. Let it cure in a refrigerator for 12 hours.

Using a sausage stuffer or a funnel, stuff the meat mixture in hog casing and poke the air pockets with needles if needed. Divide the longganisa into 2 to 3 inch links by twisting and tie with strings. Store in a freezer and cook when needed.

To cook the longganisa. Heat pan with half a cup of water and put the longganisa. Bring to a boil and let is cook until the liquid has evaporated. Lower the heat and stir constantly to avoid burning and let it render its own fat then fry until golden brown.