Miki noodles are very similar to egg noodles but miki is usually sold fresh and not dried like other noodles sold in supermarkets or wet markets. There usually two kinds of miki, one is very thick which is used in Lomi and the other one is thin, similar to pancit canton. You can use both since they are the same in taste and texture.
The only disadvantage in using miki is, sometimes there are miki that has a slightly bitter aftertaste. Maybe they are not fresh anymore so it has an after taste, just be sure they are fresh before buying. There are lots of meat you can use aside from pork and shrimps listed in the recipe. You might also use chicken liver and chicken meat or beef.
Delicious and Flavorful: Pancit Miki Guisado
If you're a fan of Asian cuisine, specifically Filipino dishes, then you're in for a treat with this Pancit Miki Guisado recipe. A delightful medley of fresh miki noodles, succulent pork, shrimp, and an array of vegetables, this dish is a burst of flavors that's sure to satisfy your cravings. In this article, we'll take a closer look at this delectable dish and guide you through the simple steps to prepare it in the comfort of your own kitchen.
The Delightful World of Miki Noodles
Miki noodles are a unique and scrumptious component of this dish. Unlike the more common dried noodles, miki noodles are usually sold fresh. They possess a distinct texture that sets them apart, making them a staple in various Filipino noodle recipes. There are two main varieties of miki noodles: thick miki, which is often used in dishes like Lomi, and thin miki, similar to the well-known pancit canton noodles. The thin miki is the star of the show in Pancit Miki Guisado. Its springy texture and ability to absorb flavors make it a perfect base for this dish.
Ingredients and Variations
While the recipe traditionally includes pork and shrimp, don't be afraid to get creative with your choice of proteins. Aside from pork and shrimp, you can introduce elements like tender chicken meat or rich beef to cater to your personal taste preferences. Some adventurous cooks even incorporate chicken liver for an extra layer of flavor. This versatility allows you to customize the dish according to your dietary needs and cravings.
Sautéing the Initial Flavors
Preparing Pancit Miki Guisado is simpler than you might think. Follow these steps to create a mouthwatering masterpiece:
Start by heating oil in a cooking pan. Add the pork and stir-fry it for about 5 minutes, allowing it to cook until it turns golden brown and slightly crispy.
Incorporate the aromatics – onions and garlic – into the mix. Cook them until the onions become soft and translucent, releasing their delightful fragrance into the air.
Adding Seafood Sensation
It's time to introduce the seafood element. Toss in the shrimp and stir-fry for a quick minute. Next, add the squid balls and give them a gentle stir for another minute. This step allows the seafood to absorb the surrounding flavors, enhancing the overall taste of the dish.
Seasoning to Perfection
Achieving the right balance of flavors is crucial. Sprinkle in a pinch of salt and pepper to elevate the taste. To deepen the umami notes, add soy sauce and oyster sauce. For that savory punch, dissolve a chicken cube in water and pour it into the pan. Stir and let the mixture simmer for about 5 minutes.
Vibrant Vegetables
Infuse color, texture, and nutrients by adding cabbage and carrots to the pan. These vegetables provide a refreshing crunch and a burst of vibrancy to the dish. Allow them to cook until they reach the desired tenderness.
Miki Noodles Unite
The star of the show is here – the thin miki noodles. Gently incorporate them into the pan, ensuring they're well mixed with the other ingredients. Allow everything to cook together for 3 to 5 minutes, allowing the noodles to absorb the flavors of the dish.
Once the ingredients have melded together beautifully, transfer the Pancit Miki Guisado onto a serving plate. The delightful aroma and colorful presentation will surely whet your appetite.
A Feast for the Senses
Pancit Miki Guisado is more than just a dish; it's a feast for the senses. The combination of savory meats, succulent seafood, and vibrant vegetables, all embraced by the tender miki noodles, creates a symphony of flavors and textures that will leave your taste buds dancing with joy.
So, the next time you're looking for a hearty and satisfying meal that's deeply rooted in Filipino culinary tradition, consider preparing Pancit Miki Guisado. Its simple yet robust flavors are bound to become a household favorite, and with this easy-to-follow recipe, you'll be able to recreate this culinary masterpiece in your own kitchen. Enjoy the culinary journey and the delicious rewards that come with it!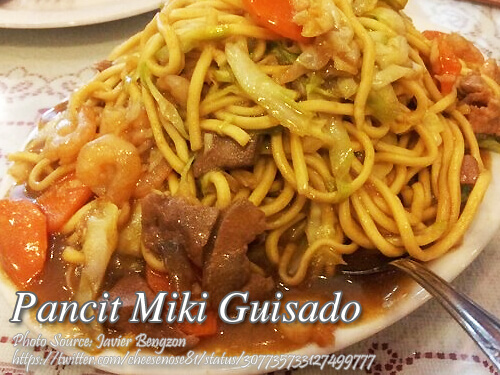 Print Recipe
Pancit Miki Guisado
Pancit Miki Guisado is a Filipino noodle dish made with fresh thin miki noodles stir-fried alongside a flavorful medley of pork, shrimp, squid balls, vegetables, and savory seasonings.
Ingredients
1/2

kilo

miki noodles

1/2

cup

fresh shrimp

shelled

100

grams

squid balls

quartered

100

grams

pork belly

sliced into strips

1

medium onion

sliced

5

cloves

garlic

minced

1

small carrot

julienne

2

cups

cabbage

chopped

1

chicken cube

dilute in 1/2 cup water

3

Tbsp

soy sauce

1

Tbsp

oyster sauce

1/2

tsp

ground black pepper

1/2

tsp

salt
Instructions
How to cook Pancit Miki Guisado:
Heat oil in a cooking pan. Put in pork and stir fry for 5 minutes.

Add-in onions and garlic, cook until the onions becomes soft.

Put in shrimp and stir fry for 1 minute, next add in the squid balls and stir fry for another 1 minute.

Add-in salt, pepper, soy sauce, oyster sauce, chicken cube (diluted). Stir and cook for 5 minutes.

Put-in the cabbage and carrot. Cook until vegetables are tender.

Put-in the miki noodles, and mix together with all the ingredients. Stir cook for 3-5 minutes.

Transfer to a serving plate, then serve.
Notes
Cooking Tips of Pancit Miki Guisado:
Fresh Noodles for Optimal Texture: When making Pancit Miki Guisado, opt for fresh miki noodles as they deliver a superior texture and absorb flavors more effectively than dried alternatives.
Balanced Seasoning: Achieve a harmonious taste by carefully balancing the seasonings. Start with a small amount of salt and pepper, gradually adjusting to your preference. Use soy sauce, oyster sauce, and a chicken cube diluted in water to build depth of flavor.
Quick Seafood Cooking: To ensure the shrimp and squid balls remain tender and succulent, stir-fry them for just a minute each, allowing them to absorb the surrounding flavors without becoming overcooked.