Pancit habhab is one of the popular stir fried noodles that originated in Lucban, Quezon province. It is very similar to pancit canton but the only difference is the noodles used which is the Lucban miki. Obviously you can only buy Lucban miki in Quezon province. I think the name of this pancit is not derived from the kind of cooking or the ingredients used but how it is eaten. It is eaten without utensils, just a small piece of banana leaf and eating it by putting it directly in your mouth. This is the old fashion way of vendors selling this noodles in the past instead of the modern styrofoam or small plastic bags which are bad for the environment. There are varieties of using garnishing on pancit habhab. You can add peeled shrimps, chicharo and cabbage but the recipe here is just using pork belly, pork liver and some veggies which is cheaper specially if you intend to sell it.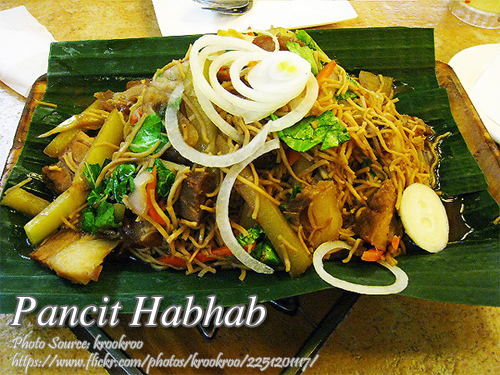 Print Recipe
How to Cook Pancit Habhab
Ingredients
500

grams

Lucban miki noodles

1/4

kilo pork belly

200

grams

pork liver

optional

1

pc carrot

julienned

1

pc chayote

sliced into large strips

2

bunches pechay

chopped

1

pc onion

chopped

3

cloves

garlic

minced

salt and pepper to taste

4

cups

pork broth

3

Tbsp.

soy sauce

1

Tbsp.

cooking oil

2

pcs onion

sliced into rings (for garnishing)
Instructions
How to cook Pancit habhab:
Season with salt and pepper and boil the pork belly in 6 to 7 cups water until the pork is tender. Drain the pork and slice thinly then set aside. Reserve the pork broth or later use.

In a medium size wok, heat some oil and saute the chayote for half a minute. Then add the carrots and pechay. Saute until the vegetables are half cooked. Remove from the wok and set aside.

In the same wok, heat some oil and saute garlic and onion until onions are soft. Add the pork and saute until slightly brown and some of the fat have rendered. Season with salt and pepper.

Add the pork liver and saute for a few minutes until the liver is slightly brown. Pour the pork broth, soy sauce and bring to a boil.

Simmer until the pork is tender. Then add the miki noodles and simmer. Stir the noodles until it absorbed most of the broth and the noodles are cooked.

Turn off heat and mix the vegetables on the noodles. Stir until the veggies are evenly distributed. You can also divide the veggies and mix only half on the noodles and the remaining is garnish it on individual servings. Serve it using banana leaves instead of plates and garnish with sliced onion rings on individual servings.