I can say that pancit is one of the most popular noodle dish for Pinoys because there are many version of this stir-fried noodles depending on the region of the country. Perhaps the indigenous ingredients used in making their version and the creativity that is why there are variations. But actually we just inherited this dish from the Chinese immigrants who landed in this country centuries ago. Like for example this pancit batil patung, a specialty of Tuguegarao City, which is made from minced carabeef, miki noodles, bean sprouts, cabbage and some garnishing of crushed pork cracklings and fried eggs. Carabao meat is one of the distinct ingredients used because it is more accessible there compared to cow meat. But since carabeef is not readily available, you can use beef instead.
It is also served with a soup made from broth (probably carabeef broth) and beaten egg which is why it is called "batil or binatil" meaning to "beat the egg". And the term "patung" meaning "to put on top", which in this case topped with minced beef, vegetables, pork cracklings and eggs. If you want to taste the authentic pancit batil patung and to feel the ambiance, you have to go to Tuguegarao City which is very far northern part of Luzon. Just look at the Google map and you will see. But there is no need to go there because you can cook this dish in your own kitchen. In this recipe there is no recipe of the beef broth with the beaten egg so I think I just put it later if you will make a request by making a comment below.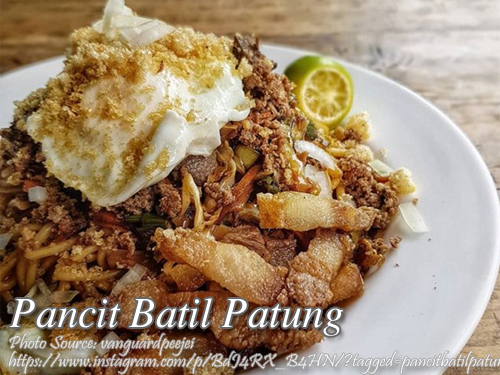 Print Recipe
How to Cook Pancit Batil Patung
Servings:
4
to 6 servings
Ingredients
1/2

kilo fresh miki

1/4

kilo pork belly fat

sliced into small pieces

1/4

kilo ground carabeef or beef

1 to 2

cups

pork chicharon

pork cracklings, crushed

200

grams

cabbage

chopped

1

cup

bean sprouts

3

cups

chicken stock

1/2

cup

soy sauce

fish sauce

to taste

2

medium size onion

chopped

1

head garlic

minced

Freshly ground black pepper

fried eggs

sunny side-up

cooking oil

calamansi
Instructions
How to cook Pancit Batil Patung:
In a pan, heat about a a tablespoon of oil in high heat and saute the ground beef until. Season with salt and remove from the an and set aside.

In the same pan, heat some oil and saute half of the garlic and onion until fragrant. Add the cabbage and saute until the cabbage is half cooked, about 2 minutes then season with fish sauce and pepper.

In the same pan, heat the pan in high heat and stir fry the pork belly until brown and some of the fat is rendered. Set aside.

In the same pan, saute the remaining half of the garlic and onions until fragrant. Increase the heat to high and add the noodles, a cup of chicken stock and sou sauce then stir.

Then add the remaining chicken stock and stir for at least 5 minutes. Stir in bean sprouts and season with patis.

To assemble the pancit; put the noodles in a serving platter. Top with the cooked vegetables and spread the ground beef on top of the vegetables. Spread the crushed chicharon on top of the ground beef. Then top with fried eggs. Serve with calamansi and patis for the condiments.