Delicious Delights from Malabon:
When it comes to Filipino cuisine, there's a dish that stands out both in taste and cultural significance – Pancit Malabon. Originating from the vibrant city of Malabon in Metro Manila, this dish is a true reflection of the region's rich coastal heritage and culinary prowess. In this article, we delve into the wonderful world of Pancit Malabon, exploring its origins, ingredients, and the steps to create this delectable masterpiece in your own kitchen.
A Glimpse into Malabon's Culinary Heritage
Malabon, with its close proximity to the fish port in Navotas City, is a seafood haven. It's no surprise then that Pancit Malabon, a noodle dish teeming with an assortment of seafood, has become one of the city's iconic culinary creations. The local availability of a wide variety of seafood, including shrimp, squid, oysters, and mussels, has paved the way for this dish's distinct character.
Pancit Malabon vs. Pancit Palabok: Unraveling the Differences
If you're familiar with Filipino cuisine, you might have encountered another noodle dish called Pancit Palabok. While Pancit Malabon and Pancit Palabok share some similarities, such as the vibrant yellow sauce that coats the noodles, they also have notable differences. The key distinction lies in the noodles themselves – Pancit Malabon boasts thicker noodles, which lend a heartier texture to the dish. Additionally, Pancit Malabon is renowned for its lavish seafood toppings that make it a seafood lover's dream come true.
Crafting the Culinary Masterpiece: Cooking Pancit Malabon at Home
If you're eager to experience the mouthwatering flavors of Pancit Malabon from the comfort of your own kitchen, follow these steps:
Noodle Preparation:
Begin by boiling water in a pot and cooking Pancit Malabon noodles until they're tender. Once done, drain the noodles and set them aside.To add that signature hue to your dish, soak achuete (annatto seeds) in pork broth. As the broth absorbs the vibrant red color, remove the achuete seeds and blend in flour to create a thickening agent.
Savory Saute:
In a separate pan, sauté garlic until aromatic. Add the achuete mixture to the pan and let the flavors meld as the sauce thickens to perfection.
In a spacious bowl, combine the cooked noodles, achuete sauce, kinchay (Chinese celery), tinapa (smoked fish), chicharon (crispy pork cracklings), and tender chunks of pork. This medley of ingredients sets the stage for an explosion of flavors.
Seasoning Sensation:
Elevate the taste by seasoning your creation with patis (fish sauce) and pepper. These essential Filipino condiments enhance the dish's profile and bring out its unique qualities.
Malabon is an art in itself. Whether you're serving it on a traditional bilao (circular woven tray) or a stylish serving dish, take the time to artfully arrange the noodles and toppings.
Seafood Symphony:
No Pancit Malabon is complete without the seafood symphony. Adorn your dish with succulent slices of boiled eggs, plump oysters, tender squid, and succulent shrimp. These seafood treasures not only make your creation visually appealing but also infuse it with irresistible flavors. To round off your culinary masterpiece, add some vibrant pechay (Chinese cabbage) leaves. This touch of green not only enhances the dish's visual appeal but also balances its flavors.
Savoring the Result: A Feast for the Senses
As you take your first bite of the carefully crafted Pancit Malabon, you're transported to the coastal charm of Malabon. The harmonious blend of textures – from the thick noodles to the crispy chicharon and tender seafood – creates a symphony of flavors that is uniquely Filipino. The richness of the achuete-infused sauce, coupled with the umami of the seafood, is a testament to the culinary expertise that has been passed down through generations.
A Journey through Flavor and Tradition
Pancit Malabon is more than just a dish; it's a journey through the rich culinary tapestry of the Philippines. Rooted in the coastal heritage of Malabon and made memorable by its exquisite seafood medley, this noodle dish captures the essence of Filipino cuisine. By following the steps outlined in this article, you can recreate the magic of Pancit Malabon in your own kitchen, indulging in the flavors that have delighted palates for generations. So, gather your ingredients, embrace the art of preparation, and savor the delectable result – a plate of Pancit Malabon that's a true testament to Filipino culinary mastery.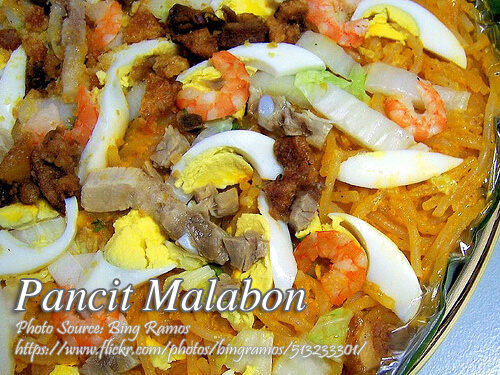 Print Recipe
How To Cook Pancit Malabon
Pancit malabon is a Filipino noodle dish that originated from Malabon.
Ingredients
1/2

kilo

fresh pancit Malabon noodles

1/4

kilo

pork

boiled and cut into strips

1/2

kilo

shrimp

cooked and shelled

3

cups

pork broth

3

tablespoons

achuete seeds or annatto seeds

2

tablespoons

flour

1

small head garlic

crushed

2

tablespoons

kinchay

chopped

100

grams

tinapa

deboned and flaked

100

grams

chicharon

crushed finely

1/4

cup

kalamansi juice

Patis

fish sauce

Pepper to taste

1/2

kilo

oysters

shucked and cooked (or mussels)

1/2

kilo

squid

cleaned, boiled and sliced into rings

2

pcs

hard boiled eggs

cut in quarters

1

pc

head pechay tagalog

blanched and sliced
Instructions
How To Cook Pancit Malabon:
In a pot boil water and cook pancit Malabon noodles. Drain and put aside.

Soak achuete in pork broth, when the broth turns dark red, remove achuete and blend in flour.

Saute garlic and add atsuete mixture. Cook till thickened. In a large bowl put together noodles, achuete sauce, kinchay, tinapa, chicharon, pork, kalamansi juice.

Season with patis and pepper. Arrange attractively on a serving dish or a bilao.

Decorate with sliced boiled eggs, oysters, squid, shrimps and pechay.
Notes
Cooking Tips of Pancit Malabon:
Noodle Perfection: The Right Cook Time for Optimal Texture Achieving the perfect noodle texture is crucial for a delightful Pancit Malabon experience. Boil the Pancit Malabon noodles just until they are tender yet firm to the bite. Be attentive to avoid overcooking, which can result in mushy noodles. Once cooked, promptly drain and rinse them with cold water to maintain their ideal consistency.
Achuete Infusion: Achieving Depth of Flavor and Color The distinctive hue and rich flavor of Pancit Malabon come from achuete, or annatto seeds. For an effective infusion, soak the achuete seeds in warm pork broth. Strain the seeds once the broth has acquired the desired red color. To thicken the sauce and enhance its texture, add flour to the achuete-infused broth. This step yields a velvety sauce that coats the noodles and toppings beautifully.
Toppings Excellence: Balancing Flavors and Presentation Toppings are a crucial aspect of Pancit Malabon, enhancing both taste and presentation. When arranging the toppings, consider their placement for an appealing visual display. Ensure that seafood toppings like squid, shrimp, and oysters are cooked to perfection – tender squid, succulent shrimp, and plump oysters contribute to a symphony of flavors and textures. Mastering the art of topping preparation and arrangement is key to achieving a harmonious Pancit Malabon masterpiece.