Chicken and pork embutido is a combination of ground pork and ground chicken meat and made into a meatloaf. The original embutido use only pork but this one has chicken meat in it. Embutido is a Filipino version of meat loaf wrap in aluminum foil.
The traditional way is wrapping the embutido mixture in pig's caul fat or membrane of fat that encloses the intestines, (remember the white color hair net-like structure?) and formed into baloney shape. Today you can seldom see those kinds of embotido and most dishes specially commercial ones use aluminum foil. Anyway the recipe I have here use aluminum foil for practicality but if you can find the caul fat, then I think you can replace the aluminum foil with it.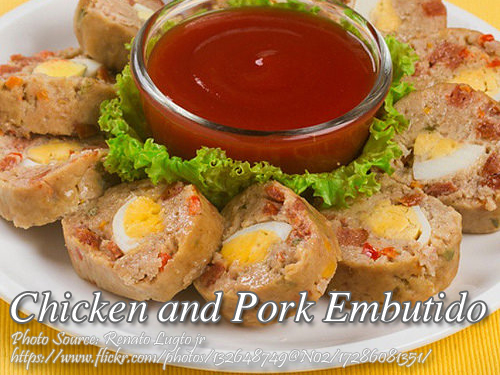 Print Recipe
How to Cook Chicken and Pork Embutido
Ingredients
1/2

kilo ground pork

fatless

1 1/2

cup

chicken meat

grind or chopped finely

3

raw eggs

2

Tbsp.

picked relish

2

Tbsp.

grated cheese

3

Tbsp.

bread crumbs

1

tsp.

MSG

2

tsp.

salt

1

tsp.

pepper

1

Tbsp.

white sugar

1/2

tsp.

cinnamon powder

2

hard boiled eggs

sliced

1

cooked carrot

cut into strips
Instructions
How to cook chicken and pork embotido:
Mix all ingredients except carrot strips. Spread mixture on cheese cloth or aluminum foil.

Arrange the carrot strips on top. Then in a jelly roll fashion, roll up the mixture.

Roll tightly and wrap with cheese cloth or aluminum foil.

Bake in pre-heated oven at 300 °F. After 1/2 hour baking, open the wrapping and continue baking for another 15 minutes or until brown.

An alternative to baking, is to steam-bake embutido in a steamer or ordinary deep pan.

After steaming for an hour, fry until golden brown.

To make the sauce, thicken the drippings with 1 tablespoon cornstarch or flour (dissolved in water) and pour on sliced embotido when about to be served.

Garnish with spring onion or parsley.