Cooking Up Authentic Dagupan Kaleskes: A Hearty Recipe
If you've ever been curious about the rich and vibrant flavors of Filipino cuisine, Dagupan Kaleskes is a dish that deserves your attention. This traditional specialty, hailing from the heart of the Philippines, promises a tantalizing journey for your taste buds. In this recipe blog post, we'll walk you through a delightful Kaleskes recipe, ensuring you can savor this unique dish right in your own kitchen.
Exploring the Essence of Kaleskes
Before diving into the cooking process, let's understand what makes Kaleskes so special. The name "Kaleskes" originates from the Pangasinan language, signifying the essence of intestines within the dish. This culinary treasure combines cow or carabao meat with an assortment of internal organs, all simmered in a hot and flavorful orange-hued broth.
Key Ingredients and Their Roles
One of the vital components setting Kaleskes apart is annatto or achuete. This natural coloring agent lends the soup its distinctive orange hue and contributes to a subtly nutty, earthy, and delicately sweet flavor. While annatto plays a pivotal role, the true magic comes from the combination of tender beef and innards. Some culinary enthusiasts prefer carabeef, known for its enhanced flavor and cost-effectiveness. But in this recipe, you can choose not to use innards such as intestines and tripe but you can substitute it with beef sirloin and beef tendons.
Kaleskes vs. Other Filipino Classics
Kaleskes shares a culinary heritage with other Filipino classics like Sinanglao and Pinapaitan. However, it distinguishes itself by steering clear of the sour notes found in Sinanglao and the bitter, biliary undertones characteristic of Pinapaitan. This distinction makes Kaleskes a unique and enticing dish, appealing to a broader range of palates.
A Taste of History
The legacy of Dagupan Kaleskes dates back to 1954, making it deeply ingrained in the history of Dagupan City. The first Kaleskes stalls were initially located near the Old Chinese Cemetery, and later, the vendors found their home in the Old Perez Public Market, now popularly known as the "Kaleskesan." This culinary tradition has not only survived but thrived, drawing both locals and visitors eager to partake in this beloved dish.
Cooking Dagupan Kaleskes: A Step-By-Step Guide
Now, let's dive into the heart of the matter: how to prepare Dagupan Kaleskes in your own kitchen. This step-by-step guide will ensure you can recreate this beloved Filipino dish with confidence.
Prep the Intestines and Tripe
If you're using beef or carabeef intestines and tripe, start by cleaning them thoroughly under running water and allowing them to drain.
Pressure Cook the Meat
Place the cleaned intestines and tripe in a pressure cooker and add just enough water to cover the meat. Cook until they are almost tender.
Sauté the Aromatics
In a large pot, heat 3 tablespoons of cooking oil. Sauté garlic, ginger, and onions until the onions turn soft.
Add the Meat
Add the pre-cooked tripe and intestines (or carabeef tendons and sirloin) to the pot and stir. Sauté for approximately 4 minutes over high heat.
Introduce the Vinegar
Pour in the vinegar and allow it to simmer for 1 minute without stirring.
Prepare the Annatto Water
In a separate container, add 1/2 cup of hot water to the annatto seeds and stir until the water takes on a reddish hue.
Enhance the Broth
Strain the annatto water and add it to the pot. Pour in the beef stock and bring the mixture to a boil. Season with salt and pepper and continue to cook for about 20 minutes or until the meat becomes tender.
Final Touches
Add green chilies, spring onions, and adjust the seasoning to your taste. Once everything is well-balanced, turn off the heat, and transfer the Kaleskes to a serving bowl. It's best served hot, and the broth is unlimited, so feel free to ask for endless refills to savor the full experience.
Now, armed with this step-by-step guide, you're ready to embark on your culinary journey to create an authentic Dagupan Kaleskes. This delectable dish promises to not only satiate your palate but also connect you with the rich history and flavors of the Philippines. Enjoy the hearty, orange-hued delight that is Kaleskes, right in the comfort of your own home.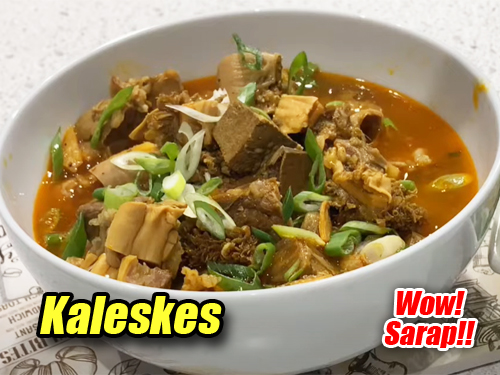 Print Recipe
Kaleskes Recipe
Kaleskes is a traditional Filipino dish originating from Dagupan, Pangasinan, featuring a savory hot broth made with cow or carabao meat and various internal organs, seasoned with annatto and aromatic ingredients, all slow-cooked to perfection.
Ingredients
1

kilo

beef small intestines or beef sirloin or carabeef sirloin

thoroughly cleaned

1

kilo

beef tripe or beef tendons or carabeef tendons

thoroughly cleaned

1/2

cup

cane or palm vinegar

12

cups

beef stock

from the boiled intestines and tripe

3

stalks

spring onions

sliced

6

pcs

green finger chillies

3

pcs

large onions

finely chopped

2

whole

garlic

minced

2

inch

ginger

sliced into strips

3

Tbsp.

annatto seeds

1/2

Tbsp.

ground black pepper

rock salt

to taste

cooking oil
Instructions
How to Cook Kaleskes
If you are using beef or carabeef intestines and tripe, clean the intestines and tripe in running water and drain.

Put in a pressure cooker and fill with water just enough to cover the meat. Cook it until almost tender.

Follow the same procedure if you are using carabeef tendons and sirloin.

In a large pot, heat 3 Tbsp. cooking oil and sauté garlic, ginger and onions until the onions are soft.

Add the tripe and intestines (or tendons and sirloin) and stir. Sauté for 4 minutes in high heat.

Add the vinegar and let it simmer for 1 minute, do not stir.

Meanwhile, add 1/2 cup hot water to the annatto seeds and stir until the water turns reddish.

Add the annatto water by straining the seeds and pouring it in the pot.

Pour the beef stock in the pot and bring to a boil. Season with salt and pepper then cook again for 20 minutes or until tender.

Add the green chilies, spring onions and adjust the seasoning if needed.

Turn off heat and transfer to a serving bowl. Serve hot.
Notes
Cooking Tips for Kaleskes Recipe:
Properly clean and prepare the intestines and tripe to ensure they are free of any impurities before cooking.

When using annatto (achuete) for color and flavor, ensure that the annatto water is well-strained to prevent any unwanted seed residues.

Be patient with the slow cooking process; allowing the meat to simmer until tender ensures the best flavor and texture for your Kaleskes.
Nutrition Notes:
Calorie and other nutrition information is derived from HappyFolks.Com recipe nutrition calculator. The percent daily value (%DV) is based on a daily 2,000 calorie diet.
Nutrition Facts:
Amount per Serving:550g, Calories:339kcal, From fat:171,  Total fat:19.2g, Saturated Fat:9.4g, Trans Fat:0.2g, Cholesterol:195mg, Sodium: 865 Total Carbohydrate: 6g, Dietary Fiber: 1g, Sugars: 2g, Protein: 34g, Vitamin A: 8%, Vitamin C: 116%, Calcium: 15%, Iron: 15%