Chicken asado or asadong manok is a chicken version of the well known pork asado. Again, if you are searching for a healthier version of asado, then chicken asado is for you. And with regards to the dish appearance, you might confuse it with of chicken afritada because of the combination of chicken, tomato sauce, paprika, potatoes and bell peppers. Tomato sauce and makes the dish look yellowish red that is why they have similarities but soy sauce makes the chicken asado a little bit darker so you will notice the difference. Want to try other version of chicken asado? Try Chicken Asado with Sweet potatoes!
Preparing the Chicken
Before you embark on your culinary journey to create a delicious plate of chicken asado, it's important to gather your ingredients and prepare them properly.
Marinating the Chicken: Start by combining the chicken pieces with vinegar, soy sauce, salt, pepper, and garlic. Allow this flavorful marinade to infuse the chicken for at least 30 minutes. This step is crucial to ensuring that your chicken is packed with delicious flavors.
Cooking the Potatoes
One of the defining characteristics of chicken asado is the addition of crispy, golden-brown potatoes. Follow these steps to prepare them to perfection:
Frying the Potatoes: Heat some oil in a skillet over medium heat and gently fry the potato slices until they turn a beautiful golden brown. Crispy potatoes will not only add a delightful crunch to your dish but also a rich, earthy flavor.
Searing the Chicken
The next step is to cook the marinated chicken, infusing it with the delightful blend of flavors you've created.
Pan-frying the Chicken: Drain the chicken pieces while saving the marinade. Pan-fry the chicken in a skillet for about 3 minutes on each side, or until they turn a luscious golden brown. Afterward, set the seared chicken aside for now.
Preparing the Flavorful Sauce
The heart of any asado dish is its sauce. Here's how to create the delectable sauce that will elevate your chicken asado to a new level of taste.
Sauteing Onions and Tomatoes: In the same skillet, sauté finely chopped onions and tomatoes until the tomatoes become mushy. This step will add a delightful tangy and sweet flavor to your dish.
Mixing the Ingredients: Add back the pan-fried chicken pieces along with the marinade. To spice things up, toss in some paprika, a bay leaf for that subtle aroma, and tomato sauce to enhance the color and depth of flavor. Add just the right amount of water to achieve the perfect consistency.
Simmering the Asado
Now, it's time to let all the flavors mingle and intensify.
Simmering for Perfection: Allow the entire mixture to simmer for about 30 minutes or until the chicken becomes tender and flavorful. This slow simmering process helps the chicken absorb all the wonderful tastes from the sauce. It's a key step in the journey to delicious chicken asado.
Final Touches
The last few steps add the finishing touches to your mouthwatering chicken asado.
Potatoes and Bell Peppers: Add the fried potatoes to the simmering pot along with some colorful bell peppers. This step not only enhances the visual appeal of your dish but also adds an array of textures and flavors. Simmer for a few more minutes to ensure the potatoes and bell peppers are perfectly cooked.
Correcting Seasoning: Taste the chicken asado and adjust the seasoning as needed. You can add more salt, pepper, or any other preferred seasonings to achieve the perfect balance of flavors.
Serving Your Chicken Asado
Now that your chicken asado is ready, it's time to share it with your family and friends. This recipe is perfect for a gathering of about 8 people, making it an ideal choice for a delicious and satisfying meal.
Wrapping-Up
Chicken asado, or asadong manok, is a wonderful alternative to traditional pork asado that provides a healthier twist on a classic dish. With the delightful blend of chicken, tomato sauce, paprika, potatoes, and bell peppers, it offers a flavorful and colorful dining experience. The marinating process, pan-frying the chicken and potatoes, creating the perfect sauce, and allowing everything to simmer to perfection are key steps in achieving an outstanding chicken asado.
Correct the seasoning to your taste, and you'll have a savory and satisfying dish that's sure to please your palate. So, next time you're in the mood for a delectable Filipino dish, give chicken asado a try, and delight in the rich, harmonious flavors it has to offer. Your taste buds will thank you for it!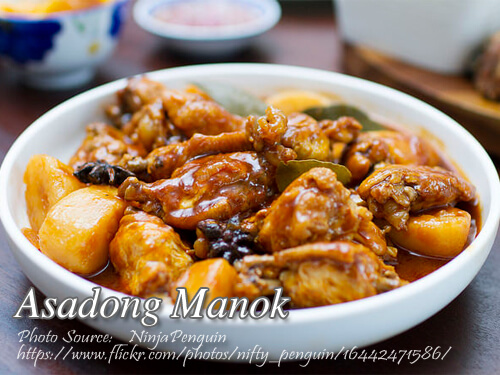 Print Recipe
How to Cook Asadong Manok
Chicken asado is a delectable Filipino dish featuring marinated chicken, potatoes, and bell peppers simmered in a savory tomato-based sauce with a hint of soy sauce, creating a flavorful and visually appealing culinary delight.
Ingredients
1

kilo

chicken (your choice of parts)

cut into serving pieces

1/4

cup

vinegar or 1/8 cup calamansi juice

1/8

cup

soy sauce

2

tsp.

salt

1/8

tsp.

pepper

2

cloves

garlic

pounded

1

pc

onion

sliced

2

tomatoes

sliced

2

pcs

potatoes

pared and divided into 6

2

pcs

red and green pepper

cut into slice

1/2

cup

tomato sauce

2

Tbsp.

paprika

1

pc

small bay leaf

2

Tbsp.

cooking oil

MSG to taste
Instructions
How to cook Asadong Manok:
Combine chicken pieces with vinegar, soy sauce, salt, pepper, and garlic.Let stand for at least 30 minutes.

Heat oil In skillet over medium heat and fry potatoes until golden brown.

Drain chicken pieces and save marinade, then pan fry the chicken for 3 minutes on each side then set aside.

Saute onion and tomatoes until tomatoes are mushy. Then add the chicken pieces, marinade, paprika, bay leaf, tomato sauce and water.

Simmer for 30 minutes or until chicken is tender. Then add the fried potatoes and bell peppers then simmer for a few minutes.

Correct seasoning. Serve hot. Good for 8 persons.
Notes
Cooking Tips for Chicken Asado Recipe
Cooking chicken asado is a delightful culinary adventure, and these three cooking tips will help you achieve a delicious and perfectly balanced dish:
Marinating Magic: To infuse your chicken with maximum flavor, allow it to marinate for at least 30 minutes in a mixture of vinegar, soy sauce, salt, pepper, and garlic. This step not only seasons the chicken but also tenderizes it. For even better results, marinate the chicken in the refrigerator for a few hours or overnight. The longer marination time will result in a more flavorful and succulent chicken asado.
Perfect Potatoes: Achieving crispy and golden-brown potatoes is key to the texture and overall appeal of your chicken asado. Make sure to fry the potato slices in hot oil until they reach that desired crispiness. To avoid sogginess, make sure the oil is hot when you add the potatoes and that you don't overcrowd the pan. Frying them in batches if necessary can ensure they turn out just right.
Balancing Seasonings: The success of your chicken asado hinges on achieving a harmonious blend of flavors. As you simmer the dish, taste it periodically and adjust the seasoning as needed. Whether you prefer a slightly saltier, spicier, or sweeter profile, this is your opportunity to tailor the dish to your taste. Don't hesitate to add more salt, pepper, or other seasonings to strike that perfect balance and create a memorable dining experience.