Igado is one of the popular Ilokano dish that consists of pork meat and pork innards like liver, heart and kidneys.
Ingredients:
1/2 cup pork liver
1/2 cup pig's heart
1/2 cup pig's kidney
2 tbsp. green peas (gisantes)
1/2 cup vinegar ( sukang iloko )
1/2 cup soy sauce
1/4 cup red chili peppers
1 tbsp. minced garlic
Cooking oil
Salt to taste
How to cook igado:
Marinate the liver in vinegar. Saute the garlic in oil until reddish brown.
Stirring constantly add the pig's heart, kidney and liver (with the vinegar ).
Add the soy sauce and simmer until tender and the sauce thickens.
Then add the green peas and chili peppers until cooked. Serve hot.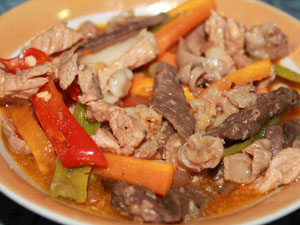 Try Other Recipes :
Beef Igado (Igadong Baka)

Igado is an Ilokano dish and the original recipe consists of pig's internal organs. If there ...

Chicken Igado (Igadong Manok)

The traditional igado recipes main ingredient are pork liver, heart and kidney. This recipe, ...