The traditional Ilokano igado recipes main ingredient are pork liver, heart and kidney. This recipe, the chicken igado is a variation of the igado recipe which uses chicken internal organs like chicken liver and chicken gizzard. If you are in search for a healthier alternative of igado dish, I think this is what you are looking for. Because chicken meat, compared to pork, have less cholesterol specially if you will use the breast part. The chicken liver and gizzards, when bought from a wet market contains lot of fats which you should discard before cooking. But most of the time, those sold in supermarkets are already trimmed and contains no chicken fat.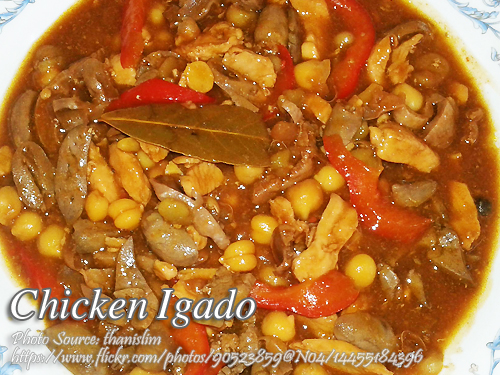 Print Recipe
How to Cook Chicken Igado (Igadong Manok)
This is a chicken version of the well known pork igado.
Ingredients
1/2

kilo

Chicken fillet

1/2

kilo

chicken liver

1/4

kilo

chicken Gizzard

1

pc

bell pepper

sliced into strips

1

Tbsp.

achuete seeds

3

Tbsp.

cooking oil

1/2

cup

Chickpeas or green peas

2

pcs

laurel leaves

1

tsp.

black pepper

1/4

cup 

vinegar

1

tsp.

salt

1

pc

chicken broth cube

3

cloves

garlic

crushed

1

medium size onion

chopped

1 1/2

cup

water

1

pc

thumb size ginger

slice into strips

1

stalk

lemon grass

pounded and sliced
Instructions
How to cook chicken igado:
Boil the chicken gizzard to remove the odor with lemon grass and ginger until tender. Then add chicken liver and boil for 5 minutes.

Slice the chicken fillet into strips. Slice also the chicken liver and gizzards into strips.

Make achuete oil by combining achuete seeds and oil and microwave for 1 minute.

Heat achuete oil in a wok and saute the garlic, onion then the chicken fillet.

Simmer for a few minutes until the liquid has evaporated. Then add the liver and gizzard and stir-fry for 3 minutes.

Pour water and simmer again until the chicken meat, and gizzard is already tender.

Add the pepper and laurel leaves. Allow the liquid to evaporate then pour the vinegar and broth cube.

Simmer again for 3 minutes then add the chick peas and bell pepper.

Simmer again for 3 minutes then add the salt or patis (fish sauce) and adjust or add a little more to suit  your taste.

Transfer in a serving plate and serve hot.