Vigan empanda is similar to a taco shell when fried to a crisp with vegetable like grated papaya or bean sprouts and meat filling inside. It is also added with raw egg in the center and will cook together with the empanada when fried. Among the other kinds of empanada, what I love in this kind is the crispy thin shell and when you munch it you will taste the grated papaya and the longganisa plus the soft cooked egg inside. Specially when you dip or pour it with some sukang Iloko, it is absolutely yummy! Cooking this empanada is a little bit tricky although the ingredients are very simple. Making the dough is a challenge if you will not do it properly. Most recipes I see only combines the rice flour with water, oil and coloring to make a dough. But this process will make the dough crumbly and you will be frustrated when filling it with the veggies and meat mixture because it will break the dough before you can fry it. This process is only good if you are using wheat flour but not with rice flour. The technique I learned just by observing is you have to make a roux by cooking the rice flour with water until it turns into a dough. That way it will be elastic enough to make a thin pastry for the Vigan empanada.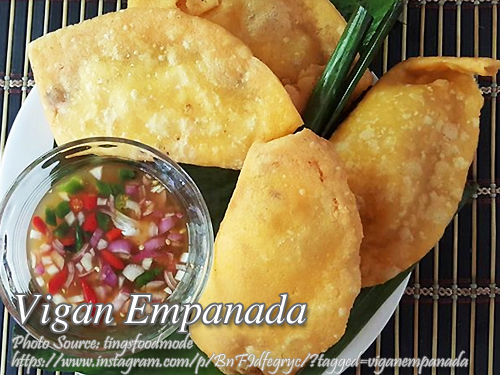 Print Recipe
How to Make Vigan Empanada
This is a recipe of making Vigan empanada.
Ingredients
Empanada dough ingredients:
1 1/2

cup

rice flour (ordinary rice flour not glutinous rice)

1/2

tsp.

annatto powder

or 1 Tbsp. annatto seeds

1

cup

water

1

tsp.

salt

2

Tbsp.

cooking oil
Empanada Filling ingredients:
1

green

Unripe papaya, grated

8

pcs. Vigan longganisa

chopped (remove the casing)

1

white onion

chopped

3

cloves

garlic

minced

6

raw eggs

salt and pepper to taste

Cooking Oil for deep frying
Instructions
How to make Vigan Empanada:
In a pan, put water, cooking oil, salt and annatto powder. Bring to a boil. If you are using annatto seeds, put the annatto seeds in a small metal strainer and soak it in the water while boiling. Then remove it after 1 to 2 minutes.

Put the rice flour in the pan then stir with a wooden spatula or spoon. Stir until the water is absorbed by the rice flour and continue mixing until it forms into a dough and dry to the touch. Remove from heat and cool.

Knead the dough until smooth and divide the dough into six equal parts and form into balls. Set aside.

In a pan, heat oil and saute garlic and onions until fragrant. Add the longganisa and saute until cooked. Season with salt and pepper to taste.

To assemble the empanada; Arrange the ingredients in separate bowls or containers; the longganisa, grated papaya, eggs, and dough. Lay a piece of the wax paper on a flat surface and put a dough ball(brush some oil on the wax paper and the dough). Put another wax paper on top of the dough and flatten it with your palm. Then roll it with a rolling pin until flattens into a circle and about 1/8 inch thick. Similar to making a thin crust pizza dough.

Remove the wax paper on the top surface and fill it in the center with some grated papaya and longganisa, about 1 1/2 tablespoons of each of the ingredients. Make a hollow space on the center of the filling and crack a raw egg on it.

Immediately fold the empanada into a semi circle shape and seal the edges. You can use a plastic plate to trim the edges and make a nice rounded edge. Do the same to the rest of the ingredients. Deep fry the empandas until golden brown and crisp. After cooking, place on a wire rack or paper towels to drain excess oil. Serve hot with sukang iloko as a dipping sauce. Enjoy!