A Flavorsome Delicacy That Packs a Punch
Vigan longganisa is a unique and flavorful sausage hailing from the Ilocos region in the Philippines. Unlike the commonly known sweet longganisa, Vigan longganisa stands out with its small and plump appearance, bold flavors, and generous use of garlic and spices. In this recipe blog post, we will delve into the irresitable taste of Vigan longganisa, its distinctive qualities, and how you can enjoy this delectable delicacy for a hearty breakfast. So, let's explore the fascinating world of Vigan longganisa!
The Distinctive Flavors of Vigan Longganisa:
Vigan longganisa boasts a flavor profile that is spicy, salty, tangy, and garlicky. This sets it apart from other native longganisa varieties. If you are accustomed to the sweetness of traditional longganisa, be prepared for a delightful surprise when you taste this robust and savory sausage. The use of ample garlic and spices in the mixture gives Vigan longganisa its signature taste that is sure to tantalize your taste buds.
Authentic Ingredients and Substitutes:
To create an authentic Vigan longganisa, the recipe calls for specific ingredients. However, if you have trouble finding some of them, there are suitable substitutes that can still yield a delicious result. Ideally, ground pork pigue or kasim should be used as the main meat. The combination of crushed and chopped garlic, onions (optional), salt, black pepper, soy sauce, vinegar (such as sukang Iloko or cane vinegar), and phosphate accord powder (optional) form the essential flavor profile. Native vinegar adds an authentic touch, but cane vinegar or apple cider vinegar can be used as substitutes.
The Art of Making Vigan Longganisa:
Creating Vigan longganisa requires some preparation and patience, but the end result is well worth the effort. First, the ground pork and all the ingredients are thoroughly mixed in a bowl to ensure the flavors blend harmoniously. Next, the mixture is stuffed into sausage or hog casing, and each section is tied with a string every 2 inches.
The sausages are then hung under direct sunlight for approximately 4 hours, allowing the fat and excess liquid to drip and dry. This step contributes to the unique texture and flavor of Vigan longganisa. Finally, the sausages are cooked in a carajay (a Filipino wok) with water and cooking oil until the liquid evaporates, and then pan-fried until they turn a delectable shade of brown.
Serving Suggestions:
Vigan longganisa is best enjoyed as part of a hearty breakfast. It pairs wonderfully with fried rice and a sunny-side-up fried egg. The combination of flavors and textures will satisfy your morning cravings. To complete the meal, you can serve Vigan longganisa with fresh tomatoes and sliced salted eggs, which complement its robust taste and provide a balanced accompaniment to the savory sausage.
Wrap-up:
Vigan longganisa is a culinary gem that offers a departure from the sweetness commonly associated with longganisa. Its distinct flavors, comprising spiciness, saltiness, tanginess, and garlic richness, make it a unique delicacy. While the authentic recipe calls for specific ingredients, suitable substitutes can be used to create this flavorsome sausage.
By following the process of mixing, stuffing, drying, and cooking, you can prepare Vigan longganisa in your own kitchen. Remember to savor it with fried rice, a fried egg, and complementary side dishes for an authentic and satisfying Filipino breakfast experience. Embark on this culinary adventure and discover the delightful taste of Vigan longganisa! Want to try other longganisa? Check this Alaminos longganisa too!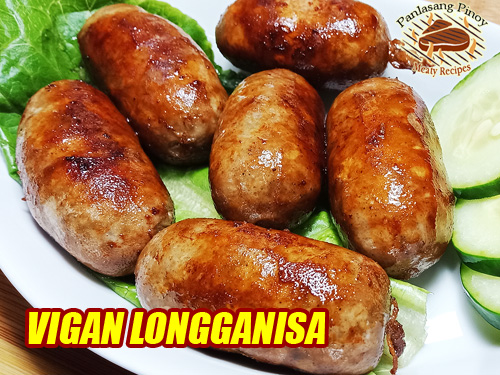 Print Recipe
How to Make Vigan Longganisa
Vigan longganisa is an Ilocano sausage delicacy with a plenty of garlic and spices in the mixture.
Equipment
1 Sausage stuffer

Sausage stuffer

1 Meat grinder

Meat grinder
Ingredients
1

kilo

ground pork pigue or kasim

20% fat, 70% lean meat ratio

1/4

cup

garlic

crushed and chopped

1

Tbsp.

onions

chopped (optional)

1

tsp.

salt

up to 1 Tbsp.

1

tsp.

phosphate accord powder mixed with 1 Tbsp. water

optional

1

tsp.

black pepper

ground

1/3

cup

soy sauce

2 1/4

Tbsp.

vinegar

sukang Iloko or cane vinegar

2

yards

sausage or hog casing

1/2

cup

water

2

Tbsp.

cooking oil

optional
Instructions
How to make and cook Vigan longganisa:
In a bowl, mix thoroughly the first eight ingredients until well blended.

Stuff the mixture into casing and tie every 2 inches long with a string.

Hang under direct sunlight for about 4 hours to allow fat and liquid to drip and dry.

Heat a carajay and pour 1/2 cup water and 1-2 tablespoons cooking oil.

Put in the longanisa. Cover and cook over low heat until all of the water evaporates. Prick each with a fork.

When all liquid has evaporated, pan fry until brown.

Serve hot with fried rice, tomatoes and sliced salted eggs. Serves 8
Notes
Cooking Tips for Vigan Longganisa:
Quality Ingredients: Start with fresh and high-quality ingredients, especially the ground pork. Look for lean pork cuts like pigue or kasim, as they provide a good balance of meat and fat for the sausage.

Proper Mixing: When blending the ingredients for Vigan longganisa, ensure that they are mixed thoroughly. Use your hands to combine the ground pork, garlic, onions (if using), salt, black pepper, soy sauce, vinegar, and optional phosphate accord powder. This will help distribute the flavors evenly throughout the sausage.

Casing Selection: Choose sausage or hog casing that is of good quality and size. Soak the casing in water before using it to make it more pliable and easier to work with. Rinse it thoroughly to remove any excess salt.

Stuffing the Casing: Take your time when stuffing the mixture into the casing. Ensure that it is evenly filled, without any air pockets. Overstuffing can cause the casing to burst during cooking, so maintain a good balance. Tie the filled casing at regular intervals (around 2 inches) to create individual sausages.

Drying Process: Hang the sausages under direct sunlight for about 4 hours, allowing the excess moisture to drip and dry. This step is essential for the authentic texture and flavor of Vigan longganisa. If sunlight is not available, you can use a well-ventilated area or a food dehydrator to facilitate the drying process.
Nutrition Notes:
Calorie and other nutrition information is derived from HappyFolks.Com recipe nutrition calculator. The percent daily value (%DV) is based on a daily 2,000 calorie diet.
Nutrition Information (Vigan Longganisa):
Amount per Serving:325g, Calories:744kcal, From fat:432,  Total fat:47.9g, Saturated Fat:17.1g, Trans Fat:0.4g, Cholesterol: 244mg, Sodium: 1134g, Total Carbohydrate: 9g, Dietary Fiber: 1g, Sugars: 4g, Protein: 65g, Vitamin A: 1%, Vitamin C: 5%, Calcium: 18%, Iron: 28%