Vigan longanisa is an Ilocano sausage delicacy with plenty of garlic and spices in the mixture. This longganisa is distinct from other native longganisa version because it is small and plump, it is not sweet unlike the popular longganisa we used to eat. The way to describe its taste is, it is spicy, salty, tangy and garlicky. So if you are used to the taste of sweet meat like a traditional longganisa, then you might think twice before cooking this sausage. To make this sausage more authentic, use sukang Iloko or native vinegar. But if there is none available, using cane vinegar or apple cider vinegar will suffice. To make your hearty breakfast, you can serve this with fried rice and fried egg.
To cook vigan longanisa; In a bowl, mix thoroughly the first seven ingredients until well blended. Stuff the mixture into casing and tie every 2 inches long with a string. Hang under direct sunlight for about 4 hours to allow fat and liquid to drip and dry. Heat a carajay and pour 1/2 cup water and 1-2 tablespoons cooking oil. Put in the longanisa. Cover and cook over low heat until all of the water evaporates. Prick each with a fork. When all liquid has evaporated, pan fry until brown. Serve hot with fried rice, tomatoes and sliced salted eggs.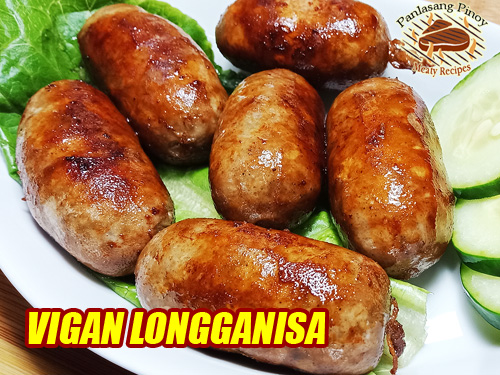 Print Recipe
How to Make Vigan Longganisa
Vigan longganisa is an Ilocano sausage delicacy with a plenty of garlic and spices in the mixture.
Servings:
4
to 8 servings
Ingredients
1

kilo ground pork pigue or kasim

1/4

cup

garlic

crushed and chopped

1

Tbsp.

onions

chopped (optional)

1

tsp.

salt

up to 1 Tbsp.

1

tsp.

phosphate accord powder mixed with 1 Tbsp. water

optional

1

tsp.

black pepper

ground

1/3

cup

soy sauce

2 1/4

Tbsp.

vinegar

sukang Iloko or cane vinegar

2

yards

sausage or hog casing

1/2

cup

water

2

Tbsp.

cooking oil
Instructions
How to cook vigan longganisa:
In a bowl, mix thoroughly the first eight ingredients until well blended.

Stuff the mixture into casing and tie every 2 inches long with a string.

Hang under direct sunlight for about 4 hours to allow fat and liquid to drip and dry.

Heat a carajay and pour 1/2 cup water and 1-2 tablespoons cooking oil.

Put in the longanisa. Cover and cook over low heat until all of the water evaporates. Prick each with a fork.

When all liquid has evaporated, pan fry until brown.

Serve hot with fried rice, tomatoes and sliced salted eggs. Serves 8