Pancit Chami is a signature dish of Lucena City in Quezon province. It is made from miki noodles which is a type of fresh egg noodles you will encounter usually in the wet market or supermarket. It is also used in making lomi. The taste and success of your cooking this dish is the freshness of the miki noodles so be sure it is fresh and not sitting in the shelf for a long time. But you can also use pancit canton noodles or dried egg noodles. This noodle dish is composed of miki noodles, pork, chicken, liver, shrimp, vegetables and flavorings or condiments. If you ask me, I think this is very similar to pancit canton but the flavor is what makes the difference because it is sweet and spicy. Our noodle dishes has Chinese influence and this pancit chami is no exception. Actually the word "Cha" means to stir fry and the word "Mi" is noodles in Chinese. But I heard some people say that the word "chami" must be derived from the word "Chow Mien" which I think is also possible.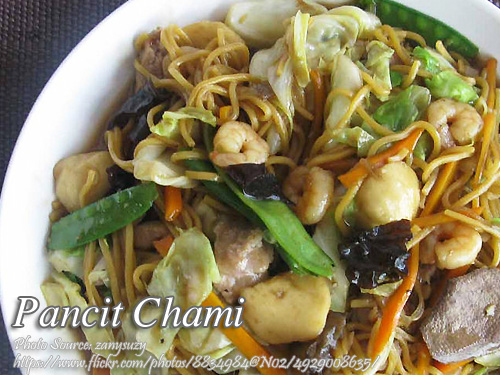 Print Recipe
How to Cook Pancit Chami
Servings:
4
to 6 servings
Ingredients
1

kilo miki noodles

150

grams

pork

slice into strips

150

grams

chicken fillet

slice into strips

150

grams

pork liver

slice into strips

1

Tbsp.

onions

chopped

2

cloves

garlic

minced

3

Tbsp.

soy sauce

3

Tbsp.

sugar

1

tsp.

chicken powder

or chicken cube

1

tsp.

shrimp powder

or shrimp cube

1

cup

sayote

sliced into strips

1/2

cup

carrots

slice into strips

1/2

cup

cabbage

shredded

1/2

cup

chicharo

sliced

1/2

cup

squidballs

halved

100

grams

shrimps

peeled

7

cups

chicken or pork broth

spring onions or kinchay

cooking oil

2

pcs red chili peppers

minced (optional)

salt and pepper to taste
Instructions
How to cook pancit chami:
In a wok or deep pan, heat about 1 1/2 tablespoon of oil and saute onion and garlic until fragrant. Next add the pork and saute for a few seconds until it changes its color. Add the chicken, pork liver, a dash of pepper and saute for 1 to 2 minutes. Add in the squid balls and shrimp and saute for another minute.

Pour the broth and soy sauce on the sauteed meat, cover and simmer until the pork is tender, about 15 minutes. Then add the chicken and shrimp powder, sugar, chili pepper and stir until the sugar is dissolved. Add the chicharo, sayote, carrots, cabbage and the miki noodles.

Mix the noodles with the meat and vegetables thoroughly and cover. Simmer for a few minutes until the liquid is almost evaporated. Transfer to a serving platter and garnish with spring onions or kinchay. Serve with sliced of kalamansi.