Pancit Chami is a signature dish of Lucena City in Quezon province. It is made from miki noodles which is a type of fresh egg noodles you will encounter usually in the wet market or supermarket. It is also used in making lomi. The taste and success of your cooking this dish is the freshness of the miki noodles so be sure it is fresh and not sitting in the shelf for a long time. But you can also use pancit canton noodles or dried egg noodles.
This noodle dish is composed of miki noodles, pork, chicken, liver, shrimp, vegetables and flavorings or condiments. If you ask me, I think this is very similar to pancit canton but the flavor is what makes the difference because it is sweet and spicy. Our noodle dishes has Chinese influence and this pancit chami is no exception. Actually the word "Cha" means to stir fry and the word "Mi" is noodles in Chinese. But I heard some people say that the word "chami" must be derived from the word "Chow Mien" which I think is also possible.
Unlocking the Flavors of Lucena: Pancit Chami Recipe
Pancit Chami is a delightful culinary gem hailing from the heart of Lucena City in Quezon province. This savory dish showcases the delectable miki noodles, which are fresh egg noodles known for their unique texture and flavor. If you're ready to embark on a culinary adventure and savor the taste of Lucena, read on to discover the secrets of preparing Pancit Chami.
The Essence of Freshness: Miki Noodles
The key to crafting an unforgettable Pancit Chami lies in the freshness of the miki noodles. These noodles, readily available in wet markets or supermarkets, should ideally be used when they are at their freshest. Avoid noodles that have languished on the shelf for an extended period. While miki noodles are the traditional choice, you can also opt for pancit canton noodles or dried egg noodles as alternatives. The freshness of your chosen noodles will ultimately dictate the success of your Pancit Chami endeavor.
A Symphony of Ingredients: What You'll Need
Pancit Chami is a medley of enticing ingredients, each contributing to its unique flavor profile. Here's a glimpse of what you'll need:
Miki Noodles: The star of the show, providing the chewy base for your Pancit Chami.
Proteins: A harmonious blend of pork, chicken, liver, and shrimp.
Flavor Enhancers: Soy sauce, pepper, chicken and shrimp powder, and a dash of sugar.
Vegetables: Chicharo (snow peas), sayote (chayote), carrots, and cabbage.
Condiments: Onion, garlic, and chili pepper for that perfect kick.
Seafood Surprise: Add depth to your dish with squid balls.
A Symphony of Flavor
Sautéing Aromatics: In a wok or deep pan, start by heating approximately 1 1/2 tablespoons of oil. Sauté finely chopped onion and garlic until their enticing aroma fills the air.
Meaty Magic: Introduce the pork into the sizzling pan and sauté until it undergoes a delightful transformation, changing color and becoming slightly crispy.
Chicken and Liver: It's time to add the chicken and pork liver to the mix. Stir these ingredients into the medley for 1 to 2 minutes until they are well-acquainted.
Seafood Sensation: Let the seafood join the party by adding squid balls and shrimp to the wok. Sauté them for an additional minute to infuse the dish with their briny goodness.
Broth and Umami: Pour in a fragrant broth along with soy sauce to bathe the sautéed meat in a savory bath. Cover the pan and allow the flavors to meld as the pork tenderizes, which should take approximately 15 minutes.
A Touch of Sweet and Spicy: To elevate the flavor profile, sprinkle in chicken and shrimp powder, a pinch of sugar, and just the right amount of chili pepper. Stir until the sugar dissolves, and the spices harmonize.
Crafting Pancit Chami
Veggie Vibrance: Add the chicharo, sayote, carrots, and cabbage to the mix. These colorful veggies bring not only visual appeal but also a satisfying crunch.
Noodle Fusion: It's time to introduce the star of the show, the miki noodles, to the party. Carefully mix the noodles with the meat and vegetables, ensuring they are well-coated with the delightful sauce.
Simmering Serenity: Cover the wok once more and let the ingredients simmer for a few minutes, allowing the liquid to nearly evaporate. This step ensures that the flavors are absorbed into every nook and cranny of your Pancit Chami.
Presentation Perfection: As your Pancit Chami approaches its final form, transfer it to a serving platter. Garnish your masterpiece with freshly chopped spring onions or kinchay for a pop of color and flavor.
The Finishing Touch: To elevate the dining experience, serve your Pancit Chami with slices of kalamansi. This citrusy addition adds a refreshing tang that complements the savory goodness of the dish.
Final Thoughts
Pancit Chami is a culinary masterpiece that beautifully blends Chinese influence with Filipino flair. The term "Chami" harkens back to the Chinese tradition of stir-frying, while "Mi" signifies noodles. This dish brings together a delightful medley of fresh miki noodles, an array of proteins, a symphony of vegetables, and an array of flavor enhancers that make it distinctly sweet and spicy.
Unlock the flavors of Lucena City with Pancit Chami, a dish that embodies the rich culinary heritage of the Philippines. So, the next time you're craving a taste of something extraordinary, embark on a gastronomic journey with Pancit Chami, and savor the delightful harmony of its flavors.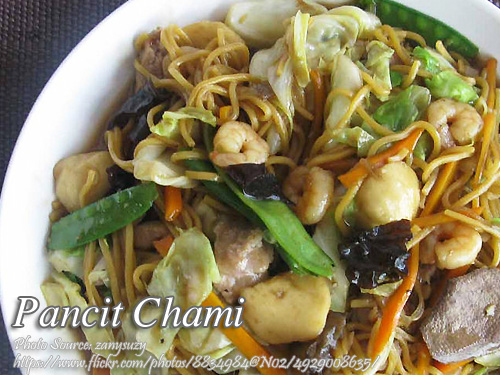 Print Recipe
How to Cook Pancit Chami
Pancit Chami is a Filipino noodle dish that combines fresh miki noodles with a savory medley of pork, chicken, liver, shrimp, and vegetables, all seasoned to perfection with a sweet and spicy flavor profile, offering a delightful taste of Lucena City's culinary heritage.
Ingredients
1

kilo

miki noodles

150

grams

pork

slice into strips

150

grams

chicken fillet

slice into strips

150

grams

pork liver

slice into strips

1

Tbsp.

onions

chopped

2

cloves

garlic

minced

3

Tbsp.

soy sauce

3

Tbsp.

sugar

1

tsp.

chicken powder

or chicken cube

1

tsp.

shrimp powder

or shrimp cube

1

cup

sayote

sliced into strips

1/2

cup

carrots

slice into strips

1/2

cup

cabbage

shredded

1/2

cup

chicharo

sliced

1/2

cup

squidballs

halved

100

grams

shrimps

peeled

7

cups

chicken or pork broth

spring onions or kinchay

cooking oil

2

pcs

red chili peppers

minced (optional)

salt and pepper to taste
Instructions
How to cook pancit chami:
In a wok or deep pan, heat about 1 1/2 tablespoon of oil and saute onion and garlic until fragrant. Next add the pork and saute for a few seconds until it changes its color. Add the chicken, pork liver, a dash of pepper and saute for 1 to 2 minutes. Add in the squid balls and shrimp and saute for another minute.

Pour the broth and soy sauce on the sauteed meat, cover and simmer until the pork is tender, about 15 minutes. Then add the chicken and shrimp powder, sugar, chili pepper and stir until the sugar is dissolved. Add the chicharo, sayote, carrots, cabbage and the miki noodles.

Mix the noodles with the meat and vegetables thoroughly and cover. Simmer for a few minutes until the liquid is almost evaporated. Transfer to a serving platter and garnish with spring onions or kinchay. Serve with sliced of kalamansi.
Notes
Cooking Tips for Pancit Chami Recipe:
Fresh Noodles are Key: When making Pancit Chami, always prioritize using fresh miki noodles to ensure the best texture and flavor. Fresh noodles absorb the sauce more effectively and deliver a superior taste compared to older, dried alternatives.
Balancing Sweet and Spicy: Achieving the perfect balance between sweetness and spiciness is crucial for an authentic Pancit Chami. Adjust the sugar and chili pepper levels to suit your taste preferences, keeping in mind that the dish should have a delightful blend of both flavors.
Don't Overcook the Noodles: To prevent the miki noodles from becoming mushy, avoid overcooking them. Once the noodles are added to the pan, simmer them for just a few minutes until they are heated through and have absorbed the flavors of the sauce and ingredients. Overcooking can lead to a less appealing texture.