A Hearty and Flavorful Filipino Delight
Nilagang manok, also known as boiled chicken soup, is a beloved Filipino dish that brings comfort and warmth to the table. With its simple yet delicious flavors, it has become a staple in many Filipino households. In this recipe blog post, we will guide you through the process of cooking this delightful dish, offering tips and insights along the way.
Choosing the Right Chicken for Nilagang Manok
To ensure the best flavor and texture for your nilagang manok, it is recommended to use native chicken rather than the commercial white leghorn or broilers. Native chicken offers a more pronounced and robust taste that elevates the overall experience of the dish. . It is also a lot more tasty and flavorful. However, it is worth noting that cooking native chicken requires a bit more time as it tends to be tougher compared to its commercial counterparts.
Cooking Nilagang Manok: Step by Step
Prepare the Ingredients
Gather the following ingredients to make your nilagang manok: chicken, water, peppercorns, salt, onion, potatoes, bananas, cabbage, pechay, green onions, and green beans. These ingredients come together to create a harmonious blend of flavors and textures in the dish.
Boiling the Chicken
In a large kettle, place the chicken and add water, peppercorns, salt, and onion. Bring the mixture to a boil over medium heat. Boiling the chicken allows the flavors to infuse and ensures a tender and succulent result. Once the chicken is tender, you can move on to the next step.
Adding the Vegetables
Now it's time to add the vegetables that will complement the chicken and create a well-rounded dish. Add potatoes, bananas, cabbage, pechay, green onions, and green beans to the pot. These vegetables add a delightful array of colors, textures, and nutrients to the soup. Cook the vegetables for a few minutes until they reach the desired tenderness.
Seasoning to Perfection
To enhance the flavors of your nilagang manok, season it with salt and pepper according to your taste preferences. The right balance of seasoning can elevate the dish, so make sure to taste and adjust as needed. Remember, the goal is to create a soup that is rich in flavor and satisfying to the palate.
Serving and Enjoying
Once your nilagang manok is cooked to perfection, it's time to serve and enjoy the fruits of your labor. This hearty and flavorful soup is best served hot, making it perfect for chilly days or when you simply crave a comforting meal. Gather your loved ones around the table and savor the delightful combination of tender chicken and nourishing vegetables.
Wrap-Up
Nilagang manok is a Filipino dish that embodies simplicity, warmth, and deliciousness. By following these steps, you can easily recreate this delightful soup in your own kitchen. Remember to choose the right chicken, cook it with care, and add a variety of vegetables to create a balanced and wholesome meal. Whether you're a seasoned cook or a beginner in the kitchen, nilagang manok is a recipe that anyone can master. So go ahead, gather your ingredients, and embark on a culinary journey filled with flavors that will satisfy both your palate and your soul.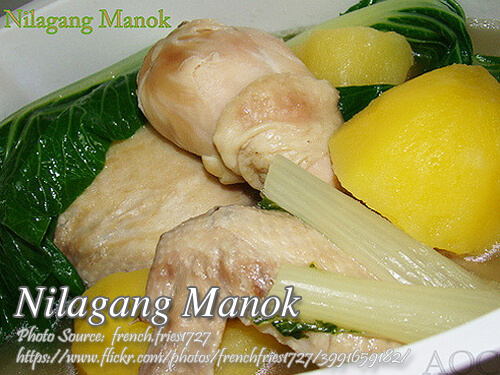 Print Recipe
How to Cook Nilagang Manok
Nilagang manok or boiled chicken soup is one of the simplest Filipino recipes by just boiling the chicken and putting all the vegetables and spices in a pot until cooked
Ingredients
1

kilo chicken

cut into desired sizes

6

cups

water

20

pcs whole peppercorns

2

tsp.

salt

1

big onion

quartered

2

potatoes

pared and quartered

1

head cabbage

quartered

4

saba bananas

halved

1

small bundle green onion

cut into 2 inch length

1/4

kilo green beans

stringed and cut into 2 inch lengths

1

fresh pechay

native
Instructions
How to cook nilagang manok:
Place chicken in a big kettle with water, peppercorns, salt, onion, and bring to a boil.

Cover and cook until chicken is tender.

Add potatoes, bananas, cabbage, pechay, green onions and green beans and cook for a few minutes until vegetables are cooked.

Add season with salt and pepper to taste. Serve hot. Good for 8 persons.