Breakfast Beef Tapa: A Savory Morning Delight
Are you craving a delicious and satisfying breakfast that will kick-start your day? Look no further than Breakfast Beef Tapa! This mouthwatering dish is not only easy to make but also captures the delectable flavors reminiscent of Jollibee's famous beef tapa. In this recipe blog post, we will guide you through the simple steps to create this delectable meal that will leave you wanting more.
Choose the Perfect Cut of Beef
To achieve the tender and juicy texture that sets this dish apart, it is crucial to select the right cut of beef. Opt for tenderloin or sirloin cuts, as these parts are known for their tenderness. Make sure to choose meat with fewer tendons for a more enjoyable eating experience.
Slice the Beef into Strips
Begin by slicing the beef into thin strips. This will ensure that the marinade thoroughly coats each piece, resulting in a burst of flavor with every bite. Take your time to cut the beef evenly, as this will ensure consistent cooking.
Prepare the Marinade
The secret behind the tantalizing taste of Breakfast Beef Tapa lies in the marinade. In a mixing bowl, combine mayonnaise, soy sauce, liquid seasoning, oyster sauce, kalamansi juice, sugar, garlic, and black pepper. These ingredients work together to create a harmonious blend of flavors that will leave your taste buds dancing.
Marinate Overnight
To infuse the beef with the rich flavors of the marinade, cover the mixing bowl and let it marinate overnight in the refrigerator. This allows the meat to absorb all the savory goodness, resulting in a truly remarkable taste. The longer the marination, the more pronounced the flavors will be.
Cook the Beef Tapa
When morning arrives and you're ready to indulge in this delectable dish, it's time to cook the marinated beef tapa. Heat about 2 tablespoons of cooking oil in a frying pan, ensuring it is evenly distributed. Once the oil is hot, carefully place the beef in the pan and fry it for approximately 5 minutes or until it turns a delectable brown color. Cooking it for a shorter duration retains the tenderness of the beef.
Complete Your Breakfast
No breakfast is complete without some accompaniments. Serve your Breakfast Beef Tapa with fragrant garlic fried rice and perfectly fried eggs. The combination of these elements creates a symphony of flavors that will satisfy your cravings and fuel your day ahead. For an added touch, consider adding some atchara, a traditional Filipino pickled side dish, if it is available.
Final Thoughts
Breakfast Beef Tapa is a delightful breakfast option that will leave you feeling satisfied and energized. By following these simple steps, you can recreate the mouthwatering taste of Jollibee's famous beef tapa in the comfort of your own kitchen. With its tender and succulent texture, combined with the flavorful marinade, this dish is sure to become a family favorite. So why not surprise your loved ones with a breakfast they'll never forget? Whip up a batch of Breakfast Beef Tapa Jollibee Style and savor the taste of a true morning delight.
Remember, the key to this recipe lies in the quality of the beef, the marinade, and the cooking technique. By using tender cuts, marinating overnight, and frying the tapa to perfection, you can create a breakfast dish that rivals the flavors of your favorite Jollibee outlet. Don't be surprised if you find yourself craving this dish not only for breakfast but also for any time of the day. Give it a try, and let the flavors transport you to a world of culinary bliss.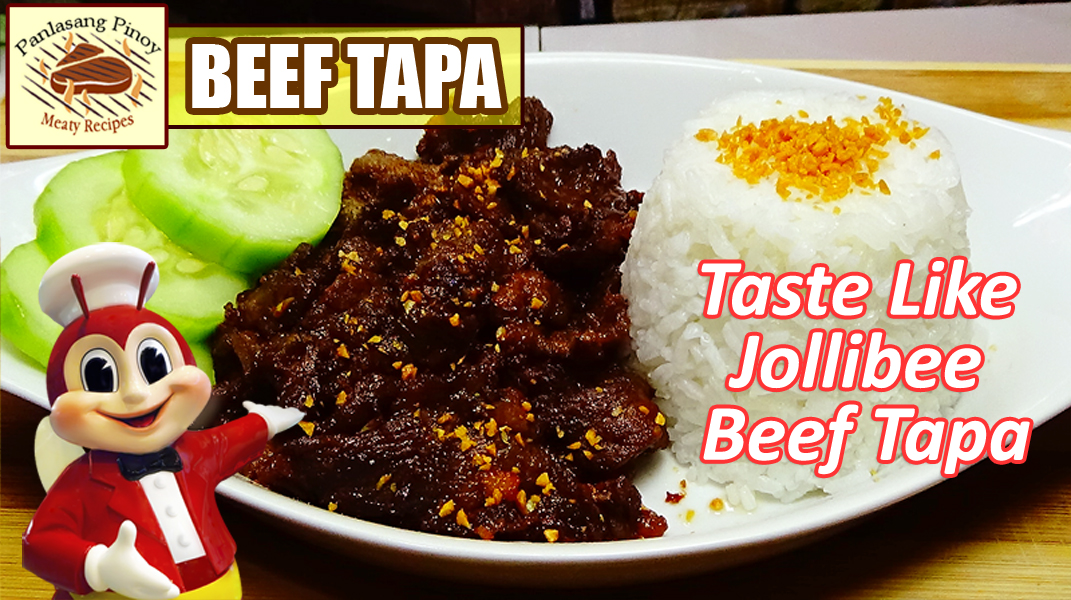 Print Recipe
Breakfast Beef Tapa Jollibee Style
This beef tapa is the simplest (in my own opinion) to make and to cook. It also resembles the taste of the Jollibee beef tapa.
Ingredients
500

grams

beef sirloin

sliced into strips

1/4

cup

mayonnaise

1 to 2

Tbsp.

soy sauce

1

Tbsp.

liquid seasoning

2

Tbsp.

oyster sauce

3 to 5

pieces

calamansi

extract the juice

1

tsp.

sugar

1/2

head garlic

minced

1/2

tsp.

black pepper

ground

fried garlic for garnishing

cooking oil for frying
Instructions
How to Make Breakfast Beef Tapa Jollibee Style
Slice the beef into strips. Then put in a mixing bowl.

Add in mayonnaise, soy sauce, liquid seasoning, oyster sauce, kalamansi juice, sugar, garlic and black pepper.

Mix all the ingredients using your hands and slightly squeeze the beef so the marinade will be absorbed.

Cover the bowl and marinate overnight in a refrigerator.

To cook the beef tapa: heat about 2 tablespoons of cooking oil in a frying pan and fry the beef for 5 minutes of until brown.

Serve with fried rice and fried eggs on your breakfast.
Notes
Cooking Tips for Breakfast Beef Tapa:
Tenderize the Beef: To ensure a tender and juicy beef tapa, it's essential to tenderize the meat before marinating. You can achieve this by using a meat mallet to gently pound the beef strips, which helps break down the muscle fibers and results in a more tender texture. This step is especially important if you're using cuts of beef that are not naturally tender, such as sirloin.
Customize the Marinade: While the recipe provided offers a beef tapa marinade, don't be afraid to customize it to suit your taste preferences. Add a touch of spice by incorporating red chili flakes or hot sauce. For a sweeter profile, you can include a dash of honey or brown sugar. Experiment with different flavors by adjusting the amounts of soy sauce, oyster sauce, and other seasonings until you find the perfect balance that appeals to your palate.
Cook in Batches for Better Results: When frying the beef tapa, it's crucial not to overcrowd the pan. Cooking the meat in batches ensures that each strip has ample space to sear and brown evenly. Overcrowding the pan can lead to steaming instead of achieving that desired caramelization. By cooking the tapa in batches, you'll achieve a beautiful golden crust on each piece, resulting in a more flavorful and visually appealing dish.