These delicious oysters are baked with butter, cheese, garlic and pepper. Oysters are tasty depending on people who eats it and how it is cooked. When I was younger I don't like oysters because the it usually served raw or just blanched. But when I tasted a cooked oyster, I think it is fried in batter and crunchy on the outside, that time it became one of my favorite food.
But since it is expensive and not always available in the local wet market, I seldom have a chance to eat it. Anyway this recipe is really good and I'm sure you are going to love it. Want to try another recipe of baked oysters? Try this Baked Oysters With Garlic Herb Butter.
A Delectable Delight
Oysters have long been celebrated as a delicacy, revered for their briny, oceanic flavor. However, their appeal can be an acquired taste for some, as many are hesitant to indulge in the raw or blanched versions that are often served. But fear not, for there is a way to relish the delightful taste of oysters without the raw experience. Enter the Baked Oysters with Cheese and Garlic recipe – a tantalizing treat that will surely convert even the staunchest oyster skeptics into fervent fans.
Memories of My Oyster Affection
As a youngster, oysters were not on my list of favored foods. The mere thought of slurping down a raw oyster or nibbling on a blanched one sent shivers down my spine. It wasn't until I had my first taste of a cooked oyster that my perspective on this seafood gem took a 180-degree turn. Picture a succulent oyster enveloped in a crispy batter, fried to perfection, and boasting a heavenly crunch. From that moment on, I was hooked. However, the rarity and expense of oysters left me longing for more. Thankfully, this Baked Oysters with Cheese and Garlic recipe provides a delectable solution that anyone can savor, without breaking the bank.
The Ingredients for Baked Oysters with Cheese and Garlic
Before we delve into the cooking process, let's gather our ingredients:
Fresh oysters (ensure they are well-cleaned)
Butter
Cheese (your choice, but Gruyère or Parmesan work wonderfully)
Garlic (freshly minced for maximum flavor)
A dash of pepper
A pinch of enthusiasm for good measure
The Step-by-Step Cooking Process: Preparing the Oysters
Carefully open the oysters, ensuring that you maintain the liquid within the shells. This liquid, also known as "oyster liquor," is essential for preserving the oysters' natural moisture and flavor. Once opened, inspect the oysters, and remove any shell fragments or debris. Discard one of the oyster shells, keeping the shell with the meat for your baked oysters.
Adding the Flavor
Place each oyster shell, now filled with succulent oyster meat, on a baking tray. Begin by generously topping each oyster with a dollop of butter. The butter will melt during baking, infusing the oysters with a rich, creamy goodness. Next, sprinkle a generous amount of minced garlic over each oyster.
The garlic adds a bold, aromatic dimension to the dish that harmonizes beautifully with the oyster's natural brininess. To elevate the flavor profile even further, generously sprinkle your chosen cheese on top of each oyster. Gruyère and Parmesan cheese are excellent choices, but feel free to experiment with your favorite variety. Finally, add a dash of pepper to give your baked oysters a subtle kick.
Baking to Perfection
Preheat your oven to 350°F (175°C). Place the prepared oysters in the preheated oven and bake for approximately 15 minutes or until they turn a glorious golden brown hue. Keep a close eye on them, as baking times may vary depending on your oven's specifications. The goal is to achieve that perfect balance between crispy and succulent.
The Grand Reveal
Once your Baked Oysters with Cheese and Garlic have achieved the desired level of golden goodness, remove them from the oven. The aroma wafting from the tray is nothing short of heavenly – a sure sign that a delectable feast awaits. Be cautious; the oysters will be piping hot. Allow them to cool slightly before serving.
Savoring the Moment
The time has come to savor the fruits of your labor. Serve your Baked Oysters with Cheese and Garlic immediately to fully appreciate their irresistible combination of flavors and textures.
As you indulge in the first bite, you'll experience the briny essence of the oyster, delicately balanced by the creamy, buttery richness. The garlic's aromatic notes will dance on your palate, while the cheese adds a delightful layer of savory decadence. The dash of pepper lends a gentle, spicy warmth that ties the whole ensemble together.
Wrapping Up
Baked Oysters with Cheese and Garlic is a culinary masterpiece that bridges the gap between oyster skeptics and enthusiasts. It offers a tantalizing alternative to the more traditional methods of oyster consumption, making it accessible and enjoyable for all.
Whether you're hosting a special occasion or simply seeking a delightful indulgence, this recipe is sure to impress. So, gather your ingredients, follow the steps, and prepare to embark on a culinary journey that will leave you craving more. With Baked Oysters with cheese and garlic, the ocean's treasure becomes a treasure on your plate.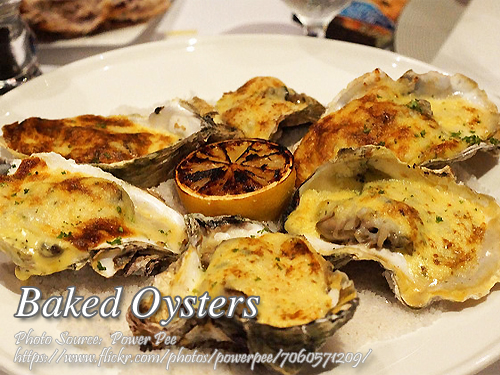 Print Recipe
How to Cook Baked Oysters with Cheese and Garlic
Baked oysters with cheese and garlic are a mouthwatering seafood delicacy where succulent oysters are topped with creamy melted cheese and aromatic minced garlic, creating a flavorful and indulgent treat.
Ingredients
2

kilos

fresh oysters

1/2

cup

grated cheese

1/4

cup

minced fried garlic

Dash of pepper

1/4

cup

melted butter
Instructions
How to cook Baked Oysters
Open oysters. Clean the part with the meat and discard the other shell.

Top each shell with cheese, garlic, and butter then sprinkle with a dash of pepper.

Bake for 15 minutes at 350°F or until golden brown.

Serve immediately.
Notes
Cooking Tips for Baked Oysters with Cheese and Garlic:
Choose Fresh Oysters: Opt for the freshest oysters available, as their flavor and texture are key to a successful baked oysters dish.

Even Cheese Distribution: When adding cheese, ensure an even distribution over each oyster for a consistent and delicious cheesy crust.

Don't Overbake: Keep a close eye on the oven to avoid overcooking; oysters should be tender, not rubbery, when served.

Preheat Your Oven: Always preheat your oven to the specified temperature before placing the oysters inside to ensure even cooking and a beautifully golden crust.
Nutrition Notes:
Calorie and other nutrition information is derived from HappyFolks.Com recipe nutrition calculator. The percent daily value (%DV) is based on a daily 2,000 calorie diet.
Nutrition Information:
Amount per Serving:350g, Calories:302kcal, From fat:132,  Total fat:14.9g, Saturated Fat:7.5g, Trans Fat:0.4g, Cholesterol:109mg, Sodium: 731 Total Carbohydrate: 21g, Dietary Fiber: 0g, Sugars: 0g, Protein: 20g, Vitamin A: 8%, Vitamin C: 29%, Calcium: 23%, Iron: 106%