Stuffed Prawns
Ingredients:
15 pcs fresh sugpo, large prawns
1/2 cup canned button mushrooms, diced
1/2 tsp. salt
1/4 tsp. pepper
1 tbsp. kalamansi, lemon-juice
4 tbsp. white wine
1 tbsp. butter
2 cloves garlic, minced
2 pcs onions, chopped finely
2 pcs red pimiento, cubed
1 can cream of mushroom soup
2 tbsp. cheese, grated
Pimiento slices
Butter
How to cook Stuffed Prawns
Boil prawns and slice the back, leaving the heads and tails intact. Remove the meat and cut into small cubes. Add mushroom, salt and pepper.
Sprinkle with lemon juice and white wine. Mix thoroughly and set aside for 10-15 minutes. In medium heat, melt butter and saute garlic and onions. Add the prawn mixture. Cover and allow to simmer.
Do not overcooked. Add pimiento. Remove from fire and add some of the cream of mushroom soup.
Stuff-the prawn shells with the prawn mixture. Sprinkle grated cheese on top. Arrange the stuffed prawns in oven proof platter.
Pour the remaining cream of mushroom at the sides. Garnish, top with pimiento slices and dot with butter.
Bake in preheated oven at 350 deg F for 15 minutes. Serve hot.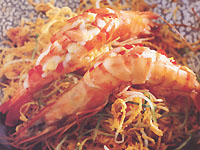 < See More Prawn & Shrimp Recipes