This Hardinera recipe is from Quezon province which is the their version of embutido. You can enhance the sweet and sour taste of this recipe by adding more pineapple chunks and a few teaspoons of pineapple syrup.
Ingredients
1/2 kilo ground pork
1 cup carrots, cubed
1 cup pickles, cubed
1 cup luncheon meat. cubed
1 cup hotdog, cubed
1 cup pineapple chunks
1/2 cup liver spread
1 cup Nestle all purpose cream
1 cup cream of mushroom
1 tablespoon flour
3 large eggs
1 medium onion
3 cloves garlic
How to cook hardinera:
Saute the ground pork in onion and garlic. Then add the liver spread. Set aside.
In a mixing bowl, combine carrots, pickles, luncheon meat, hotdog, pineapple, nestle cream, cream of mushroom and pork mixture.
Beat the eggs and add it to the mixture. Then add the flour and mix thoroughly.
Put the mixture in a llanera or pan for steaming . Then steam for 2 hours. Serve with hard boiled eggs.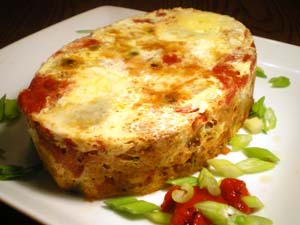 Try Other Recipes :
Chicken and Pork Embotido

Chicken and pork embotido is a combination of ground pork and ground chicken meat and made i ...

Paklay (Pork Meat and Internal Organs Dish)

This recipe is from Southern Mindanao Region 11 (Davao). Ingredients: 2 tablespoons cooking ...