A Flavorful Twist on a Classic Dish
Looking to elevate your culinary repertoire with a delectable and savory Filipino dish? Look no further than pork pata humba! This recipe puts a unique twist on traditional humba by using pork knuckles instead of the typical pork shoulder. With its succulent meat, rich flavors, and tender texture, pork pata humba is sure to delight your taste buds. In this recipe blog post, we'll guide you through the step-by-step process of preparing this mouthwatering dish, providing helpful tips and insights along the way.
The Intricacies of Pork Pata Humba
Before we delve into the recipe, let's explore the intricacies that set pork pata humba apart from other dishes. Unlike traditional humba, pork pata humba features the use of banana blossoms and mushrooms, reminiscent of paksiw na pata or pata tim. These additional ingredients infuse the dish with unique flavors and textures, making it a standout among Filipino cuisine.
Marinating the Pork Knuckles for Maximum Flavor
To ensure that each bite of your pork pata humba bursts with flavor, marinating the pork knuckles is a crucial step. The marinade consists of vinegar, soy sauce, cracked black peppercorns, and garlic. These ingredients work together to tenderize the meat and infuse it with a delightful tanginess. We recommend marinating the pork knuckles for at least one hour to allow the flavors to penetrate the meat fully.
Achieving a Perfectly Brown Crust
To enhance the visual appeal and add an extra layer of flavor to your pork pata humba, we suggest pan-frying the marinated pork knuckles until they develop a golden-brown crust. This step not only locks in the marinade's flavors but also gives the dish a delightful taste. Remember to dip each piece in brown sugar before frying to achieve a caramelized exterior that complements the savory meat.
Slow Stewing for Tender Meat and Thick Sauce
Once the pork knuckles have achieved their desired golden hue, it's time to reintroduce them to the pan along with the marinade and water. Bring the mixture to a boil, then lower the heat to a gentle simmer. This slow stewing process tenderizes the meat, allowing it to become melt-in-your-mouth delicious. After simmering for approximately 45 minutes, you'll notice the sauce starting to thicken, intensifying the flavors.
Adding Unique Ingredients for an Extra Touch
To elevate the flavor profile of your pork pata humba, we recommend incorporating native mushrooms and banana blossoms into the dish. These ingredients add complexity and unique textures to the stew, enhancing the overall experience. Soak the mushrooms and banana blossoms in water for 15 minutes to soften them, then add them to the simmering pot of meat. Allow them to cook until the meat reaches the desired tenderness and the sauce achieves a delightful thickness.
Wrap-Up:
Pork pata humba offers a tantalizing twist on the traditional humba recipe, infusing it with the unique flavors of pork knuckles, banana blossoms, and mushrooms. With its tender meat, thick and flavorful sauce, and a perfect balance of sweet and savory notes, this dish is an absolute delight for your taste buds. By following the step-by-step instructions provided in this blog post, you'll be able to prepare a remarkable pork pata humba that will impress your family and friends. So, don your apron, gather the ingredients, and embark on a culinary journey to savor the true essence of Filipino cuisine! What to try other pork pata recipe? Try this paksiw na pata!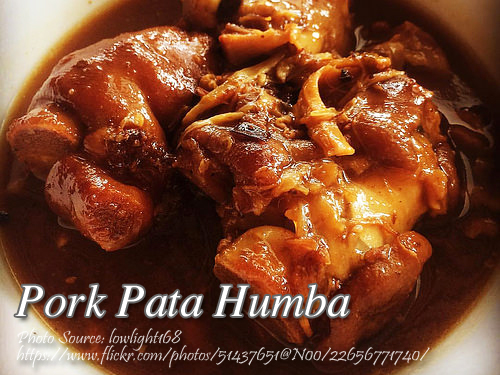 Print Recipe
How to Cook Pork Pata Humba
Pork Pata Humba is a Filipino dish featuring tender pork knuckles marinated in vinegar, soy sauce, and spices, then pan-fried to golden perfection then slowly simmered with native mushrooms and banana blossoms.
Ingredients
1

kilo

pork knuckles

cleaned

3/4

cup

vinegar

1/4

cup

soy sauce

1

tsp.

black peppercorns, cracked

1

piece

onion

chopped

6

cloves

garlic

crushed

1/2

cup

brown sugar

3

cups

water

2

small packs

native mushrooms or tenga ng daga

(20 grams)

2

small packs

banana blossoms

(30 grams)

1/2

tsp.

salt

1/2

cup

cooking oil
Instructions
How to cook Pork Pata Humba:
Marinate pork knuckles in vinegar, soy sauce, peppercorns, onion and garlic for 1 hour. In the meantime, place brown sugar in a plate. When pork knuckles are fully marinated, dip each piece in brown sugar and pan fry on medium high heat until golden brown. Remove and put aside until all pieces are done.

In the same pan, put all the meat back and pour in all the marinade plus the water. Bring to a boil then lower flame immediately to medium-low then to a simmer to tenderize the meat. After simmering for about 1 hour to 1 and 1/2 hour, the sauce will noticeably start to thicken. Add salt and allow to simmer for another 10 to 15 minutes.

In a separate bowl, soak the native mushrooms and banana blossoms in water for 15 minutes. Once softened, add to the simmering pot of meat. Cook until the meat is tender and the sauce is thick.
Notes
Cooking Tips for Pork Pata Humba
Marinate for Maximum Flavor - To ensure that your pork pata humba is bursting with flavor, take the time to marinate the pork knuckles properly. This marinating process helps tenderize the meat and infuse it with the delicious tanginess of the marinade. For even better results, consider marinating the pork knuckles overnight to achieve maximum flavor.
Achieve a Perfectly Brown Crust - To enhance both the taste and appearance of your pork pata humba, it's essential to achieve a perfectly brown skin on the pork knuckles. After marinating, remove the excess marinade from the meat and dip each piece in brown sugar before pan-frying. The sugar will caramelize and create a delectable crust, adding depth and sweetness to the dish. Fry the pork knuckles on medium-high heat until they turn a rich golden brown, ensuring a crispy exterior that contrasts with the tender meat.
Slow Simmering for Tender Meat - One of the secrets to tender and succulent pork pata humba is slow simmering. After pan-frying, return the pork knuckles to the pot and pour in the marinade along with water. Bring the mixture to a boil, then reduce the heat to medium-low and let it simmer gently. This slow cooking process allows the flavors to meld together while tenderizing the meat. Simmer the pork knuckles for approximately 45 minutes until the meat becomes tender and starts to pull away from the bone.
Nutrition Notes:
Calorie and other nutrition information is derived from HappyFolks.Com recipe nutrition calculator. The percent daily value (%DV) is based on a daily 2,000 calorie diet.
Nutrition Information:
Amount per Serving:300g, Calories:471kcal, From fat:236,  Total fat:26.7g, Saturated Fat:13.2g, Trans Fat:0.2g, Cholesterol: 148mg, Sodium: 2627g, Total Carbohydrate: 25g, Dietary Fiber: 1g, Sugars: 21g, Protein: 34g, Vitamin A: 4%, Vitamin C: 7%, Calcium: 7%, Iron: 15%