A Flavorful Twist on Picadillo
Looking for a hearty and satisfying dish to add to your recipe repertoire? Look no further than Pork Giniling! This delicious Filipino dish combines the richness of ground pork with a medley of vegetables, resulting in a flavorful and wholesome meal. In this blog post, we will walk you through the step-by-step process of cooking Pork Giniling, sharing tips and insights along the way. Whether you're a seasoned home cook or a beginner in the kitchen, this recipe is sure to impress your taste buds and leave you craving for more.
The Perfect Start: Sautéing Aromatics
To kickstart the cooking process, heat some cooking oil in a pan over medium heat. Sauté garlic and onion until they become fragrant, filling your kitchen with an irresistible aroma. The combination of these two ingredients creates a strong foundation for the flavors to develop in the dish.
Tomato Magic: Adding Ripe Tomatoes
Next, it's time to introduce the star ingredient: ripe tomatoes. Chop them up and add them to the pan. Sauté the tomatoes until they soften, releasing their natural sweetness and tanginess. This forms the base of the sauce for your Pork Giniling, infusing it with a delightful tomato flavor.
Ground Pork Takes the Stage Now it's time to bring in the main attraction—ground pork. Add the ground pork to the pan, stirring it until it changes color and becomes nicely browned. This step ensures that the meat is cooked through and develops a delicious caramelized exterior, enhancing the overall taste and texture of the dish.
Flavorful Accents: Soy Sauce, Oyster Sauce, and Black Pepper
To enhance the savory profile of Pork Giniling, it's essential to incorporate key flavorings. Add soy sauce, oyster sauce, and a dash of black pepper to the pan. These ingredients add depth and complexity to the dish, creating a harmonious balance of flavors. Stir the mixture for a minute, allowing the flavors to meld together.
Simmer and Tenderize To ensure that all the flavors marry beautifully, it's time to introduce water. Pour in a cup of water, cover the pan, and simmer the ingredients over low heat for 15 minutes. This gentle cooking method allows the flavors to develop fully and tenderizes the meat, resulting in a melt-in-your-mouth experience.
Vegetable Symphony: Potatoes, Carrots, Green Peas, and Bell Peppers
Now it's time to add a vibrant array of vegetables to the dish. Toss in diced potatoes and carrots, allowing them to cook and soften alongside the pork. These vegetables add texture, color, and a healthy dose of nutrients to the dish. Towards the end, add green peas and bell peppers to further enhance the visual appeal and taste of the Pork Giniling.
A Touch of Sweetness: Raisins
For a surprising twist of sweetness, add raisins to the mix. These plump and juicy morsels infuse the dish with bursts of flavor, complementing the savory notes and adding a delightful contrast. Stir the ingredients gently to ensure that the raisins are evenly distributed throughout.
Seasoning: Patis to Taste
To bring all the flavors together and elevate the taste of the Pork Giniling, season it with patis (fish sauce) according to your preference. Patis adds a unique umami flavor and serves as the final touch that takes the dish to the next level. Cook the mixture for an additional 2 to 3 minutes to allow the flavors to meld.
Ready to Serve
The tantalizing aroma filling your kitchen is a sign that your Pork Giniling is now ready to be enjoyed. Serve it hot with steamed rice or crusty bread for a complete and satisfying meal. The combination of tender ground pork, flavorful vegetables, and a well-balanced sauce is sure to tantalize your taste buds and leave you craving more.
Wrap-Up:
With its rich flavors and wholesome ingredients, Pork Giniling is a must-try recipe that offers a delightful twist on the classic picadillo. By following these simple steps, you can easily recreate this Filipino favorite in the comfort of your own kitchen. Whether you're a fan of hearty comfort food or simply looking to expand your culinary horizons, Pork Giniling is a dish that will surely impress. So gather your ingredients, roll up your sleeves, and embark on a culinary adventure that will leave your family and friends asking for seconds. Enjoy!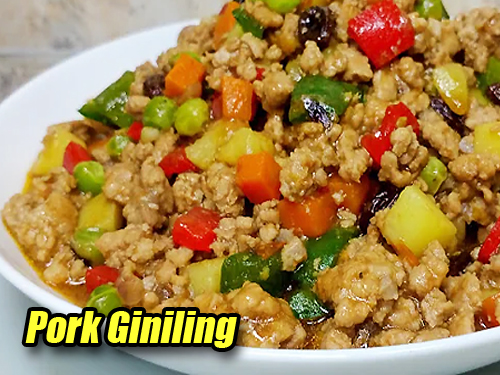 Print Recipe
Pork Giniling
This blog post provides a comprehensive guide on how to cook Pork Giniling, a delectable Filipino dish reminiscent of picadillo, featuring step-by-step instructions and expert tips for a flavorful and satisfying meal.
Ingredients
1/2

kilo

ground pork

3

pcs

ripe tomatoes

chopped

1

pc

potatoes

cubed

1

pc

small carrot

cubed

2

pc

small bell peppers

slice into squares

1/4

cup

green peas

1

tsp

raisins

2

pc

small onion

minced

3

cloves

garlic

minced

2

Tbsp

soy sauce

1

Tbsp

oyster sauce

1

Tbsp

fish sauce

black pepper

1

cup

water

2

Tbsp

cooking oil
Instructions
How to Cook Pork Giniling
Heat cooking oil in a pan and sauté garlic and onion until fragrant.

Add the chopped tomatoes and saute until the tomatoes are soft.

Add the ground pork and stir until it changes in color. Then add soy sauce, oyster sauce and black pepper. Stir for 1 minute then add 1 cup of water.

Cover and simmer in low heat for 15 minutes. Then add potatoes and carrots. Stir then cover and simmer until the potatoes are tender.

Add the green peas, bell peppers and raisins. Stir to distribute the veggies with the ground pork.

Season with patis and add more according to your preferred taste. Cook for 2 to 3 minutes more and turn off heat.

Serve hot with cooked rice or bread if desired.
Notes
Cooking Tips for Perfect Pork Giniling:
Choose High-Quality Ground Pork: Opt for fresh, high-quality ground pork for the best flavor and texture. Lean ground pork works well for this recipe, but if you prefer a richer taste, you can use ground pork with a slightly higher fat content.

Don't Skimp on the Aromatics: Sautéing garlic and onion until fragrant forms the aromatic base of the dish. Take the time to properly sauté these ingredients, as it adds depth and complexity to the overall flavor profile of the Pork Giniling.

Use Ripe Tomatoes: Ripe tomatoes are key to achieving the authentic taste of Pork Giniling. Look for tomatoes that are firm yet slightly soft to the touch, as they will provide a pleasant sweetness and acidity to the dish.

Brown the Ground Pork: When adding the ground pork to the pan, ensure that it is evenly browned. This step adds a delightful caramelization to the meat, enhancing its flavor and creating a more appetizing appearance.

Adjust the Seasonings: Taste the Pork Giniling before serving and adjust the seasonings according to your preference. If you prefer a saltier taste, add a little more soy sauce or fish sauce (patis). Remember that it's easier to add more seasoning gradually than to overpower the dish with too much saltiness.

Add Vegetables in Stages: To ensure that the vegetables are cooked to perfection, add them in stages based on their cooking time. Start with potatoes and carrots, as they require more time to become tender. Then add green peas and bell peppers towards the end to retain their vibrant color and crispness.
Nutrition Notes:
Calorie and other nutrition information is derived from HappyFolks.Com recipe nutrition calculator. The percent daily value (%DV) is based on a daily 2,000 calorie diet.
Nutrition Information:
Amount per Serving:500g, Calories:538kcal, From fat:310,  Total fat:34.5g, Saturated Fat:11.2g, Trans Fat:0g, Cholesterol: 92mg, Sodium: 1058g, Total Carbohydrate: 30g, Dietary Fiber: 6g, Sugars: 8g, Protein: 27g, Vitamin A: 84%, Vitamin C: 142%, Calcium: 8%, Iron: 15%