This is a Filipino style beef steak. If you have search the net and can't find a Pinoy beek steak, try this one!
Ingredients:
250 grams beef, sliced thinly
2 tbsp soy sauce
4 pcs calamansi,(extract juice)
1 tbsp Knorr seasoning
1/2 cup soup stock
2 tbsp oil
1 pc big onion, sliced into rings
ground pepper and MSG to taste
How to cook bistek:
Marinate beef in calamansi juice, soy sauce, Knorr seasoning, pepper, and vetsin.
Fry beef in oil. Add soup stock and boil until meat becomes tender.
Season to taste. Top with onion rings. Serve hot.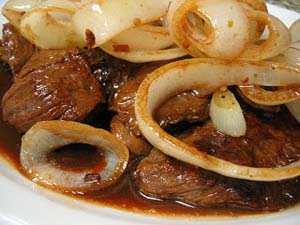 Try Other Recipes :
Pineapple Bistek

A quick delicious beef recipe for those who are always in a hurry. This bistek recipe is tro ...

Spanish Mackerel Steaks in Soy Sauce (Bistek na Tanigue)

Bistek is actually a Filipino version of beef steak marinated and cooked with soy sauce and ...