Here is an easy to cook and very quick indeed because the cooking time only requires a few seconds of frying the beef. Actually, cooking beef only requires very little time when stir frying or frying because too long it will become tough and hard like rubber. The technique there is to slice the beef thinly or tenderize it first by pounding it with meat mallet and adding some tenderizers. Which is done in this recipe of course. Thick slices slices of beef like the T-bone steak are usually raw inside if not thoroughly cooked. So if you want to have tender beef dishes follow the the above.  The Kapampangan version of bistek doesn't really have much difference on the  bistek tagalog where their ingredients are almost the same. Maybe the way it is called because in Kapampangan it is called "bistig baka".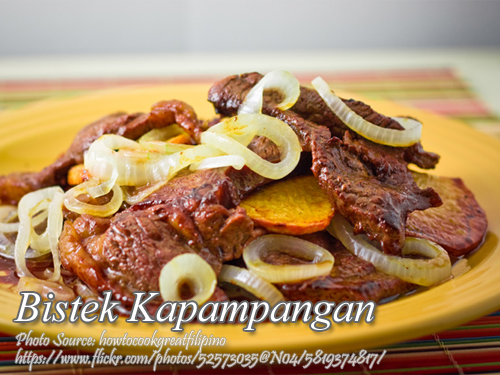 Print Recipe
How to Cook Bistek Kapampangan (Quick and Easy)
Ingredients
1/2

kilo beef sirloin or tenderloin

slightly frozen

1

tsp.

meat tenderizer

1

tsp.

Worcestershire sauce

1/8

tsp.

ground black pepper

1/8

tsp.

rock salt

1

large white onion

sliced into rings
For the sauce:
1/4

cup

soy sauce

1

Tbsp.

calamansi juice or lemon juice

1

cup

water

sugar to taste
Instructions
How to cook Bistek Kapampangan:
Prepare the beef by slicing across the grain about half an inch thick. Then lay a food grade plastic or wax paper on a clean table and put the beef and distribute it evenly.

Cover with another sheet of wax paper and pound with a meat mallet to tenderize. Take note that you need to thaw the meat first before pounding because it will crumble to pieces when you pound it still frozen.

Then season the meat with Worcestershire sauce, pepper, salt and sprinkle with meat tenderizer. Let it stand for 30 minutes in a refrigerator before cooking.

Heat skillet with about an inch deep of cooking oil and lightly fry the meat quickly for 5 to 10 seconds on each side. Then put in a platter after each of the meat pieces is cooked. The best method is cooking batches at least 2 pieces of meat on each frying.

Using the same pan with the cooking oil, saute the onions until wilted or softened. Then remove from the pan and top the beef with the onions.

In the same pan again, pour soy sauce, calamansi juice, sugar and water. Bring to a boil and stir the mixture to remove the fond from the pan. Then cook the sauce for a minute then pour it on top of the cooked beef and onions. Then serve hot with lots of steaming cooked rice.