Kaldereteng kambing is basically goat meat stew in tomato sauce added with cheese and liver spread. Preparing the goat meat is very different from other red meat like beef or pork because you have to remove or eliminate the gamey or musky odor and flavor of the meat. There are different ways also to prepare the goat meat and some use vinegar and spices but the recipe I have use sherry to remove the musky odor and a more flavorful dish. If you can't get sherry, you can use dry white wine as as substitute.
Compared to other kaldereta, kalderetang kambing is more special and served in special occasions. It is also perfect as an appetizer or pulutan, a perfect combination of beer.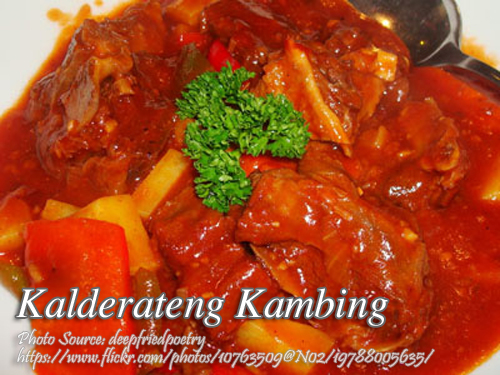 Print Recipe
How to Cook Kalderateng Kambing
Ingredients
1

kilo goat meat

cut into 2-inch cubes – lamb or duck meat can be subtituted

¼

cup

and 2 tbsp. Sherry

½

cup

olive oil

1

tsp.

Crushed garlic

1

cup

or 1 can whole

peeled, seeded and chopped tomatoes

½

cup

tomato sauce

1

cup

water or beef broth

¼

cup

liver spread

¼

cup

canned pimientos or about ½ pimiento

juliened

¼

cup

whole olives

2

tbsp.

Grated Edam or cheddar cheese

½

tsp.

Hot chili sauce

½

tsp.

Black pepper or ¼ tsp. Chopped chili

1

tsp.

Salt
Instructions
How to cook kalderetang kambing:
Marinate meat in ¼ cup sherry for at least 1 hour.

In a heavy frying pan over medium fire, heat ¼ cup of the oil until slightly smokey, then brown meat slightly.

Remove from pan and set aside. In a thick, medium pot with lid over low fire, heat the rest of the olive oil.

Saute garlic until light brown.

Add tomatoes and simmer for 5 minutes then add tomato sauce and simmer another 5 minutes.

Stir mixture every 2-3 minutes to prevent burning.

Add meat to tomato mixture and simmer for 5 minutes.

Add water or broth and simmer another 10 minutes.

Add liver spread, pimiento, olives and cheese and simmer until meat is tender.

If the mixture is too thick, add more broth or water.

( the time required to tenderize the meat depends a lot on the quality of the meat , so watch out that the liquid does not dry up.)

Season with hot sauce and salt to taste. Add remaining 2 tbsp sherry and simmer for 1 minute. Adjust seasonings to taste.