Actually I came up with this recipe with one thing in mind, to buy the ingredients on less than 100 pesos. I'm in a survival mode this time and wanted to stretch my budget. I was thinking if I will buy pork, it will be more costly and since I don't wan't to buy the ingredients at the town wet market (Bayan) I'm forced to buy the ingredients on a nearby mini talipapa but the problem is they don't sell fresh chicken or pork, and most of them are frozen because the meat they are selling are those not sold the other day. I was thankful there is a magnolia chicken seller nearby which has better quality even they are frozen. So that saved the day.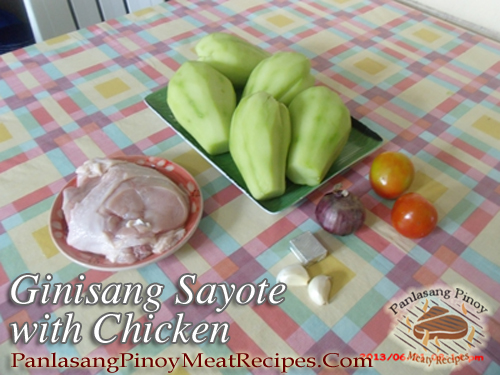 Print Recipe
How to Cook Ginisang Sayote with Chicken
Actually I came up with this recipe with one thing in mind, to buy the ingredients on less than 100 pesos.
Ingredients
1 to 2

kilos

Sayote

or Chayote, about 5 pcs

300

grams

Chicken breast

sliced

2

pcs

tomatoes

sliced

1

pc

red onion

chopped finely

2

cloves

Garlic

minced

1

Tbsp.

Fish sauce or patis

2

cubes Knorr chicken broth cubes

2

Tbsp.

Cooking oil

1

cup

water
Instructions
How to cook ginisang sayote with chicken:
Before peeling the sayote, cut the top about half an inch and allow the sap to flow then rub it with the top you removed from the sayote in a circular motion.

A the transparent sap will turn to white, similar to cream of tartar.

This procedure will remove the sticky sap so it will not stick to your hands when you peel and slice the sayote.

The ingredients are very basic and as you can see on the photos. Sayote, chicken breast, tomatoes, onion, garlic and chicken broth cubes.

Peel and slice in half the sayote and remove the seed with a spoon. Thinly slice the sayote, about 1/2 inch thick.

Now we are ready to cook the ingredients. In a wok, put cooking oil and saute garlic until brown, then onion until cooked, then followed by the tomatoes.

When the tomatoes are tender, saute the chicken breast for at least 1 minute then put the fish sauce and cover.

Simmer for about 3 minutes and add a little water if the ingredients looks dry.

Then put the sayote and mix with the rest of the ingredients.

Pour the 1 cup of water and the chicken cubes then simmer until cooked.